Honey mustard pretzels are an easy homemade snack. Slightly sweet, a little salty with a nice tang from the mustard.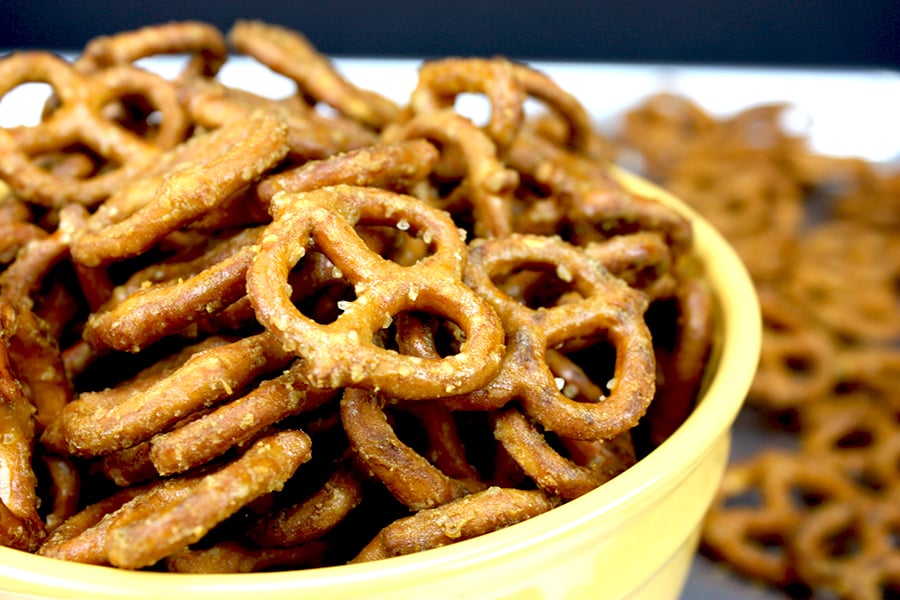 These pretzels would be great for an after-school snack or any party. Make a double batch because they won't last long. You will be lucky if there is any left for you to enjoy. At least that's what happened at my house.
Try our Sausage Balls!
Honey Mustard Pretzels
We tried a few recipes with regular yellow mustard and they just weren't tangy enough. So we switched to dijon mustard and added more ground mustard. That's the ticket!
They couldn't be simpler to make.
Preheat the oven to 250 degrees.
Melt the butter, add the honey, dijon mustard, onion powder, garlic powder and dried mustard. Whisk to combine.
Place pretzels in a large bowl. Pour the sauce over the pretzels and stir gently to coat evenly.
Pour the pretzels on a large baking sheet in a single layer and bake for 1 hour, stirring every 15 minutes.
Let the honey mustard pretzels cool then separate them. Some tend to stick together.
Grab a cold beer, put the game on and enjoy!
If you're a true fan of pretzels and want to step it up JUST a bit, you have to check out our sausage pretzel bites. They're amazing! Fresh pretzel wrapped around smoky, spicy sausage … yes!!!! Easy and freaking delicious.
Check out our Peanut Butter Balls to satisfy the sweet tooth!