Cheddar Jalapeño Cornbread
Cheddar Jalapeño Cornbread is moist and cheesy with a spicy kick. It goes perfectly with any soup, stew, or chili.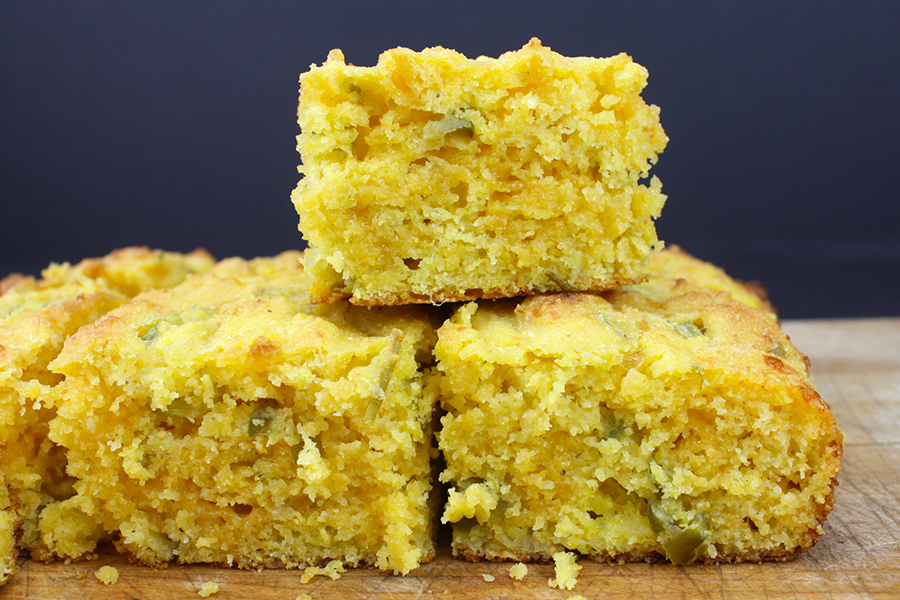 Skip the box mix and make your own cornbread from scratch. It is just as easy as the mix to prepare. Add some cheese and peppers, and you won't be able to resist this cornbread.
Try our Tomato Basil Soup!
Cheddar Jalapeno Cornbread
Preheat oven to 400 degrees. Spray 8×8″ baking pan with cooking spray or heat oil in a cast-iron skillet.
Prep your ingredients. Mix just until combined and bake.  It's pretty straightforward and simple.
In a large bowl whisk together the cornmeal, flour, baking powder, and salt.
Whisk the egg, buttermilk, vegetable oil, and honey in a separate bowl.
Add wet ingredients to dry ingredients. Stir until just combined. Do not over mix.
Add onion, jalapeños, green chiles, and sharp cheddar cheese; fold into batter until just mixed.
Pour into the prepared baking pan.
Bake for 25-30 minutes, until golden brown and a toothpick inserted in center, comes out clean.
Allow to cool for about 5 minutes or room temperature, slice and serve.
Cheesy, spicy jalapeno cheddar cornbread is sure to please!
Check out our Strawberry Shortcake!
Jalapeño Cheddar Cornbread Recipe