Roasted Chicken Thighs with Rosemary and Lemon
Chicken thighs are very versatile. They are inexpensive, super juicy, and quick-cooking (if deboned). I know a lot of people don't like dark meat but for me, it has so much more flavor and it's not as easy to dry out when cooking. We cook a lot of chicken thighs to keep our budget in check. I debone them myself to save a few more pennies.
Also, boneless was a way to win my family over to the dark side. Chicken thighs can be a little tricky to eat with the bone still intact. They usually had something to say about the meal if I didn't remove the bone. As a matter of fact, as we sat down to eat this meal, they asked "are they boneless?".
Even if you're not a fan give them another chance.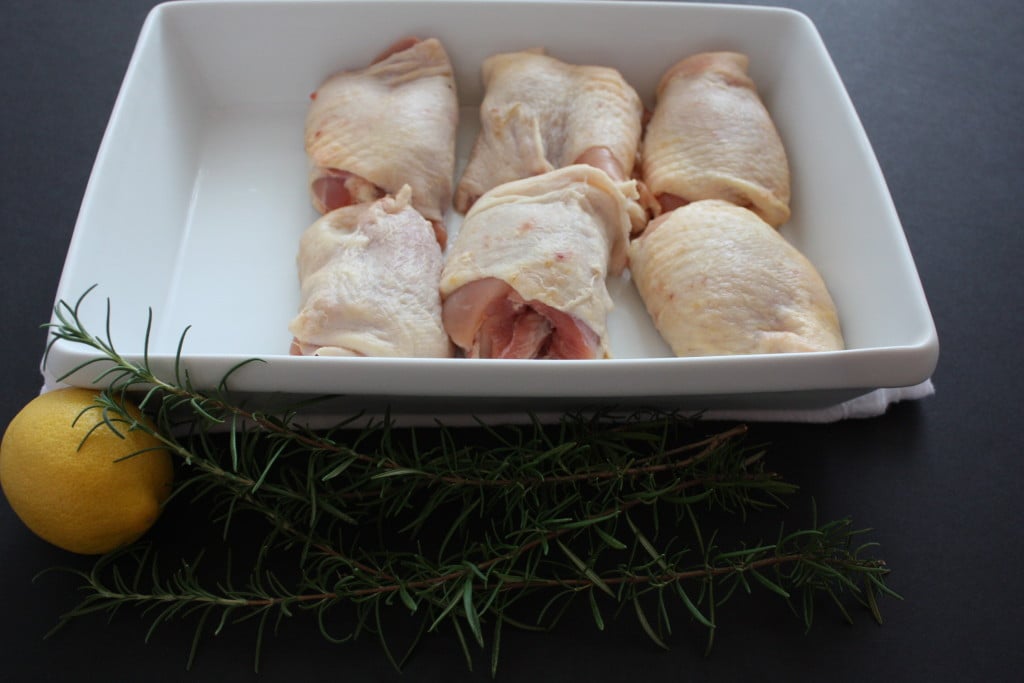 Don't Sweat The Recipe is supported by its readers. We may earn a commission if you purchase through a link on our site. Learn more.
What You'll Need
Boneless chicken thighs – You can also use skin-on chicken breasts, and adjust cooking time accordingly.
Fresh lemons
Olive oil
Onion and garlic
Fresh rosemary
Chicken stock or chicken broth
How Long to Cook Chicken Thighs?
Chicken thighs generally take 25-30 minutes to cook. Boneless chicken thighs usually take 20 minutes to cook. Regardless of which type of chicken thigh you use always check with an instant-read thermometer that the internal temperature is 165 degrees F.
How to Make Lemon Rosemary Chicken Thighs
Rinse and pat dry the chicken thighs. Chop rosemary. Thinly slice one lemon, seeds discarded, cut the second lemon in half, and then cut one half into two wedges. Finely dice a 1/4 cup of onion. Mince 1 garlic clove.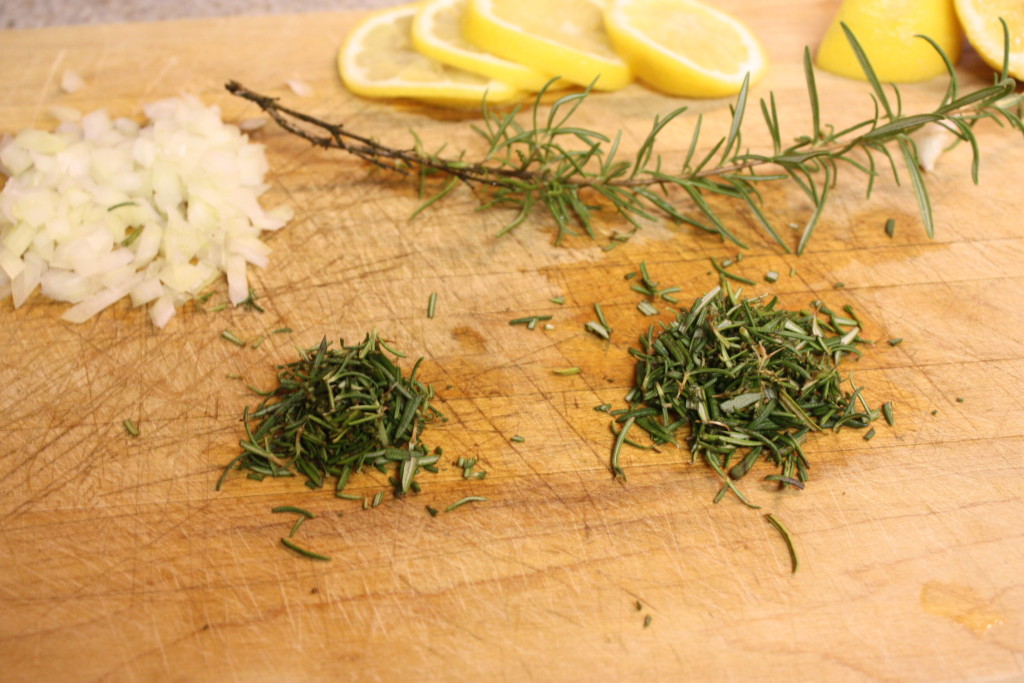 Chop rosemary. Thinly slice one lemon, seeds discarded, cut the second lemon in half, and then cut one half into two wedges. Finely dice a 1/4 cup of onion. Mince 1 garlic clove.
(I don't know about you guys but I rarely chop garlic I use my handy dandy garlic press it is so much easier.)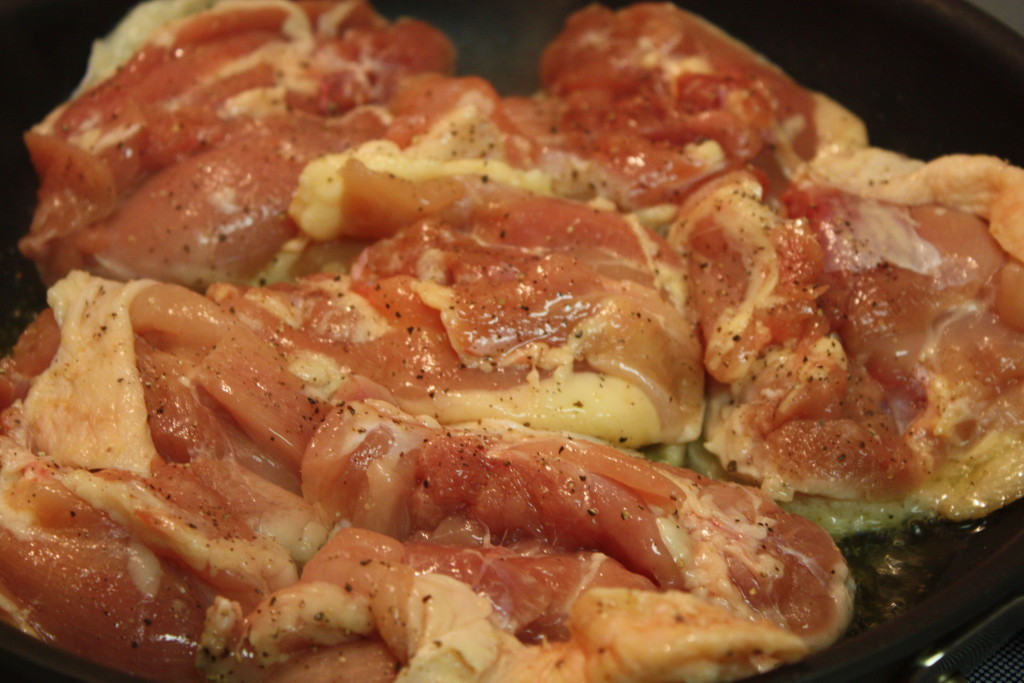 Season the chicken with salt and pepper on both sides.
Place chicken into a skillet over medium heat coated with 1 tablespoon of olive oil skin side down. Cook halfway through for about 10 minutes. Spooning off excess fat to maintain a thin coating in the pan. Scatter lemon slices in the pan and transfer the pan into the oven. (Do not turn thighs, keep skin side down) Roast until cooked through about 10 to 15 minutes.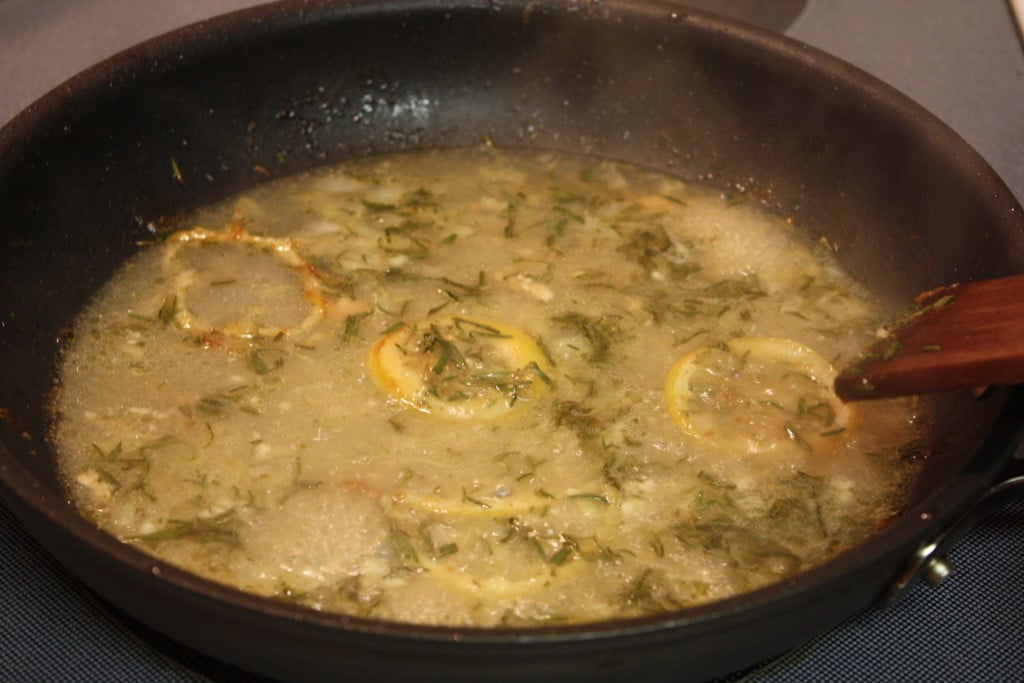 Once the chicken is cooked through transfer from the skillet and place on a platter or baking dish skin side up.
Place the skillet over medium heat, and add onions, rosemary, and garlic. Saute for about 2 minutes, stirring frequently. Add broth, the juice from 1 lemon wedge (or both if desired), and cook until thickened.
Once thickened, return chicken to skillet to warm slightly and serve.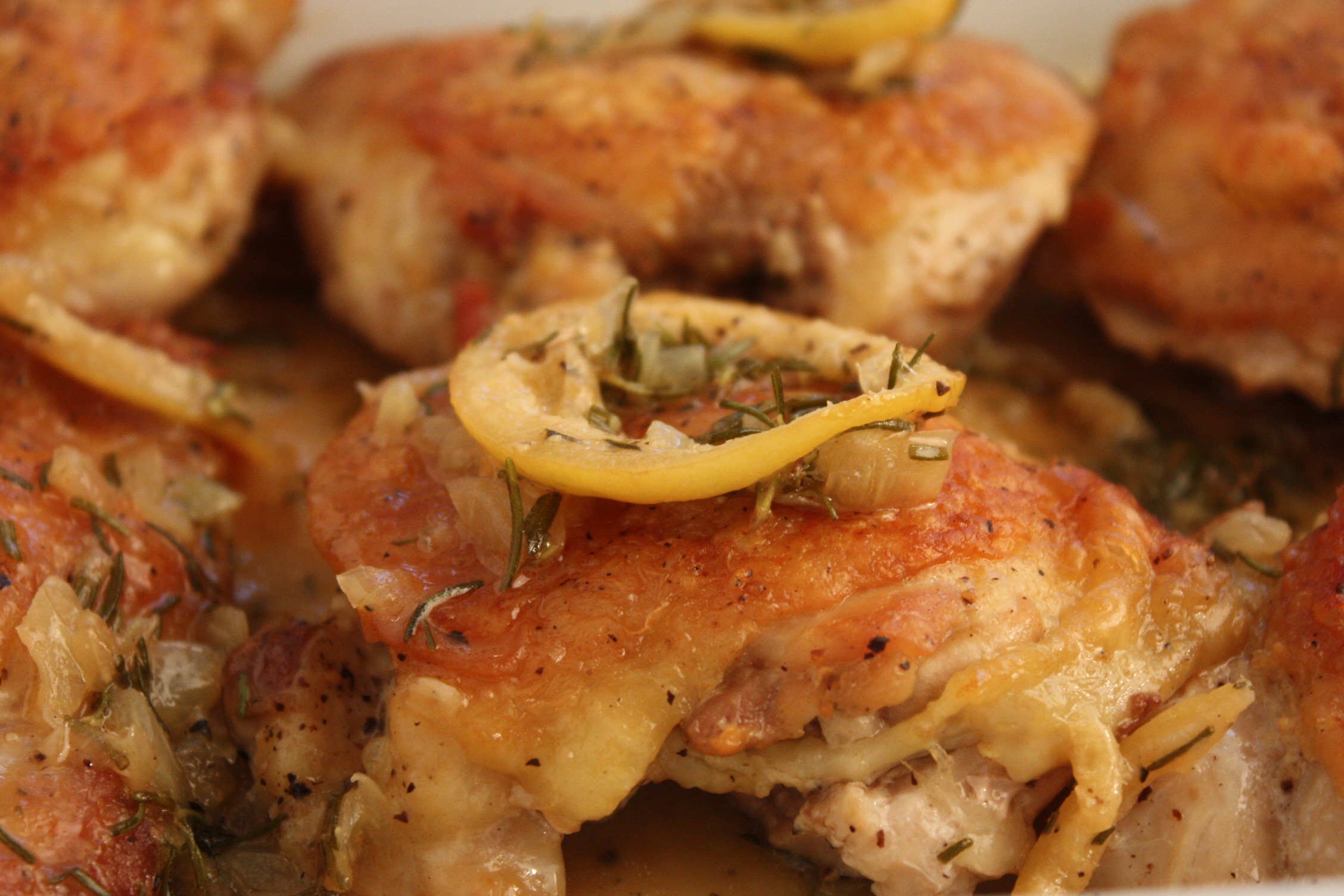 Roasted Chicken Thighs with Rosemary and Lemon Recipe
Crispy, juicy, tender, Lemon Rosemary Chicken Thigh recipe! An easy weeknight meal that's low carb/keto.
Print
Pin
Rate
Ingredients
1 1/2

lemons

6

skin-onBoneless Chicken Thighs

Salt and freshly Ground Black Pepper

1

teaspoon

olive oil

1 1/2

Tablespoon

Rosemary

chopped

1/4

Cup

onion

minced

1

clove

garlic

minced

3/4

Cup

low-sodium chicken broth
Instructions
Preheat oven to 425°.

Thinly slice half of lemon; discard any seeds. Cut remaining lemon in half and then into 2 wedges.

Season chicken thighs with salt and pepper.

Coat a large skillet with 1 teaspoon oil and place on medium heat. Add chicken, skin side down. Cook allowing skin to render and brown, spoon off excess fat to retain a thin coating in pan, until chicken is cooked halfway through, about 10 minutes.

Scatter lemon slices over chicken and on bottom of skillet. Transfer skillet to oven, leaving chicken skin side down. Roast until chicken is cooked through, skin is crisp, and lemon slices on bottom of skillet are caramelized, 10-12 minutes.

Transfer chicken pieces, skin side up from the skillet to a platter.

Return skillet to medium heat. Add rosemary, onion and garlic; cook, stirring frequently about 2 minutes.

Add broth; cook until thickened, about 3 minutes. Squeeze 1 lemon wedge over and season sauce with salt, pepper, and juice from remaining lemon wedge, if desired.

Return chicken to skillet, skin side up, to rewarm.

Serve topped pan sauce.
Nutrition
Calories:
271
kcal
|
Carbohydrates:
4
g
|
Protein:
19
g
|
Fat:
20
g
|
Saturated Fat:
5
g
|
Cholesterol:
111
mg
|
Sodium:
97
mg
|
Potassium:
304
mg
|
Fiber:
1
g
|
Sugar:
1
g
|
Vitamin A:
104
IU
|
Vitamin C:
15
mg
|
Calcium:
22
mg
|
Iron:
1
mg