Quick and easy way to deliver big flavor to any table whether it be a game day, having friends over, or just a fun weekday dinner!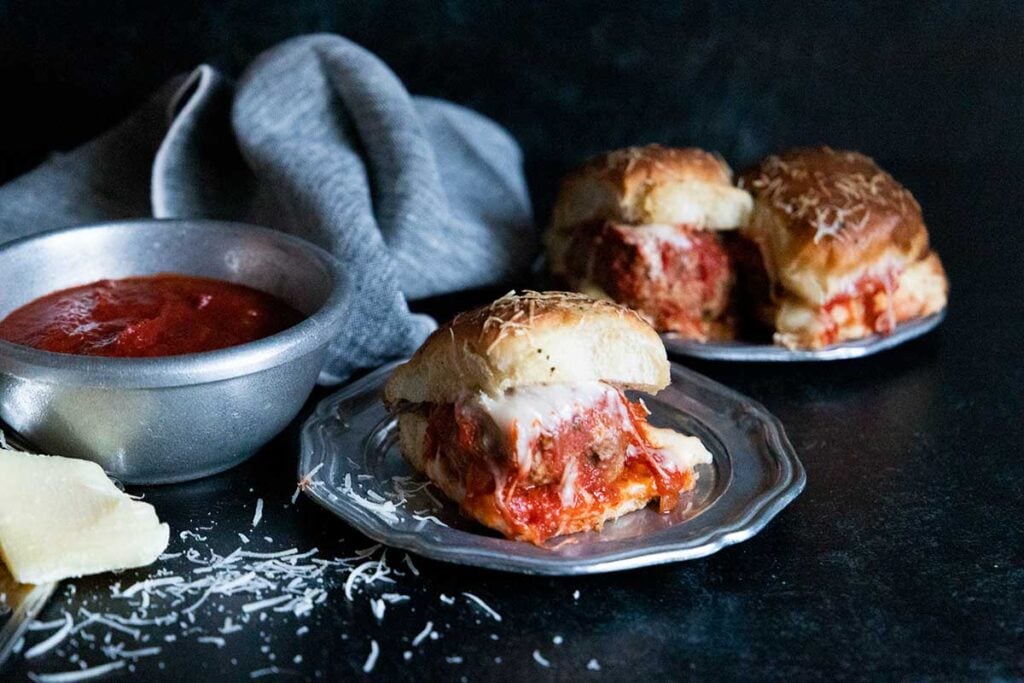 When you get that first bite of meatball sliders you get the softness of the bun, that tang of the tomato sauce, the mozzarella cheese mellows everything out … and then that super delicious meatball. Holy smokes!!
Sliders may be one of the quintessential food items for any kind of gathering. Whether that is just family, a game day weekend, or even a birthday party sliders are a delicious way to feed a crowd.
We love sliders here. We have made several different kinds over the years and all are simple and crazy delicious.
It didn't occur to us though, until recently, that our meatballs would make a great slider. Leigh does a wonderful job when she channels her Italian heritage and slams something out amazing. Her meatballs are so good.
I'd eat them every week but for some reason (she likes to punish me) we only make them every now and then.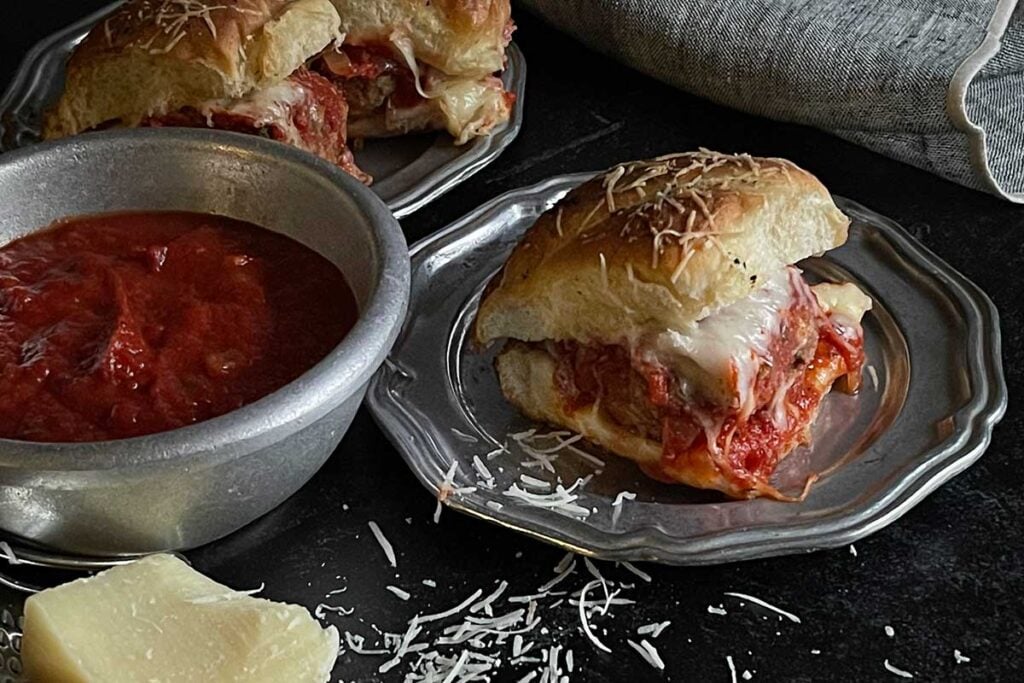 When the Super Bowl was coming up we were thinking about what we were going to prepare. I am always about some roast beef sliders and/or smoked chicken wings. She suggested that we make meatball sliders. Conversation over!
Key Ingredients
Slider buns (12) – Choose your favorite.
Meatballs – You can use frozen meatballs, your own recipe, or try ours! We highly recommend making them yourself. They will taste so much better than pre-made meatballs.
Mozzarella cheese – You can use pre-sliced or slice your own. You can also use Provolone cheese.
Marinara sauce – Use fresh-made or store-bought.
Parmesan cheese – We prefer Pecorino Romano. Use a good quality parmesan cheese not the stuff in the green can.
A Note About Meatballs
You can go about this two ways with your meatballs. You can get some store-bought or you can make them. We highly recommend that you make them. It's worth it!
You can even make them the day before and use them the next day for an easier time.
You can find a link to the recipe here or in the recipe card below. But for the sake of this recipe here are the ingredients you will need to make the meatballs.
Variations
Sliders with a Twist – Use Hawaiian rolls, Texas toast, or even garlic bread instead of slider buns.
Meat – You can lighten it up by using ground turkey or chicken.
How To Make Meatball Sliders
Prepare the meatballs according to the directions and set them aside. If you're using store-bought, add the sauce and meatballs to a pan and heat for 10 minutes.
Preheat the oven to 350 degrees F.
Cut the slider rolls evenly. Now, you can either separate them and then cut them or keep them whole and cut the entire package in one cut, whichever is easier.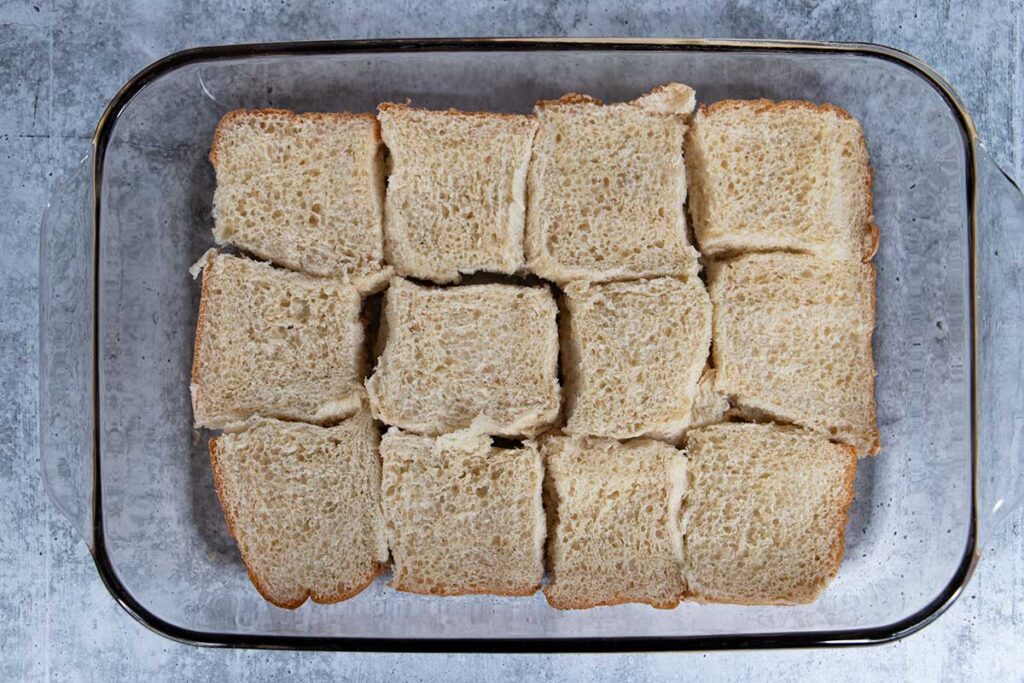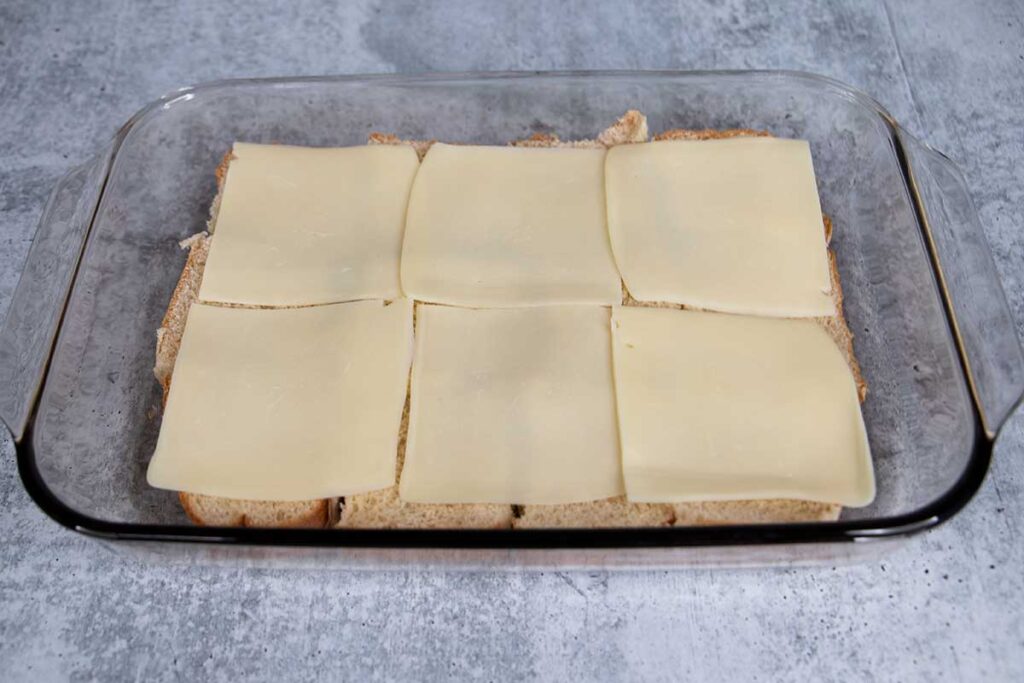 Place the bottoms of the slider buns into a 9×13 baking dish.
Lay 6 pieces of mozzarella cheese across the bottoms of the slider buns.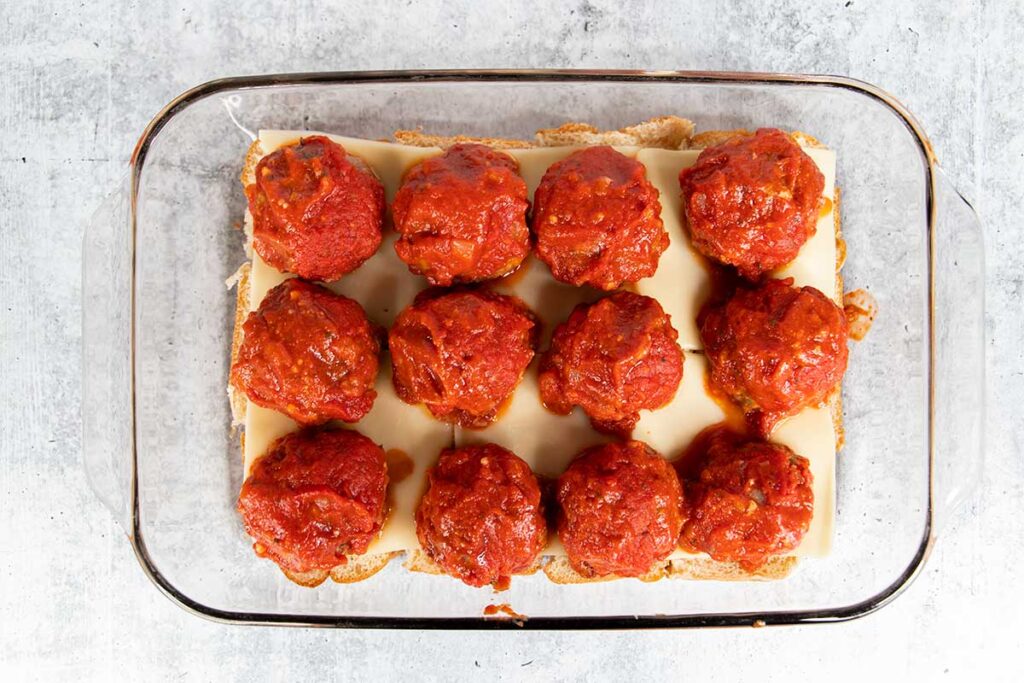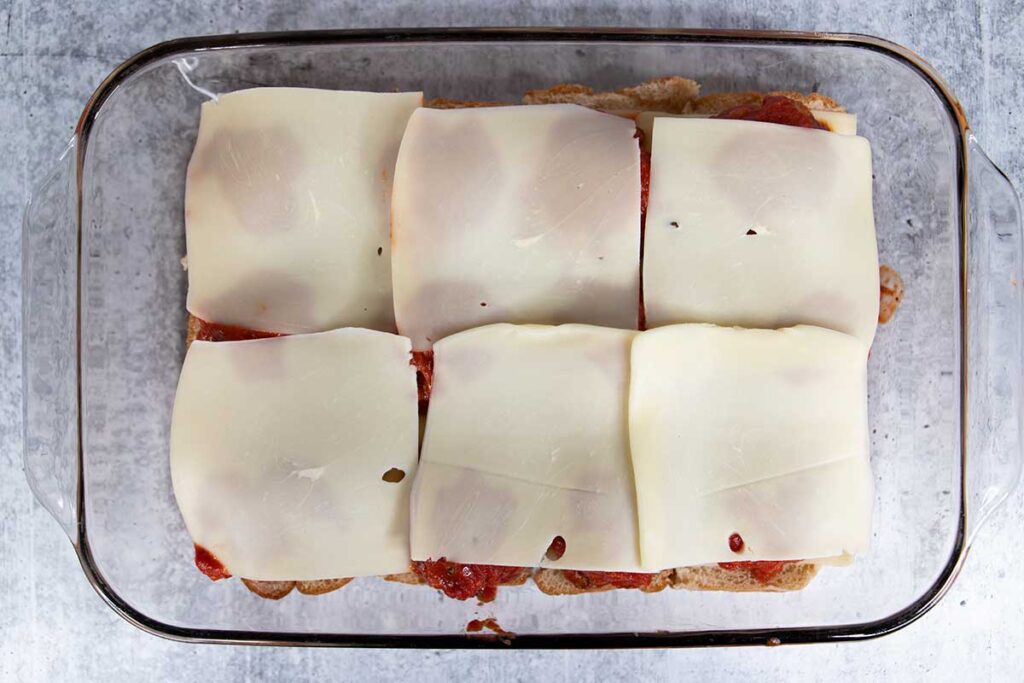 Put about a tablespoon of marinara sauce down on each slider section then place a meatball on top of that. Next, add an additional tablespoon of sauce on top of the meatball.
Top the meatballs and tomato sauce with the remaining 6 slices of cheese.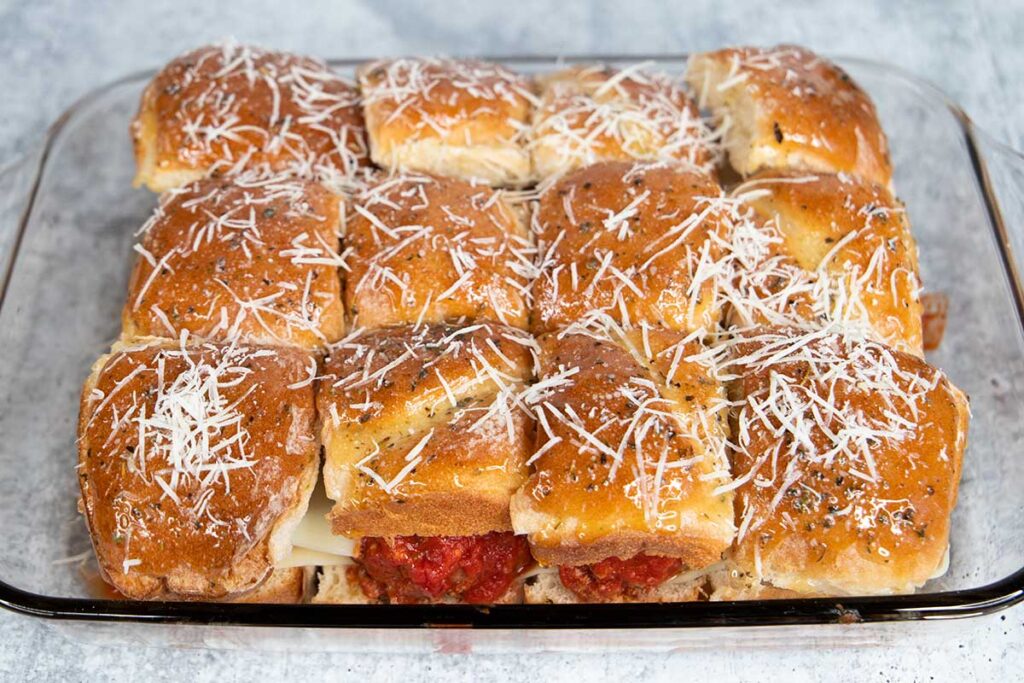 Place the tops of the slider buns on top of all the goodness. Quickly melt the butter and add the Italian seasoning to it. Brush the tops of the buns with the melted butter mixture. Top with the optional shredded parmesan cheese.
Lightly cover with aluminum foil and bake for 10-12 minutes. Uncover and bake for an additional 5-7 minutes until the tops are nice and toasted and the cheese is melting.
Remove from the oven and let it rest for about 5 minutes. After that, grab a spatula and start serving up.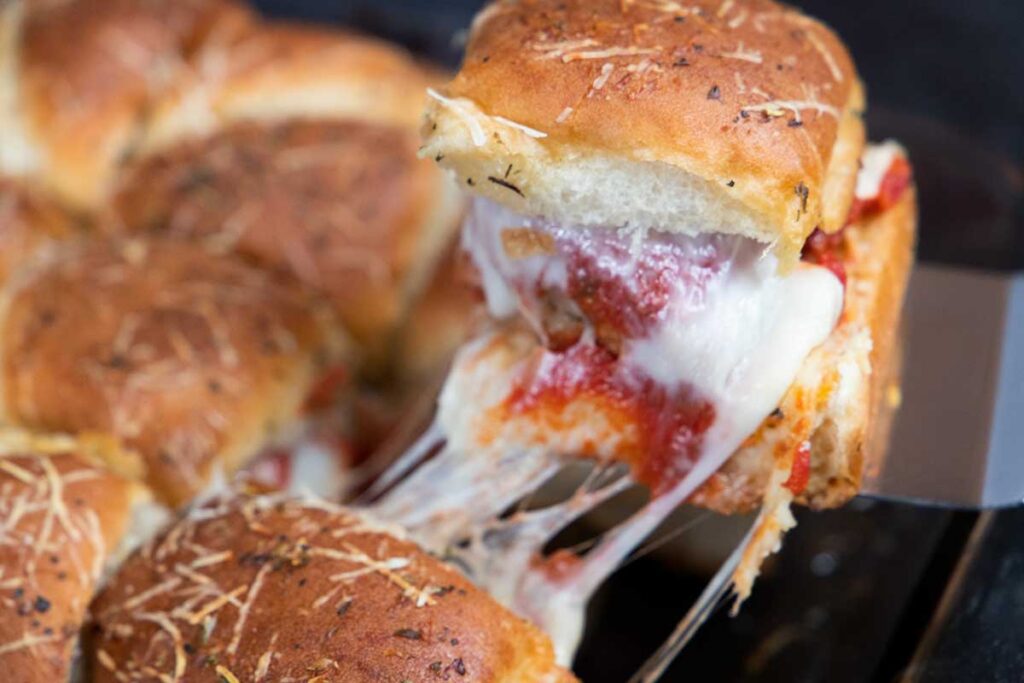 Conclusion
When it comes to quick and easy, fun party food meatball sliders are a great way to go. They're easy to prepare and they're freaking good!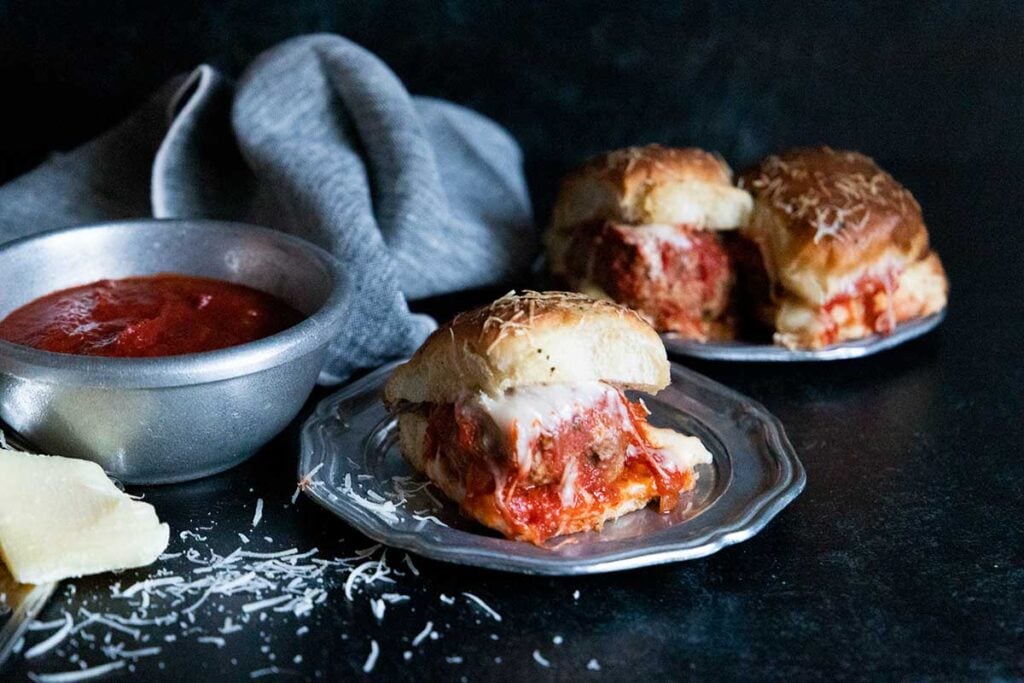 Honestly, two of these things put me in a wonderful, saucy food coma.
So, if you're looking for something quick and easy that delivers big flavors, give these super easy meatball sliders recipe a try!
Do you cook the meatballs first?
Yes, this recipe calls for cooked and warmed meatballs. When you are ready to serve warm the meatballs and sauce thoroughly, then proceed with the recipe.
Can these be made ahead?
Do not assemble them ahead the bread will get soggy. But you can make the meatballs ahead
What to serve with meatball sliders?
They are perfect served alone or as an appetizer. You can also serve them with a salad, chips, french fries, or even a pasta salad.
Storing and Reheating
These are best fresh out of the oven. Store any leftovers in an air-tight container in the refrigerator for up to 3 days. To reheat cover with aluminum foil and reheat in a 350 degree F oven until warmed through.
Other Slider Recipes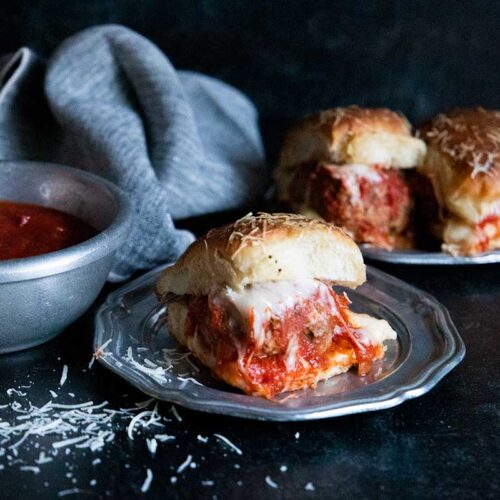 Meatball Sliders Recipe
Quick and easy way to deliver big flavor to any table whether it be a game day, having friends over or just a fun weekday dinner!
Print
Pin
Rate
Ingredients
12

Meatballs

12

Slider buns

2

cups

Tomato sauce

Your favorite

12

slices

Mozzarella cheese

2

tbsp

Butter

melted

2

tbsp

Parmesan cheese

1

tbsp

Italian seasoning
Instructions
Prepare meatballs as per instructions. If using store-bought, add sauce and meatballs to a pan and heat for 10 minutes.

Preheat the oven to 350 degrees F.

Cut slider buns so you have tops and bottoms.

Place bottoms in a 9×13 inch baking dish

Place 6 slices of mozzarella cheese down on the slider buns, covering them.

Add a dab of marinara sauce on each slider bun bottom

Add a meatball to each slider bun bottom

Add a dab of marinara sauce on top of the meatball

Add remaining 6 slices of mozzarella cheese, covering all the meatballs

Place tops of slider buns on top

Melt the butter and add the Italian seasoning to it

Brush the butter mixture over the tops of the slider buns

Top buns with parmesan cheese (optional)

Cover with aluminum foil and bake for 10-12 minutes

Remove aluminum foil and bake for an additional 5-7 minutes until buns are golden and cheese is melting

Remove from oven and allow to rest for 5 minutes
Nutrition
Calories:
240
kcal
|
Carbohydrates:
19
g
|
Protein:
12
g
|
Fat:
13
g
|
Saturated Fat:
6
g
|
Trans Fat:
1
g
|
Cholesterol:
38
mg
|
Sodium:
430
mg
|
Potassium:
203
mg
|
Fiber:
2
g
|
Sugar:
5
g
|
Vitamin A:
441
IU
|
Vitamin C:
3
mg
|
Calcium:
192
mg
|
Iron:
2
mg