Lemon Streusel Blueberry Muffins
I don't know if I can even begin to describe the perfection of these muffins. A soft, velvety, moist muffin loaded with juicy fresh blueberries and topped with a lightly sweet crumb topping.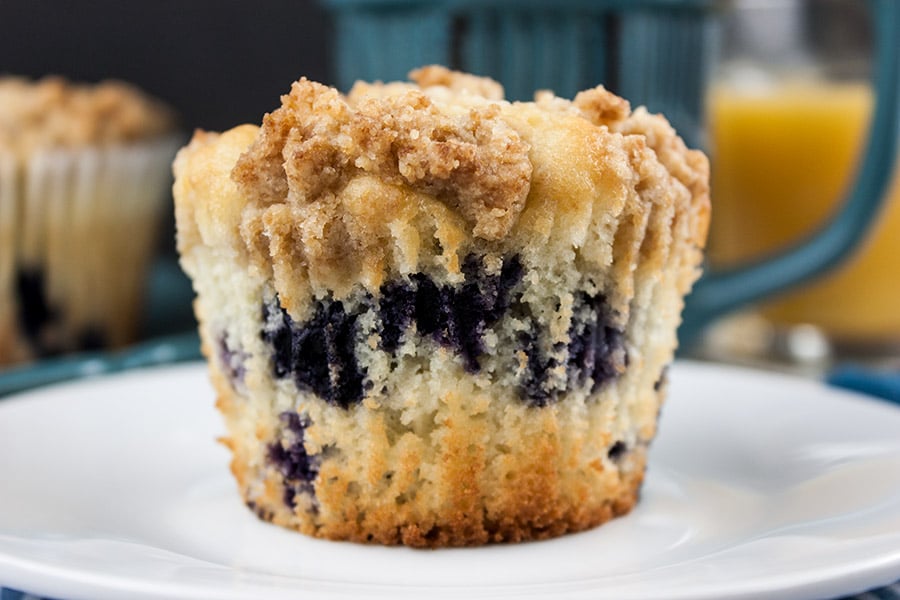 Absolutely to die for!
Try our Pumpkins Muffins!
Lemon Streusel Blueberry Muffins
How to Make Blueberry Muffins from Scratch
So easy you can make these any morning of the week.
Prepare a muffin pan with paper liners or cooking spray. I use the jumbo muffin liners to help maintain the muffin in the cup while baking.
In a small bowl combine the melted butter, granulated sugar, brown sugar, lemon zest, and flour with a fork until crumbly. Refrigerate until ready to use.
In a medium bowl combine flour, baking powder, and salt.
In a larger bowl, whisk the sugar and eggs until thick and pale. Slowly whisk in the butter and oil until combined.
Add the buttermilk and vanilla, mix until combined.
Gently fold the egg mixture (wet ingredients), flour mixture, and blueberries together just until combined (careful to not over mix, it will be lumpy with some dry flour spots).
Check out our Blueberry Scones!
Using an ice cream scoop divide the batter among 12-18 muffin cups. This makes 12 good size muffins but if you want them a little smaller or don't have jumbo muffin liners spread the batter evenly out to 18 muffins.
Evenly divide the streusel topping among muffin tops.
Bake for 17-18 minutes or until a toothpick inserted comes out clean.
Serve and enjoy these tasty muffins for breakfast!
I have tried other recipes with "meh" results. This is the best blueberry muffin we have ever eaten.
Look no further for the Best Ever Banana Muffins recipe!
No need to look any further, my husband has declared this our go-to blueberry muffin recipe.
The top of the muffin is crispy, the center is soft and bursting with fresh blueberry flavor!
Blueberry Muffins Recipe From Scratch
Recipe slightly adapted from Cook's Illustrated