Grilled Filipino Chicken Kebabs (Pinoy)
Pinoy chicken kebabs, or Filipino chicken kebabs, are a great way to mix up your standard grilled chicken rotation. They are deliciously flavorful, quick and easy, and bursting with Asian flavors.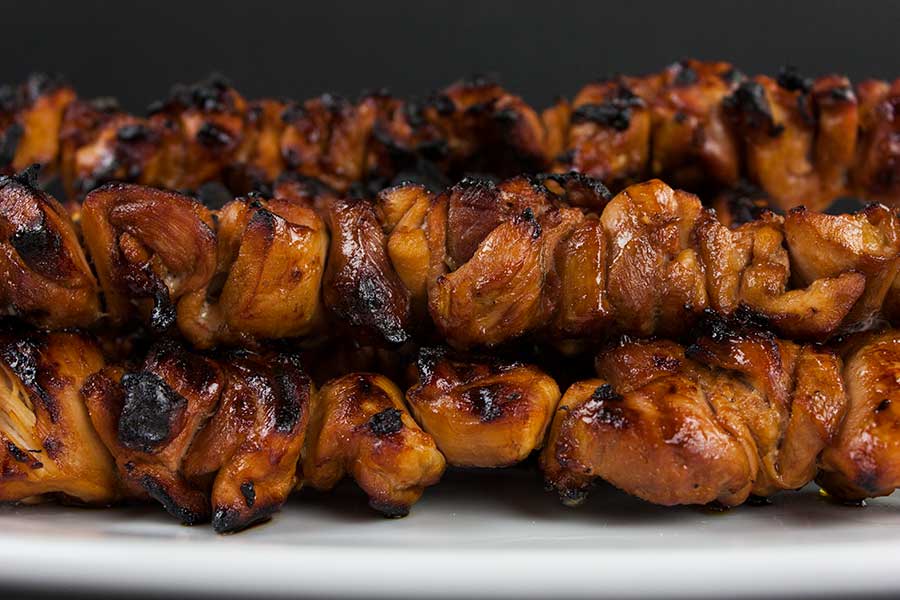 We all love grilled chicken. It's quick, it's healthy, and usually pretty easy. Sometimes, though, it can start to get a bit boring, always eating it the same way.
That's where Filipino chicken kebabs (or chicken kabobs or chicken skewers) come in. You still get your delicious grilled chicken but now with a totally new and very very delicious flavor.
This dish is basically the same as our Filipino pork kebabs recipe but of course, we're using chicken this time. We loved the flavor so much on the pork we thought we would give it whirl on some chicken thighs. Yeah, we were right. They turned out awesome.
Try our Bread Pudding recipe!
Filipino Cuisine
Filipino cuisine is composed of the cuisines of 144 distinct groups found throughout the Philippine archipelago. The style of cooking and the food associated with it have evolved over many centuries. It is a mixed cuisine of Indian, Chinese, Spanish and American influences.
This cuisine centers around a combination of sweet, sour, and salty. The results are usually surprisingly pleasing.
Traditional dishes are both simple and elaborate, indigenous and foreign-influenced. Filipino cuisine is always changing as new techniques and styles of cooking and ingredients find their way into the country.
How To Make Grilled Chicken Kebabs (Chicken skewers)
The first step is to prepare the chicken. We used chicken thighs but that was just our preference. You are more than welcome to use chicken breast as well.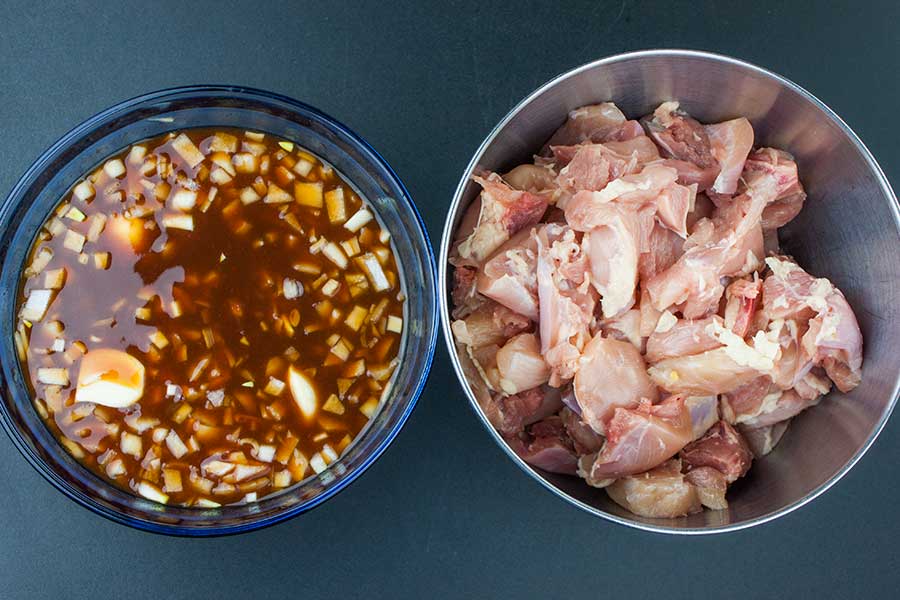 Debone the chicken thighs and remove the skin. Cut the thighs into 2-inch squares. Take your chicken pieces and place in a suitable container or ziplock bag.
Next, prepare the marinade and pour it over the chicken thighs. Move it around, coating the chicken and allow to marinate for at least 4 hours.
We marinated ours overnight for a total of 18 hours. The longer the better! Our recommendation is that you marinate the chicken for at least 12 hours.
When ready to grill the chicken soak the skewers. Soak them for at least 30 minutes to an hour before putting them on the grill. Yes, you can use metal ones if you like. We use wooden skewers, it really doesn't matter.
Try our Orange Rosemary Chicken Kebabs recipe!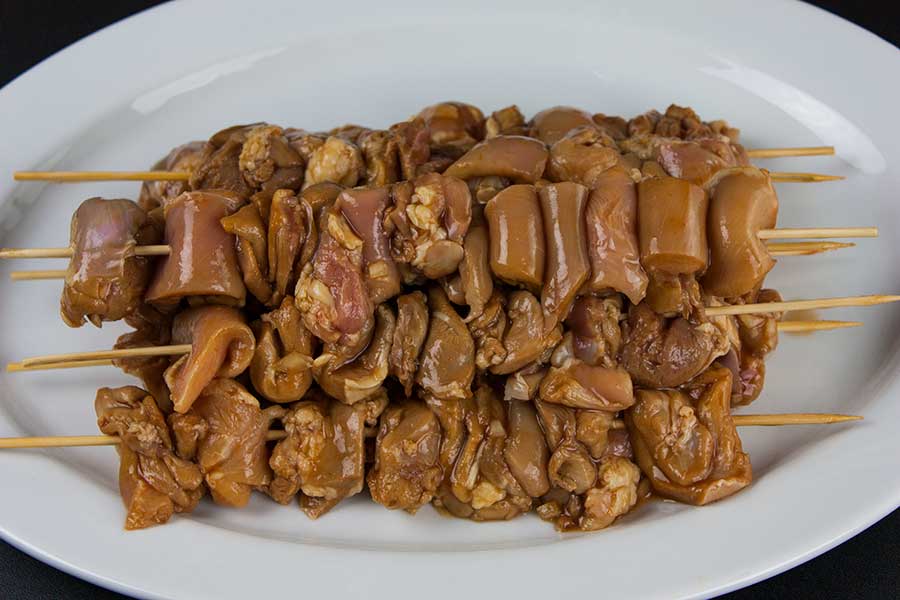 When the skewers are ready, thread the chicken onto the skewers. We recommend that you pack the chicken tightly, one piece against the other. This will make turning them easier and the chicken won't spin around.
Light the grill and when the grates have gotten nice and hot, place the chicken kebabs onto the grill over medium-high heat. Grill the chicken kebabs until there is a good sear on them. Keep an eye on them and turn them when they have your particular sear preference.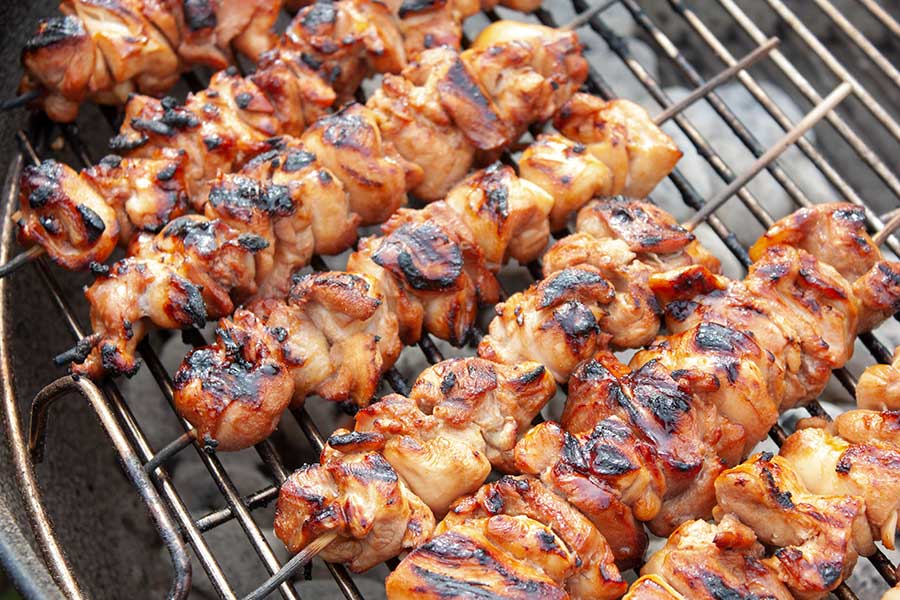 Cook the chicken kebabs to 165 degrees Fahrenheit. Our chicken thighs took about 20 minutes to finish, 10 minutes each side. If you're using chicken breast, it may not take as long.
Do yourself a favor if you don't already have one. Get yourself an instant-read thermometer. It's a game changer when dealing with your meats. You can quickly see when your meat is ready to pull off without drying it out.
Pro Tip: Set up your grill with an area that does not have direct heat. If your chicken kebabs have your level of sear on them but haven't reached 165 degrees F, move them off direct heat into the indirect heat section of your grill and allow to finish there.
Serving your Filipino Chicken Skewers
When the chicken skewers have finished, pull them from the grill and allow to rest for appx. five minutes to allow the meat to relax and redistribute their juices.
Pull the chicken off of the wooden skewers or serve them as-is. You can serve this up with your favorite rice dish or one of your other favorite sides. We served ours with our favorite rice dish. It has tons of cilantro and lime in it and it pairs well with the light spicy sweet of the chicken.
Check out our Rosemary Garlic Grilled Baby Potato Skewers recipe!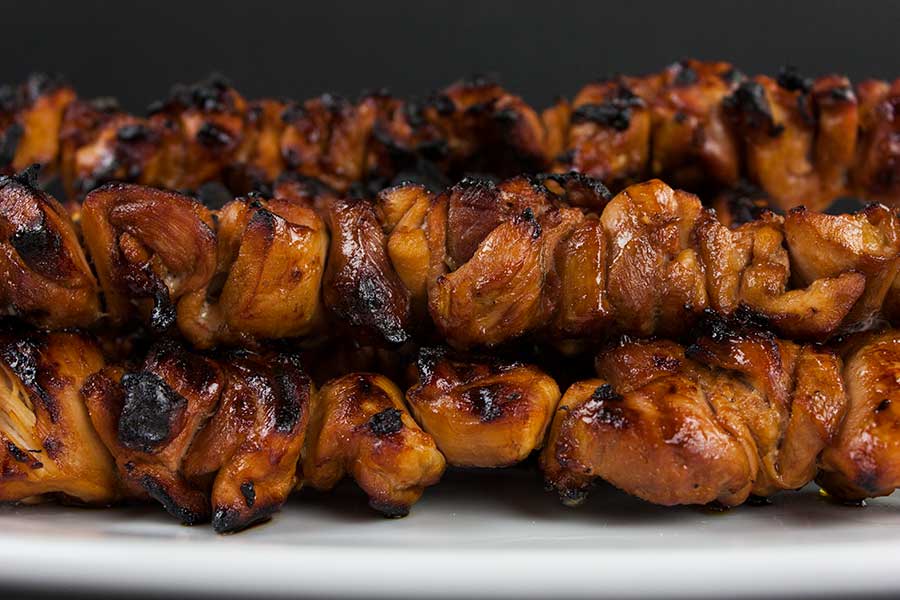 We hope you give this one a try. It delivers big on the flavor, it's very easy to prepare, and it does break up the monotony of the same old grilled chicken every time. You will love it as did we.
Grilled Chicken Kebabs Recipe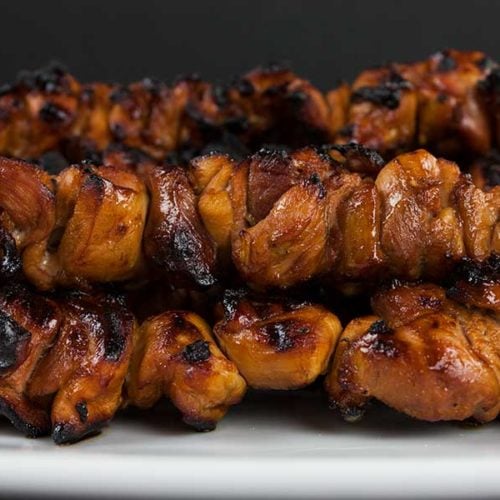 Grilled Filipino Chicken Kebabs (Pinoy) Recipe
You have to try these deliciously flavorful Filipino chicken kebabs. Quick and easy and bursting with Asian flavors.
Print
Pin
Rate
Ingredients
2

lbs

Chicken thighs

or chicken breasts deboned, skin removed
Marinade
1

Cup

Soy sauce

1

Head

Garlic

Peeled and smashed

1

Onion

small

2

Lemons

1/2

Cup

7-Up

soda

1

Tsp

Ground black pepper

5

Tbs

Dark Brown sugar

1

Cup

Ketchup
Instructions
Marinade
In a large bowl combine soy sauce, garlic, onion, juice of 2 lemons, 7-UP, ground black pepper, dark brown sugar and ketchup.

Whisk mixture to dissolve ingredients well
Preparing Kebabs
Debone the chicken thighs and remove the skin. Cut the thighs into 2-inch squares. Take your chicken pieces and place in a suitable container or ziplock bag.

Pour prepared marinade over cubed chicken and move around, coating well

Refrigerate for at least 4 hours, up to 24 hours. The longer you marinade, the more the marinade flavor will saturate the chicken thighs
Grilling Chicken Kebabs
30 minutes to one hour soak wooden skewers in water

Thread the cubed chicken onto the wooden skewers, packing tightly

Light your grill and when the grill is hot, place skewers over medium high heat

Grill on one side until it is seared to your preference. Turn and cook the other side

Cook to an internal temperature of 165 degrees Fahrenheit. If your chicken has not reached temperature but has your preference of sear, move to indirect heat until done

Remove from heat and allow to rest for 5 minutes before serving
Nutrition
Serving:
5
g
|
Calories:
565
kcal
|
Carbohydrates:
38
g
|
Protein:
36
g
|
Fat:
30
g
|
Saturated Fat:
8
g
|
Cholesterol:
178
mg
|
Sodium:
3175
mg
|
Potassium:
752
mg
|
Fiber:
2
g
|
Sugar:
27
g
|
Vitamin A:
390
IU
|
Vitamin C:
28.2
mg
|
Calcium:
68
mg
|
Iron:
3
mg