Easy blackberry cobbler is a recipe from my mother. She always used it for peach cobbler. I just happened to find blackberries on sale and decided to give it a try.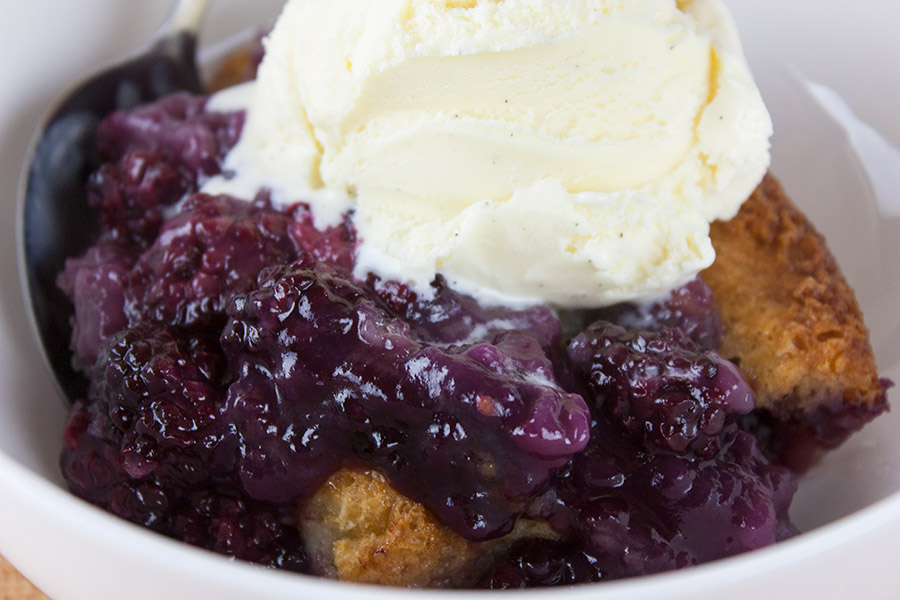 The only changes I made were adding vanilla and salt! It's simple, quick, and delicious. Dessert doesn't get much easier.
Try our Strawberry Shortcake!
Easy Blackberry Cobbler
Dump and bake recipes are the best, aren't they?
Preheat oven to 350 degrees F.
In the preheating oven melt the butter in a 1.5 quart round or square baking dish. I prefer a round one. It just comes out prettier.
Toss the fresh blackberries with 1/2 cup of sugar. You can also use frozen berries.
In a separate bowl, whisk together the remaining sugar, flour, baking powder, salt, vanilla, and milk.
Pour the batter over the melted butter.
Sprinkle the berry mixture evenly over top of the batter, DO NOT STIR, and bake.
Serve warm with a scoop of your favorite vanilla ice cream or whipped cream. I personally think that's the only way to eat cobbler.
Check out our Monster Cookies!
Put those gorgeous berries to use this year, cobblers are always easy. Not to mention a delicious crowd-pleasing dessert.
Blackberry Cobbler Recipe