Tomato Cucumber Feta Salad
The best tomato cucumber feta salad ever! It's quick, fresh, light, crunchy, flavorful and addictive! A chop and dress salad at its best.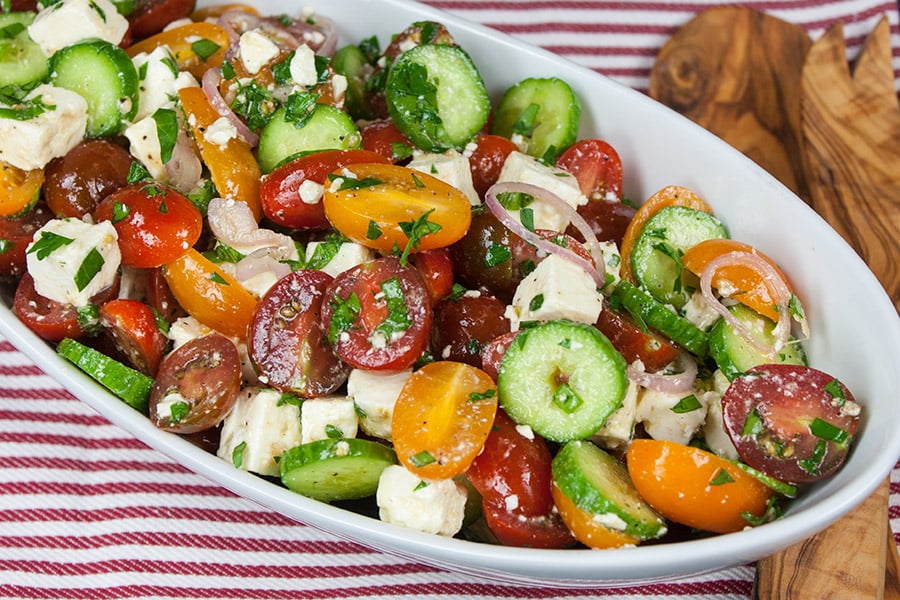 Try our Strawberry Shortcake!
Tomato Cucumber Feta Salad
Just chop the vegetables and herbs.
In a large bowl combine the tomatoes, cucumbers, shallots, and herbs in a large bowl.
In a small bowl mix the olive oil, white wine vinegar (or red wine vinegar), salt, and pepper.
Pour the dressing over the vegetables and toss to coat evenly.
Cube the feta cheese into 1/2″ pieces and gently fold into the salad. Definitely, don't use crumbled feta. The feta should stay firm for that delicious salty bite.
Just look at the beautiful color of the grape tomatoes, cucumber, feta, and herbs. You can also use cherry tomatoes, either is fine.
I used baby cucumbers, use whichever type you prefer. I happen to love baby cucumbers. They are the perfect size with fewer seeds and no peeling necessary.
Red onions or scallions can be used in place of shallots. We just prefer the subtle flavor of shallots in this dish. Red onions can be overpowering for my family.
Try our popular Greek Salad!
We love this salad so much we will be making this tomato cucumber feta salad all summer long. A perfect side dish to barbecue meals!
Check out our Shrimp Salad!
Season with salt and pepper if necessary. Serve room temperature.
Tomatoes don't fare well after being dressed with oil and vinegar, so this dish will not be as good leftover. But the recipe can easily be cut in half.
Cucumber Tomato Feta Salad Recipe
Recipe inspired by BarefootContessa