Lemon veggie pasta salad is the perfect Spring and Summer side dish! Loaded with colorful, crisp vegetables and tossed with a light, tangy, fresh lemon dill vinaigrette.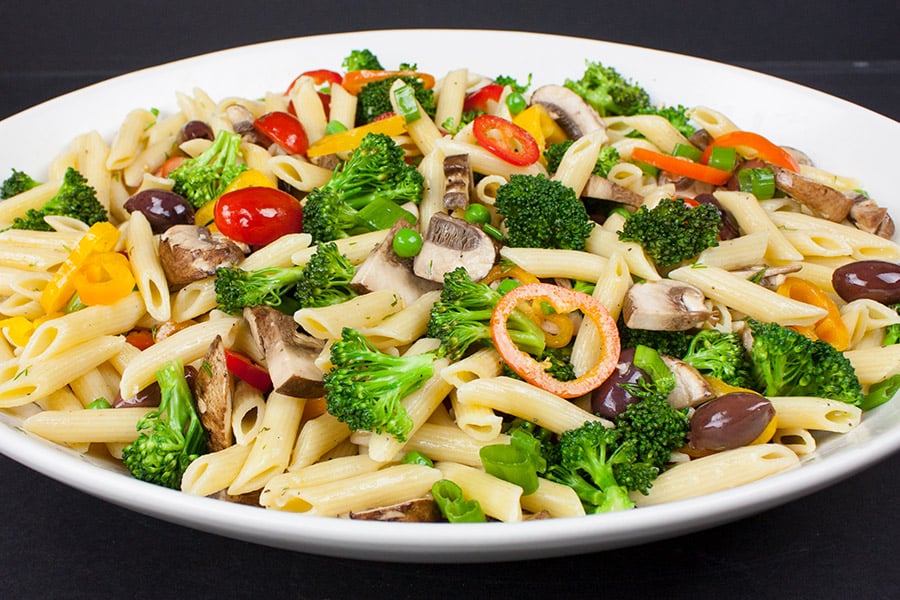 Time to use those leftover vegetables.
Lemon Veggie Pasta Salad
Who doesn't love a delicious pasta salad?
Cook the pasta according to package instructions to al dente, in salted water.
While the pasta is boiling, prep all the vegetables.
Place the broccoli in a colander. Drain the pasta water over the broccoli.
Drizzle a tablespoon of olive oil over the pasta and toss to prevent sticking while it cools. Place the cooled pasta and vegetables in a very large bowl.
Prepare the tomatoes, olives, green onions, mushrooms, peppers, and peas. Place in a very large bowl, set aside.
Prepare the pasta salad dressing. Place olive oil in a small mixing bowl. Whisk in lemon juice until emulsified. Whisk in the garlic, dill, salt, and pepper.
Pour the dressing over the salad ingredients and toss to coat evenly.
Cover and allow the flavors to combine for at least 30 minutes. This dish is great freshly made or chilled.
Add some red onion if you like. My family does not like the bite of raw onion so I omit (most of the time).
Lemon vegetable pasta salad is a perfect covered dish to bring to any gathering or potluck.
Other Salad Recipes
Cold Pasta Salad Recipe
Recipe inspired by FoodCuration