Easy Baked Jalapeno Poppers
These easy baked jalapeno poppers are a great addition to the party / game-day finger food appetizer list. They're so easy to make and have tons of flavor and will be a hit with you and all your friends.
When jalapenos meet that italian sausage and parmesan cheese something magical just happens. Each bite is more delicious than the last.
How To Make Baked Jalapeno Poppers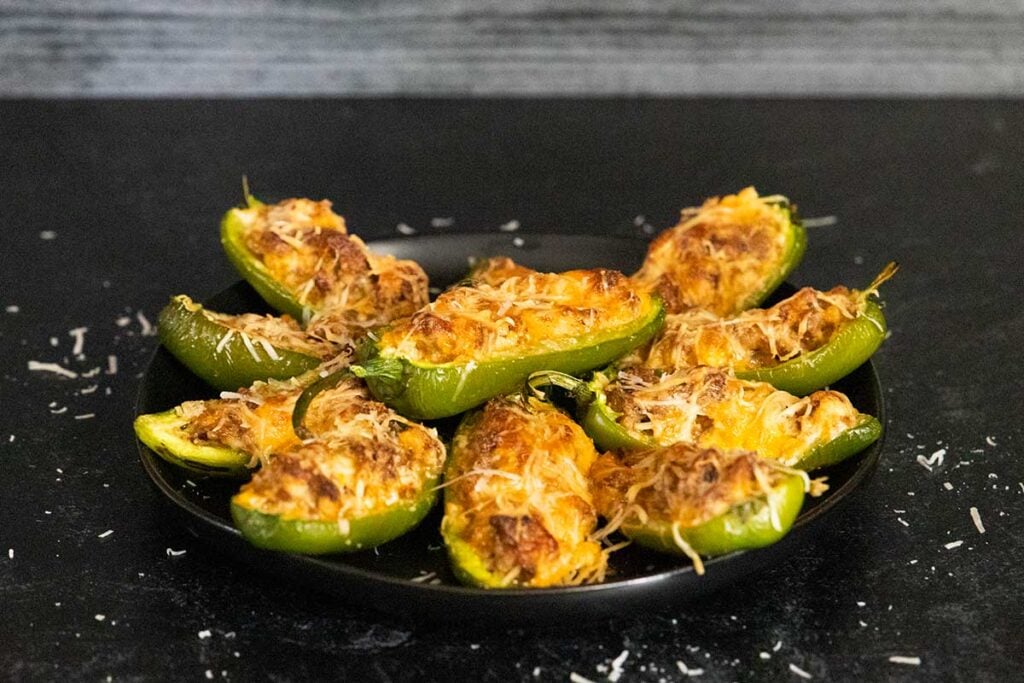 Our recipe calls for ground italian sausage but you can use any ground pork you enjoy. For a spicier version, you can use a hot italian sausage and leave the ribs in the jalapenos. If you haven't tried making your own italian sausage, you have to give this a look. Our italian sausage has been a tradition for years, generations even!
Ingredients Needed
The ingredient list is small, which makes this a breeze to prepare.
Ground Italian sausage
Cream cheese
Parmesan cheese
Cheddar cheese
Fresh Jalapeno peppers
The Steps
Preheat the oven to 425 degrees F and prepare a baking sheet with parchment paper.
In a skillet over medium high heat, cook the italian sausage until no longer pink then drain on paper towels and set aside.
In a mixing bowl combine the cream cheese, 1/2 cup of cheddar cheese, and a 1/2 cup of parmesan cheese. Add the sausage and combine. Set aside.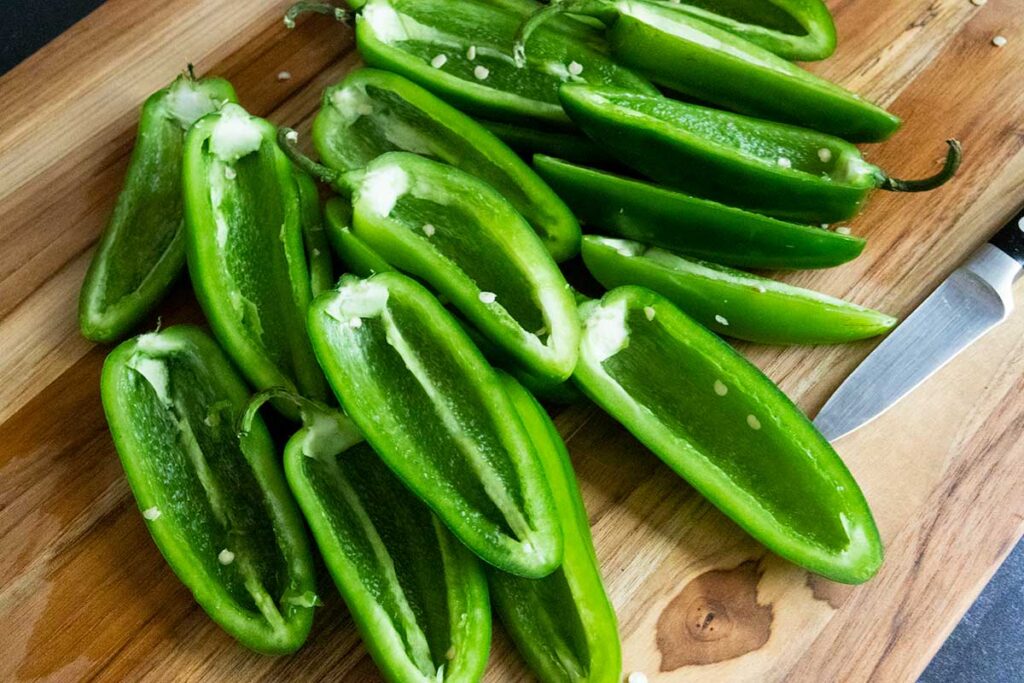 Cut each jalapeno pepper in half, removing the seeds and membranes. You can leave some of the ribs if you want a spicier version. We also take a pinch of salt and very lightly salt the jalapenos.
Spoon approximately 1 tablespoon in jalapeno halves. Please note that your filling will be based on the size of the jalapenos you're using. We used medium sized and were really able to load these things up.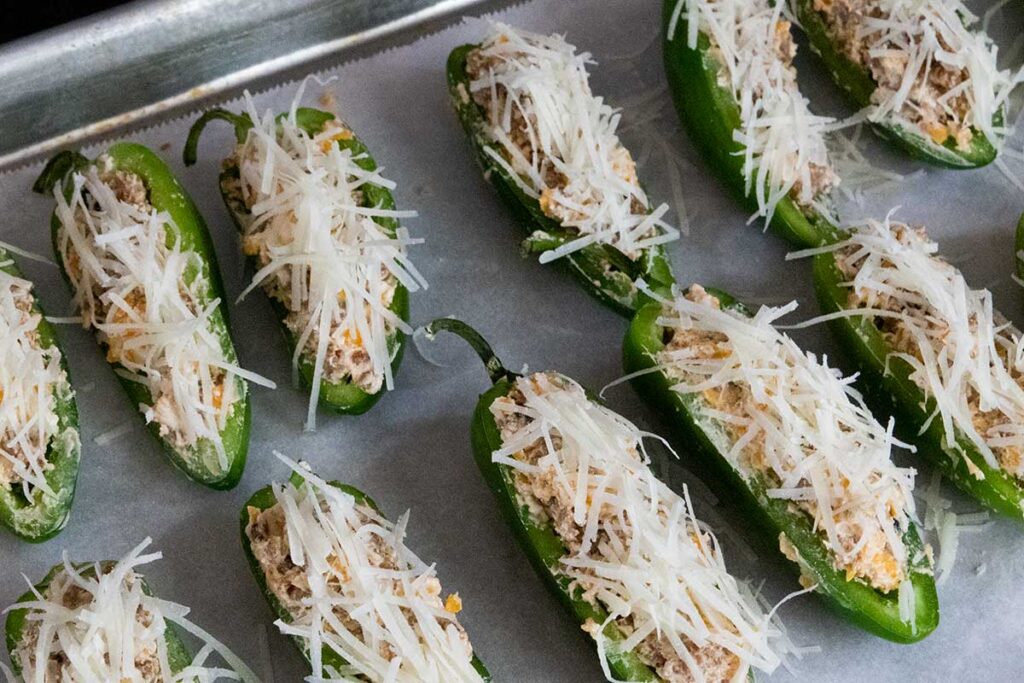 Place the jalapeno poppers onto the prepared baking sheet and top with the remaining 1/2 cup of parmesan cheese.
Bake at 425 degrees F. uncovered for 15 minutes until browned.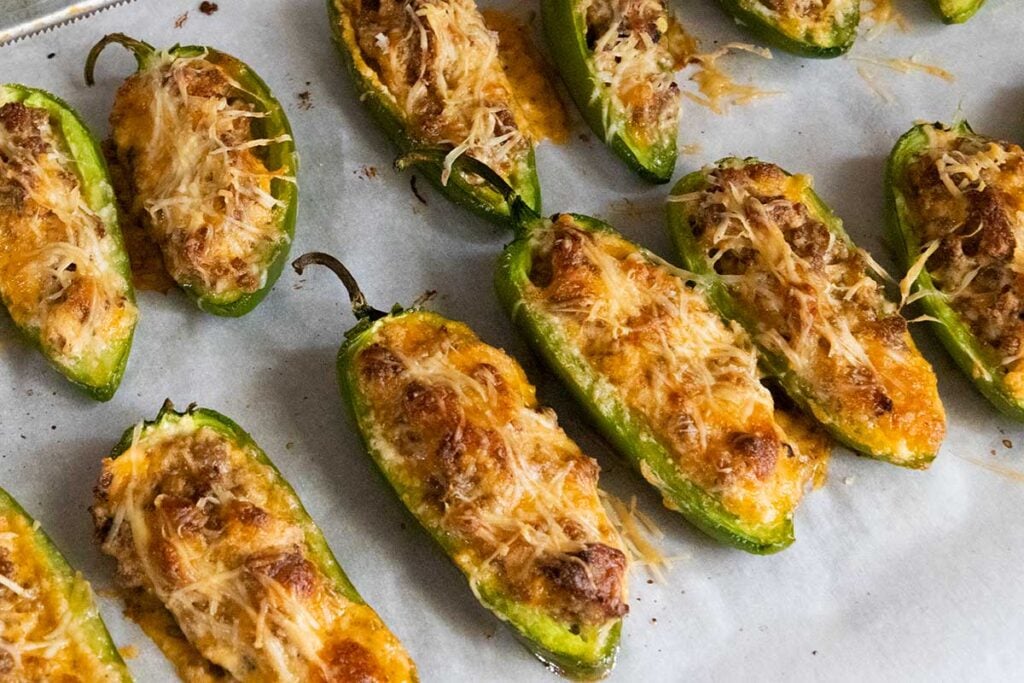 Remove from the oven and allow to cool for 5 minutes before serving.
Serve with your favorite dipping sauce, or the ever faithful Ranch dressing.
Conclusion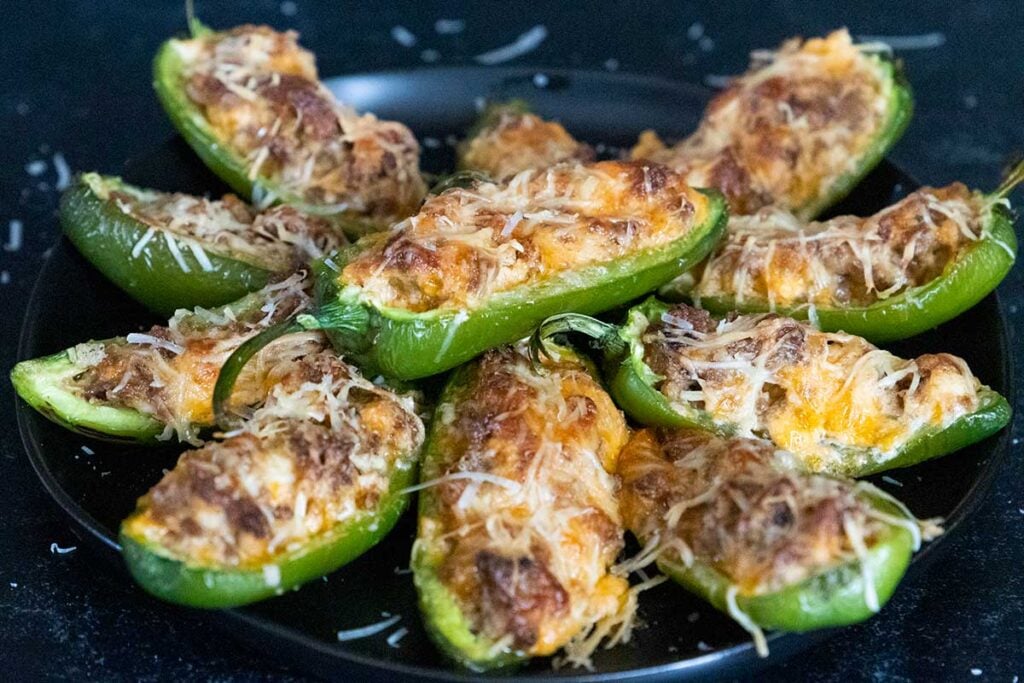 These things rock. They bring the flavor with each bite and will not disappoint. As an added bonus, they're keto as well. So if you're on that particular train this is a game-day treat that keeps you from cheating.
If you're a fan of poppers and want to try something a bit different, give our Candied Bacon Jalapeno Poppers recipe a try. I absolutely love these things! Introducing a sweet and salty element and serving them in a baked wonton wrapper puts a whole new spin on jalapeno poppers.
Other Appetizers You May Enjoy
Easy Baked Jalapeno Poppers Recipe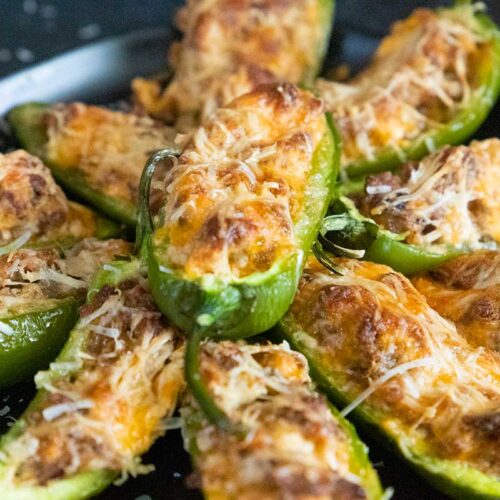 Ingredients
1

lb

Ground Italian sausage

8

oz

Cream cheese

1

cup

Parmesan cheese

1/2

cup

Cheddar cheese

12

Fresh Jalapeno peppers

medium size
Instructions
Preheat oven to 425 degrees F

Prepare parchment lined baking sheet

Cook the italian sausage until no longer pink then drain on paper towels. Set aside.

Combine the cream cheese, cheddar cheese, 1/2 cup of parmesan cheese.

Add the sausage and combine. Set aside.

Cut each jalapeno pepper in half, removing the seeds and membranes.

Very lightly salt the cut jalapenos, just a pinch should be enough for all.

Spoon approximately 1 tablespoon in jalapeno halves.

Place the jalapeno poppers onto a prepared baking sheet.

Top with remaining 1/2 cup parmesan cheese.

Bake at 425 degrees F. uncovered for 15 minutes until browned.

Remove from the oven and allow to cool for 5 minutes before serving.

Serve with your favorite dipping sauce
Nutrition
Calories:
449
kcal
|
Carbohydrates:
4
g
|
Protein:
21
g
|
Fat:
38
g
|
Saturated Fat:
17
g
|
Polyunsaturated Fat:
3
g
|
Monounsaturated Fat:
14
g
|
Trans Fat:
1
g
|
Cholesterol:
110
mg
|
Sodium:
937
mg
|
Potassium:
328
mg
|
Fiber:
1
g
|
Sugar:
3
g
|
Vitamin A:
1029
IU
|
Vitamin C:
34
mg
|
Calcium:
294
mg
|
Iron:
1
mg