Vegetarian lettuce wraps were a huge hit with my daughter. She use to always enjoy our chicken lettuce wraps, so when I made them for us I felt guilty she wouldn't eat them.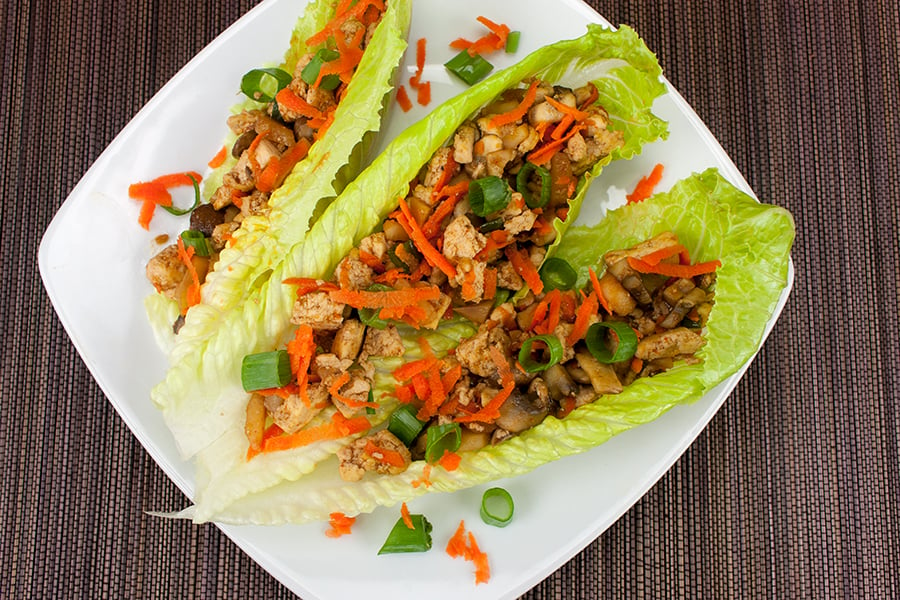 I went on the search for a vegetarian version and this recipe was perfect! Actually, we all loved them. They taste just like PF Changs, I kid you not.
Try our Basil Tomato Soup!
These wraps are just as quick and easy to prepare as the chicken wraps. Super easy weeknight meal. Prepare the veggies and tofu.
In a small bowl, stir together the hoisin sauce, soy sauce, teriyaki sauce, sriracha, rice vinegar, and sesame oil. Set aside.
Heat the 2 teaspoons canola oil or olive oil in a large skillet over medium-high. Once the oil is hot, crumble in the tofu, breaking it into very small pieces as it cooks.
Saute the tofu for about 5 minutes. Add in the mushrooms and cook until all moisture has evaporated. Stir in the water chestnuts, garlic, red pepper flakes and half of the onions. Saute for another 1 minute or so.
Pour the sauce over and cook for another minute until bubbling.
Spoon into the lettuce leaves, top with shredded carrots and green onions, serve. You can also use butter lettuce or iceberg, your choice.
Try a little extra garnish of sesame seeds!
Check out our Vegetarian Hot and Sour Soup!
I'm not a vegetarian but I love these wraps and would make them over and over again. My daughter was in HEAVEN!
Such an easy vegetarian meal that would be a great recipe option for Meatless Mondays. Quick, easy, healthy and absolutely to die for!
Vegetarian Lettuce Wraps Recipe
Recipe inspired by WellPlated