Sheet Pan Eggplant Parmesan
Crispy baked sheet pan eggplant parmesan topped with tangy marinara sauce and smothered in melty mozzarella cheese. So lip-smacking and delicious!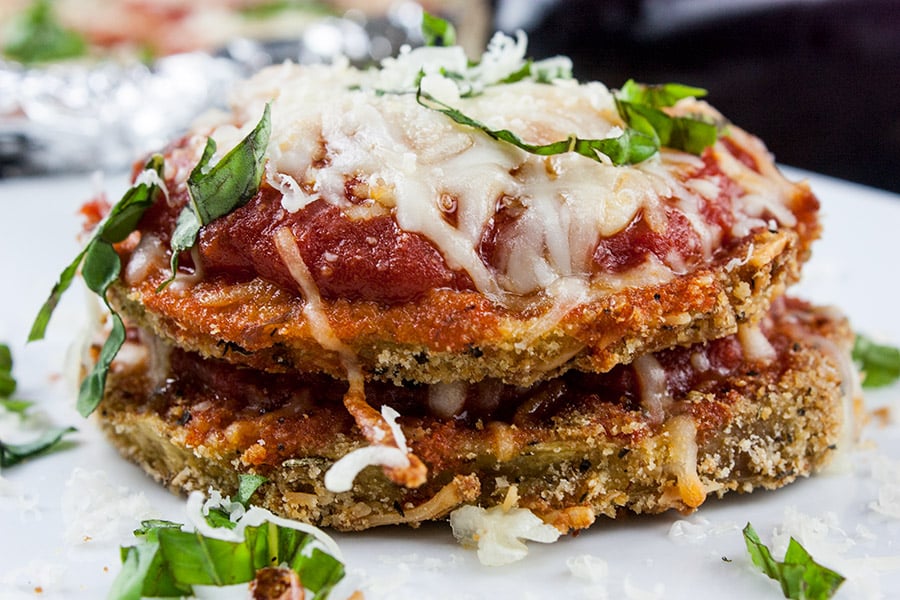 Sheet pan eggplant parmesan is an easier and healthier version of an Italian classic.
Try our Easy Parmesan Meatballs!
How To Make Eggplant Parmesan – Sheet Pan
There are a few steps to this eggplant parmesan recipe but it's worth the effort, I promise.
Peel (optional) and slice the eggplant into 1/4″ rounds. We prefer to peel them, the skin can be tough. Lay them in a single layer on paper towels and salt both sides. Let sit for about 10-15 minutes. Wipe the moisture and excess salt from each piece, set aside. Some people don't think this step is necessary but it helps draw out moisture and bitterness. It's up to you.
Preheat the oven to 400ºF. Cover a large rimmed baking sheet with aluminum foil, brush the foil with 1 tablespoon of olive oil. Set aside.
In a large wide-mouth bowl whisk the breadcrumbs, parmesan cheese, basil, oregano, granulated garlic, and pepper together. In another large wide-mouth bowl whisk the eggs. Dredge each slice of eggplant in the egg and then in the breadcrumb mixture (pressing into the breadcrumbs), place the breaded eggplant on the prepared sheet pan in a single layer.
Bake for 15-20 minutes. Turn each eggplant slice over and bake an additional 15 minutes.
Remove from the oven and top each slice with 2-3 tablespoons of marinara sauce. Sprinkle the mozzarella cheese on top of the marinara sauce. Return to the oven and bake for 20 minutes.
Try our Bread Pudding!
Garnish with fresh basil.
Stack two and serve with additional parmesan. There you have it, baked eggplant parmesan. Who said there isn't a healthy eggplant parmesan? Comfort food at it's best!
Did I mention the easy clean up too!
Eggplant Parmesan Recipe