Cinnamon Crumb Coffee Cake
Cinnamon crumb coffee cake is the perfect accompaniment to your warm cup of coffee. Moist, buttery cake ribboned with a gooey cinnamon middle and topped with a crumbly streusel.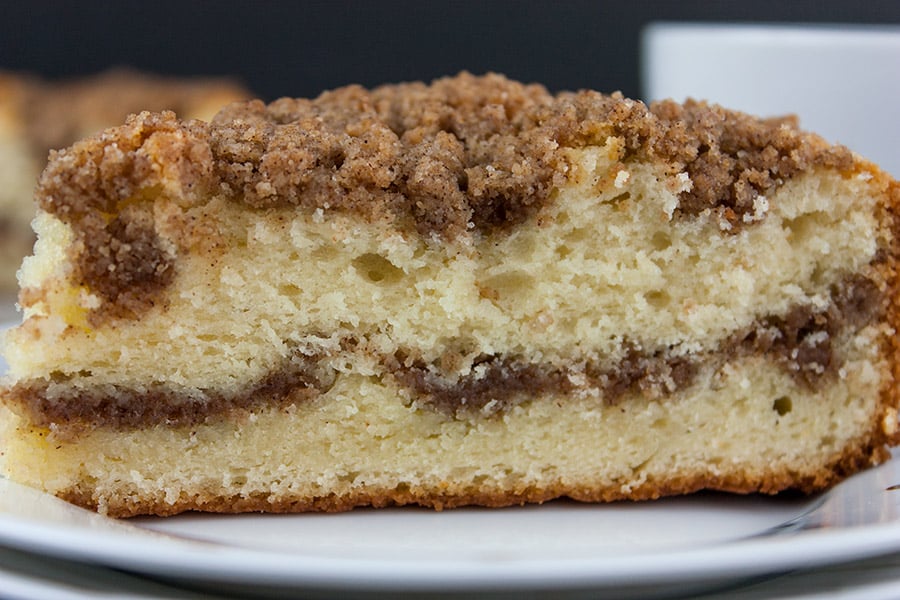 There is nothing better than a thick slice of this cake with your morning or afternoon coffee. They just go hand in hand, right?
Try our Bread Pudding recipe!
Cinnamon Crumb Coffee Cake
How to make an easy Cinnamon Crumb Coffee Cake from scratch
Preheat the oven to 350 degrees F.
Prepare a round (or square) 9″ cake pan with parchment and non-stick baking spray.
In a medium-size bowl whisk the flour, granulated sugar, brown sugar, cinnamon, and salt. With a fork mix in the melted butter until it is moistened and the mixture resembles coarse crumbs. Set aside.
In another medium-size bowl whisk the flour, baking powder, baking soda, and salt.
In a large bowl using an electric mixer cream the butter and sugar until light and fluffy. Add the room temperature eggs, one at a time until combined. Scrape down the sides and bottom of the bowl as necessary.
Add the vanilla. Add the flour alternating with the sour cream and ending with the flour. Do not overmix it will become tough.
Place half the batter in the prepared pan and spread it into an even layer. (the batter will be thick) Sprinkle half of the streusel mixture evenly over the first layer of batter. Repeat with the remaining batter and streusel.
Gently press the crumb topping into the cake batter.
Bake for 40-45 minutes or until a toothpick inserted in the middle comes out clean.
Remove the pan from the oven to a wire rack to cool completely.
Slice and reward yourself with a piece of crumb cake heaven! Breakfast, brunch, dessert, etc this recipe is a real treat any time of the day.
Check out our Blueberry Coffee Cake!
Cinnamon Crumb Coffee Cake Recipe