Blueberry Streusel Coffee Cake
This blueberry streusel coffee cake is bursting with fresh blueberries. Deliciously moist, lightly sweet, and a real treat for your morning or afternoon coffee.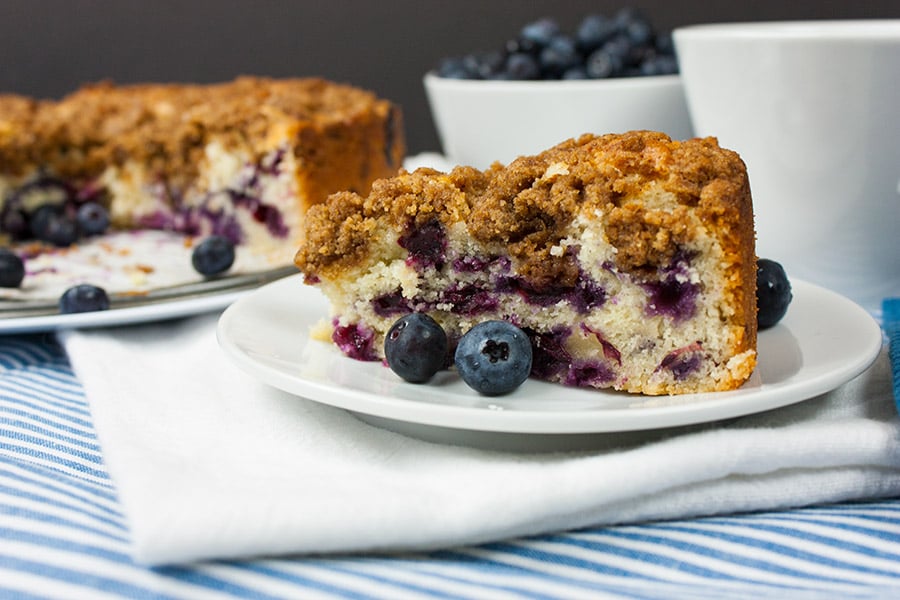 If you are trying to cut back on calories, don't even bother making this cake. My husband and I couldn't stay away from it.  We warned our daughter that she better have some before we ate it all.
Try our Blueberry Muffins!
Blueberry Streusel Coffee Cake
How to make coffee cake
Preheat the oven to 350ºF. Prepare a 9-inch round springform pan with non-stick spray and parchment paper (if desired). Set aside.
To prepare the crumb topping, add flour, brown sugar, cinnamon and melted butter in a medium-sized bowl and mix with a fork until all ingredients are incorporated. Set aside.
In a large bowl cream the butter and sugar until light and fluffy. Add the room temperature egg and vanilla extract.
In a small bowl toss the blueberries with 2 tablespoons of the flour. Then whisk together the remaining flour, baking powder, and salt in a separate bowl.
Add the dry mixture to the wet mixture, alternating with the buttermilk. Gently fold in the blueberries.
Spread the cake batter in your prepared pan. Sprinkle the streusel topping on the top of the cake evenly.
Bake for 45 to 50 minutes until a toothpick inserted in the center comes out clean. Baking times may vary.
Allow the cake to cool for at least 15 minutes. Loosen the edge of the cake from the pan with a thin knife, remove the sides of the pan.
Let cool before you indulge! I snagged a piece after 30 minutes. Actually, before I even took the photos for this post. It smelled so heavenly I didn't even think about photos. Just poured me a cup of coffee and dug into that luscious blueberry streusel coffee cake.
This is a must try this recipe! I can't emphasize this enough. My husband claimed this cake should be available at all times. Although I agree, I can't even begin to imagine how much weight we would gain!
Our Blueberry Scones are also a big hit for breakfast!
Blueberry Coffee Cake Recipe