Easy bacon potato salad is a great side dish for your BBQs and picnics. Creamy, slightly tangy, and loaded with bacon!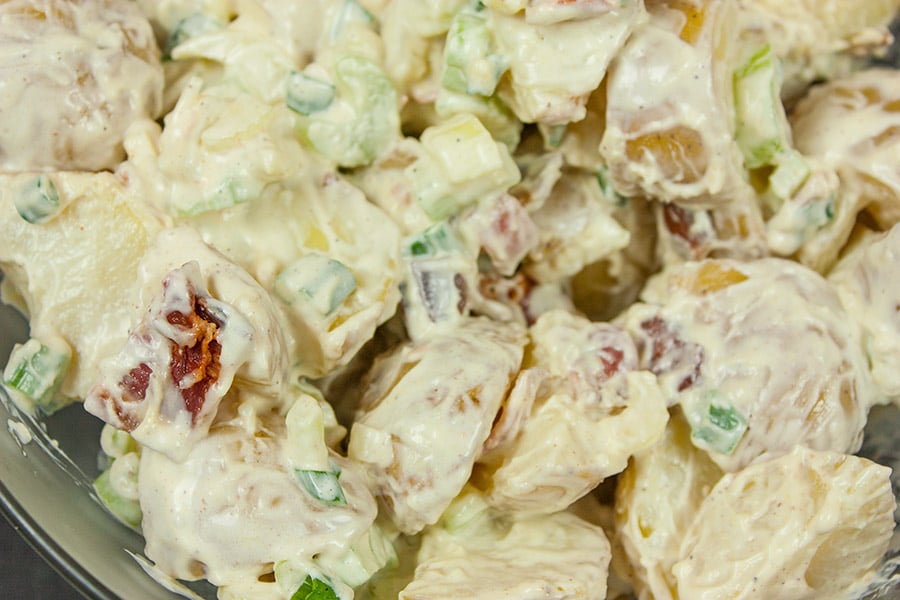 We normally make a southern style potato salad, but this recipe changes it up for us from time to time. It just depends on our mood.
Easy Bacon Potato Salad
It's quick and has very few ingredients. Wash, chop, and boil the potatoes. We use red potatoes or baby gold. I found baby gold potatoes on sale this week.
Place potatoes in a large pot and cover with cold water.
Bring to a boil over medium-high heat. Reduce heat to medium-low and continue cooking for 8-10 more minutes, or until potatoes are fork-tender. Drain potatoes.
Allow the potatoes to cool to room temperature.
Cook the bacon until crispy and drain on paper towels. Set aside
In a large bowl, combine mayonnaise, mustard, vinegar, celery salt, and pepper. celery, onion, eggs, and bacon. Mix until well combined. Add potatoes, celery, onions, and bacon stir gently until coated. Season with additional salt and pepper as desired.
Add the potatoes, celery, green onions, and bacon. Toss gently until all the potatoes are generously covered in the dressing.
We added the bacon last so we could set aside a separate dish for my vegetarian daughter.
Cover tightly and refrigerate for about an hour. Overnight is even better, the flavors really come together.
An easy bacon potato salad that's sure to please! Serve alongside your favorite barbecued meat. We were having an unusual spring-like day and had a craving for ribs!
Bacon Potato Salad Recipe