How To Make Easy Italian Pinwheel Appetizers
Elevate any party with these easy-to-make Italian Pinwheels, featuring a delectable combination of ham, pepperoni, salami, and provolone, complemented by a cream cheese spread infused with Italian seasoning, diced roasted red peppers, and zesty banana peppers.
Why You'll Love This
These Italian Pinwheels rock for a multitude of reasons!
Firstly, their assembly is a breeze, making them an ideal go-to for busy hosts.
Just layer ham, pepperoni, salami, and provolone, spread on the creamy mixture of Italian seasoning-infused cream cheese, diced roasted red peppers, and zesty banana peppers, then add a refreshing touch of lettuce before rolling it all up.
The best part? No cooking is required!
Secondly, the resulting taste is a true delight – a medley of savory meats, zesty peppers, and creamy cheese that dance harmoniously on your taste buds.
Lastly, these pinwheels are a party host's dream come true.
They can be made ahead of time, chilled, and sliced just before serving, allowing you to spend more time enjoying the festivities and less time in the kitchen.
Plus, their vibrant colors and irresistible flavors are guaranteed to impress guests at any gathering, whether it's a casual potluck, a celebratory bash, a rowdy gameday, or an elegant soirée.
With their ease of preparation, tantalizing taste, and party-friendly nature, Italian Pinwheels are the ultimate culinary secret weapon to elevate your next event to a whole new level of fun and flavor.
Ingredients Needed
There's nothing too crazy here. Feel free to use deli sliced or prepackaged versions.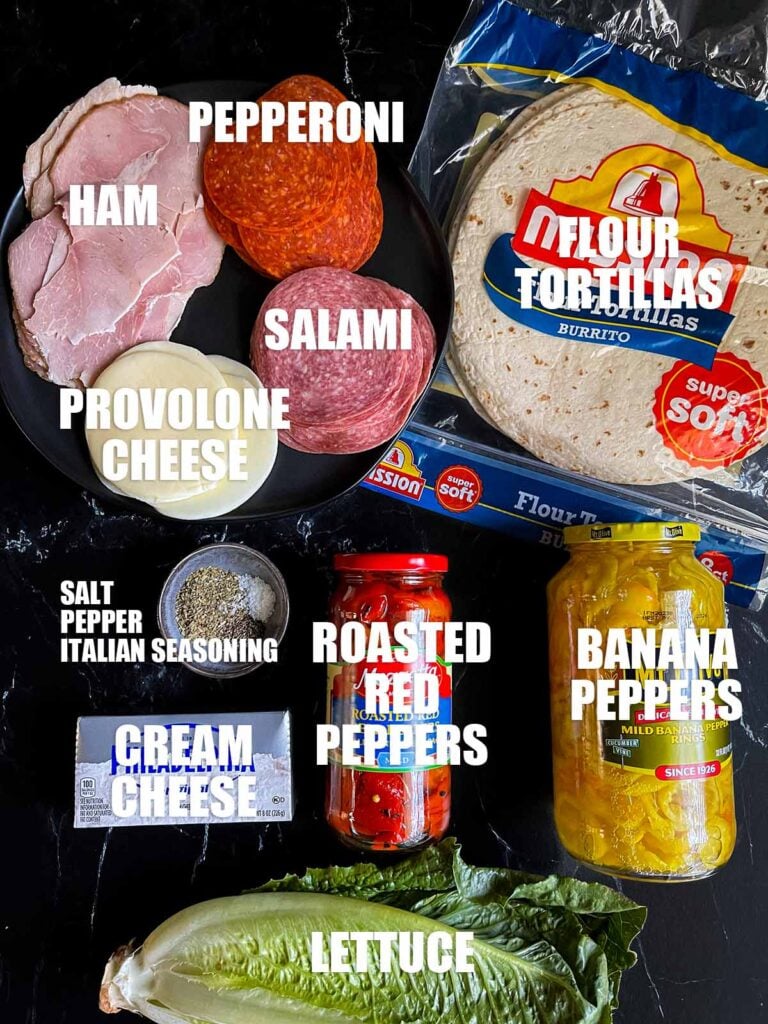 Tortillas (burrito size): The foundation of the dish, the large tortilla serves as the wrap that holds all the flavorful ingredients together, creating a convenient and portable package.
Ham: Adds a savory and slightly sweet taste to the pinwheels, offering a balanced contrast to the other ingredients.
Salami: Introduces a rich and robust flavor, enhancing the overall savory profile of the dish with its well-seasoned taste. We used Genoa salami. Hard salami works, too!
Pepperoni: Infuses a delightful spiciness and a distinctive smoky flavor, contributing to the dynamic taste combination.
Provolone cheese: Provides a creamy and slightly tangy element and adds a smooth texture.
Lettuce: Offers a refreshing crunch and a burst of freshness, balancing the richness of the meats and cheese with its light and crisp texture. We used romaine lettuce. Use your favorite
Cream Cheese Spread
Cream cheese: Creates a luscious and velvety texture that acts as the base for the spread, adding a rich and indulgent dimension to the pinwheels.
Italian seasoning: Infuses the cream cheese spread with aromatic herbs and spices, contributing a quintessential Italian flavor profile that ties the elements together.
Salt and black pepper: Enhance the overall seasoning of the spread, ensuring a well-balanced taste that complements the other ingredients.
Diced roasted red peppers: Bring a hint of sweetness, smokiness, and vibrant color to the spread, creating bursts of flavor and visual appeal within each bite.
Diced banana peppers: The banana pepper rings introduce a zesty and tangy kick, contributing a lively and slightly spicy element that plays off the creaminess of the spread, the richness of the meats, and the crunch of the lettuce. Pepperoncini peppers work just as well.
Together, these carefully selected ingredients form a unified symphony of flavors and textures, resulting in Italian Pinwheels that are not only visually appealing but also a delight to the palate, making them the perfect addition to any party or gathering.
How To Make Italian Pinwheels
For easier mixing, you want the cream cheese to be at room temperature, so plan ahead for that.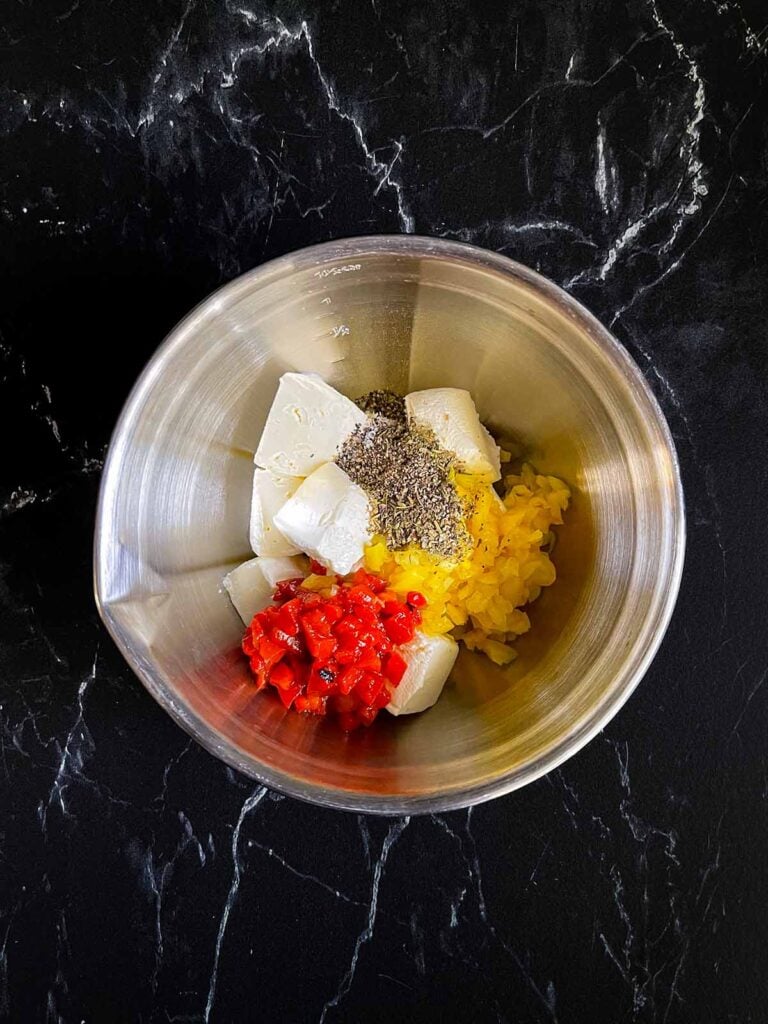 With that said, in a small bowl, add the cream cheese, Italian seasoning, and salt and pepper.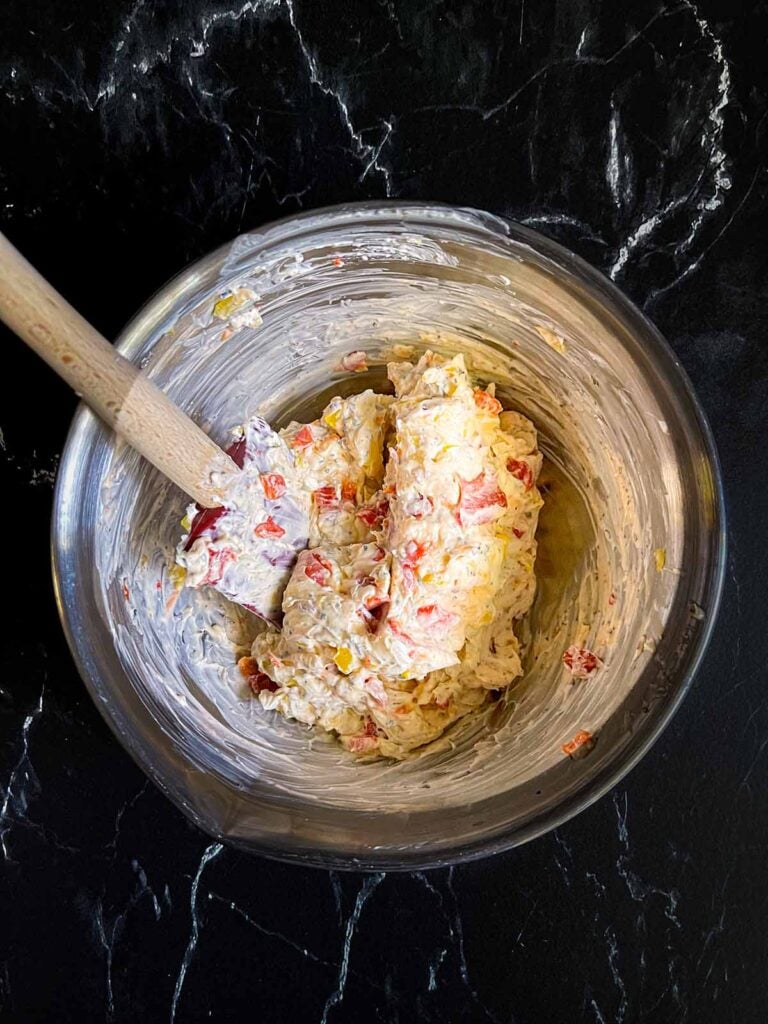 Using a spatula, wooden spoon, or other kitchen utensil, mix until it's all well combined.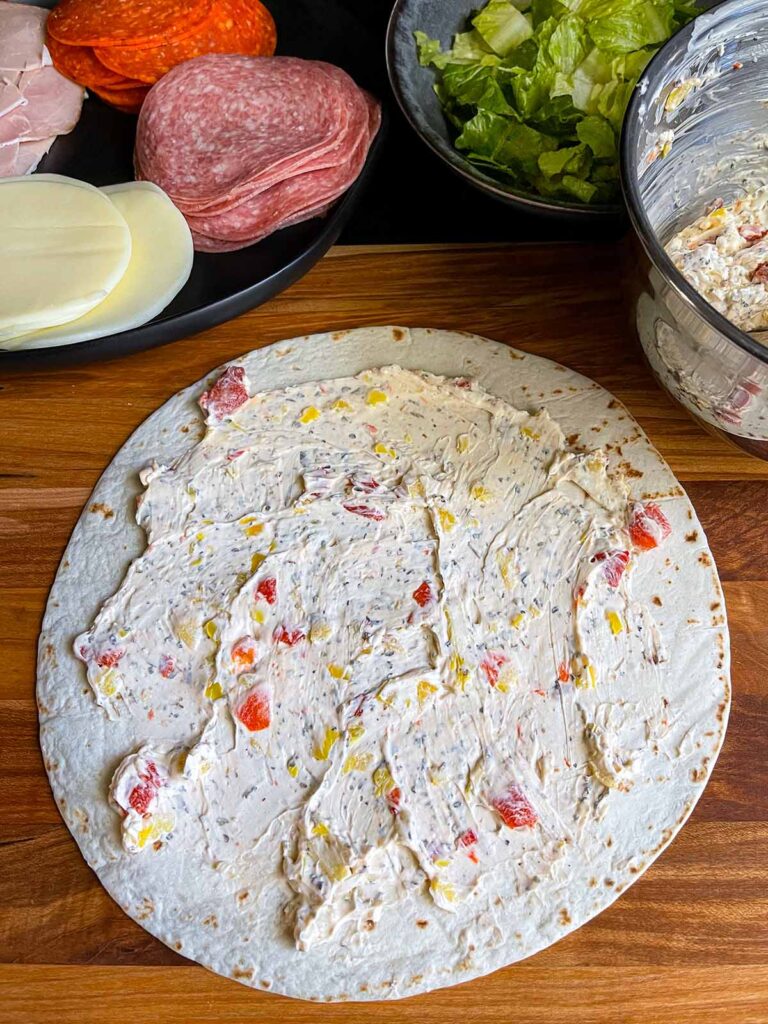 Lay out a flour tortilla and spread 1/3 of the cream cheese mixture across its entire surface.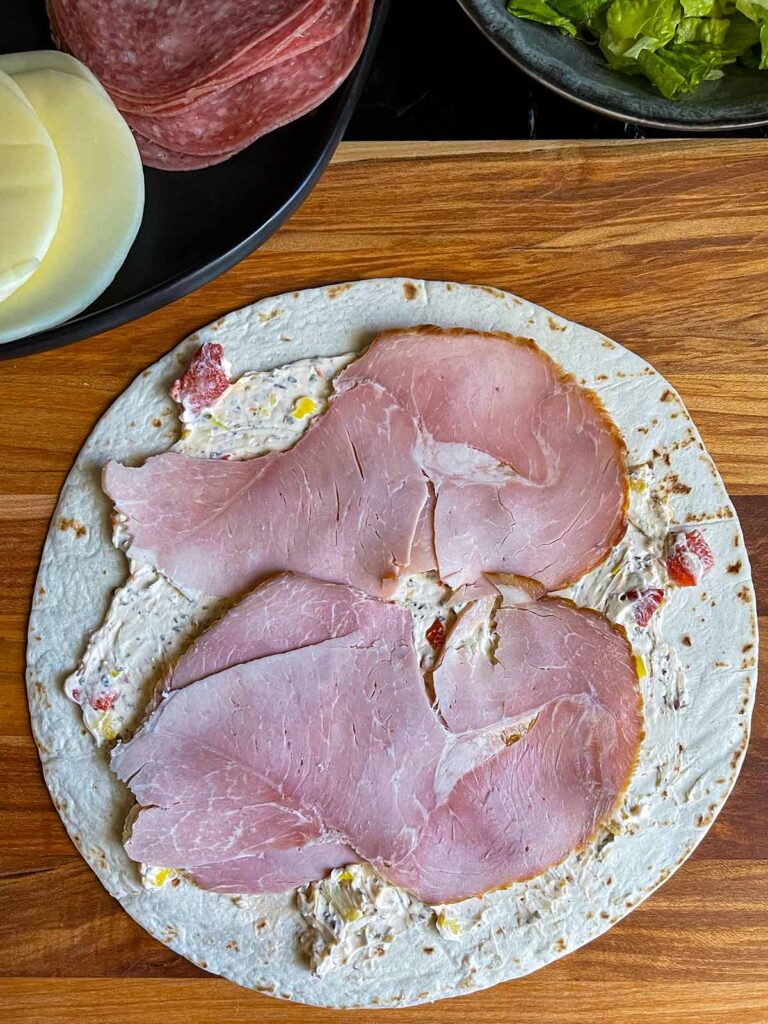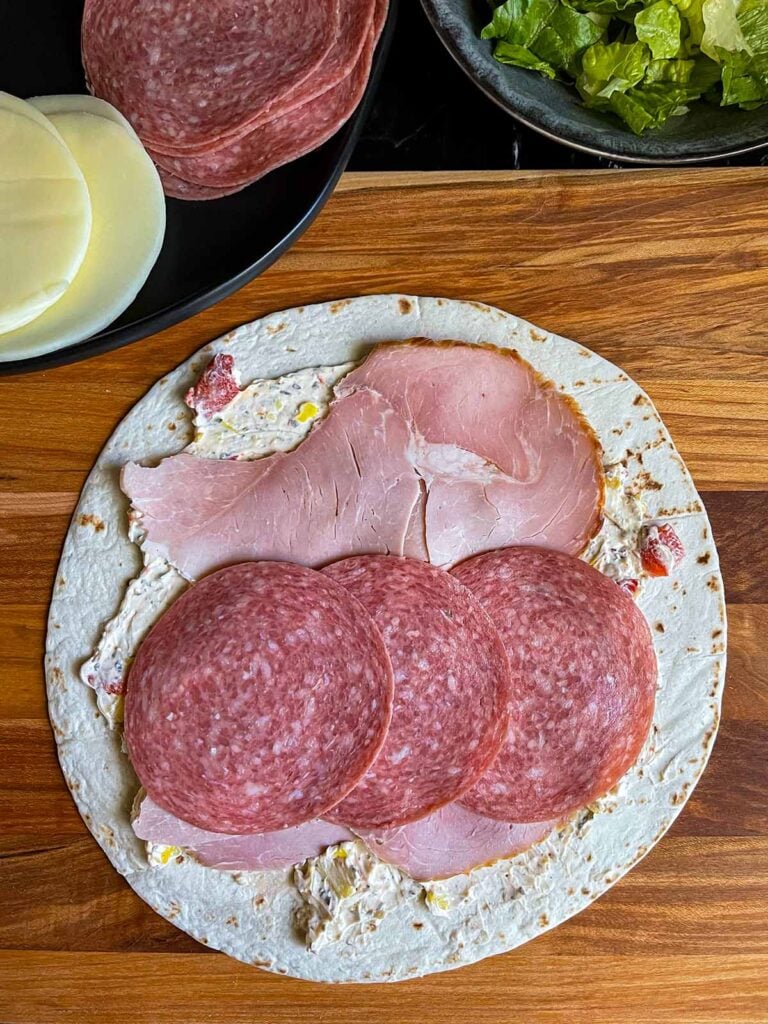 Place a layer of slices of deli ham down. Then, place a layer of slices of salami.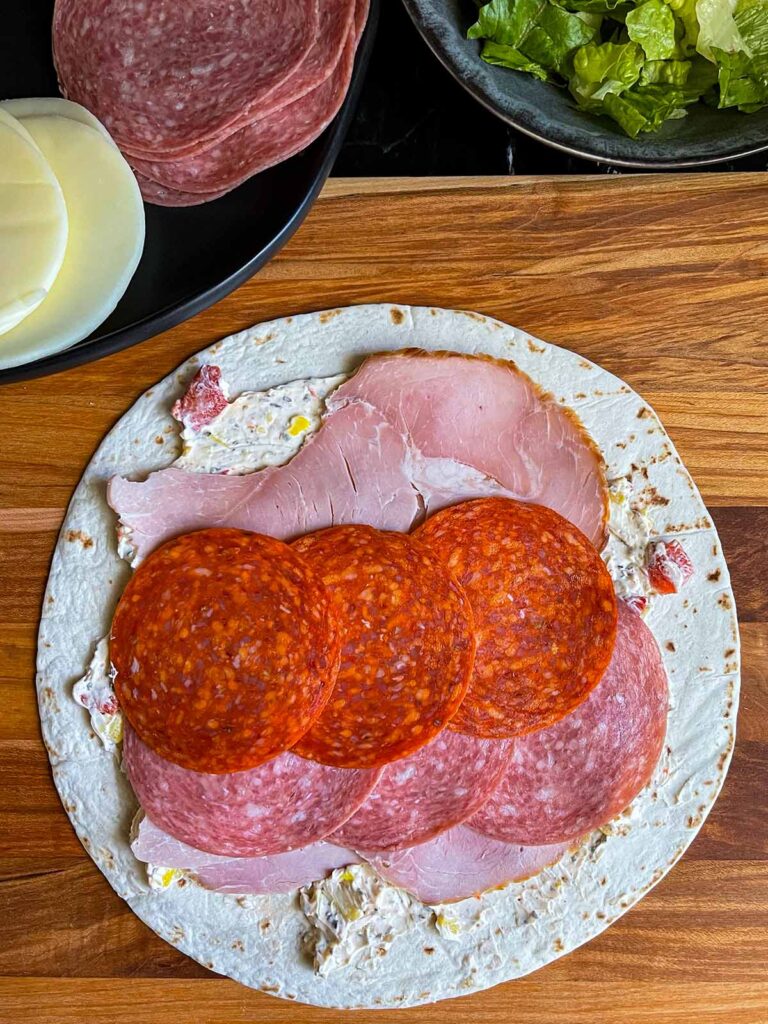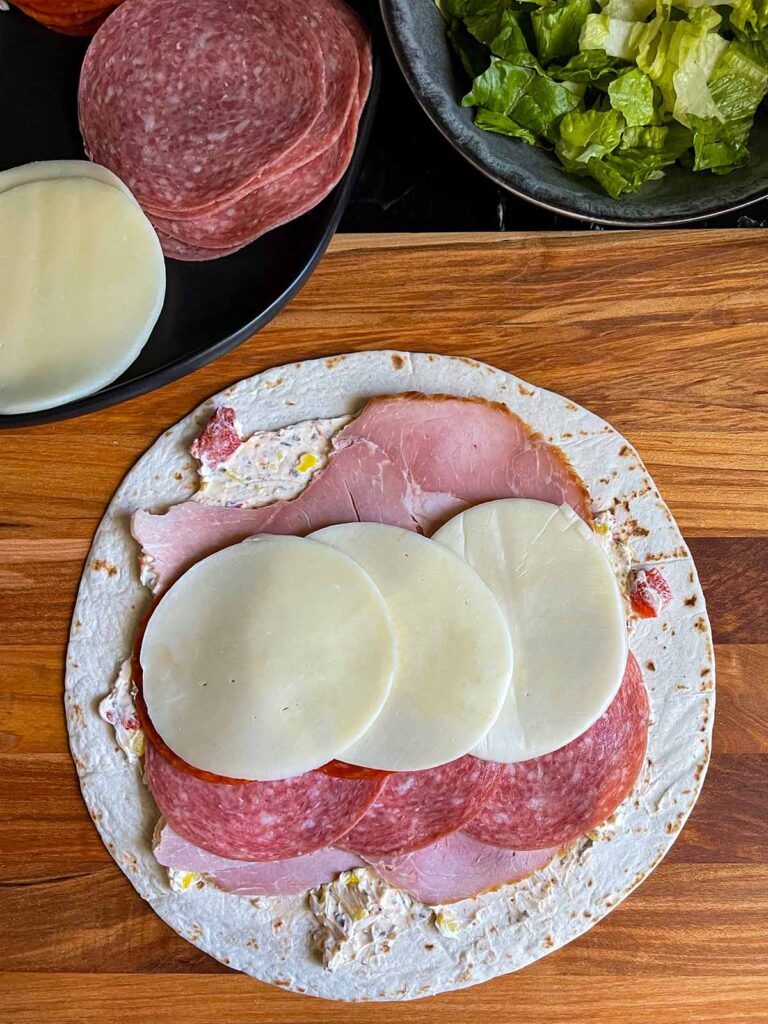 Next, add the pepperoni and then a layer of slices of provolone cheese.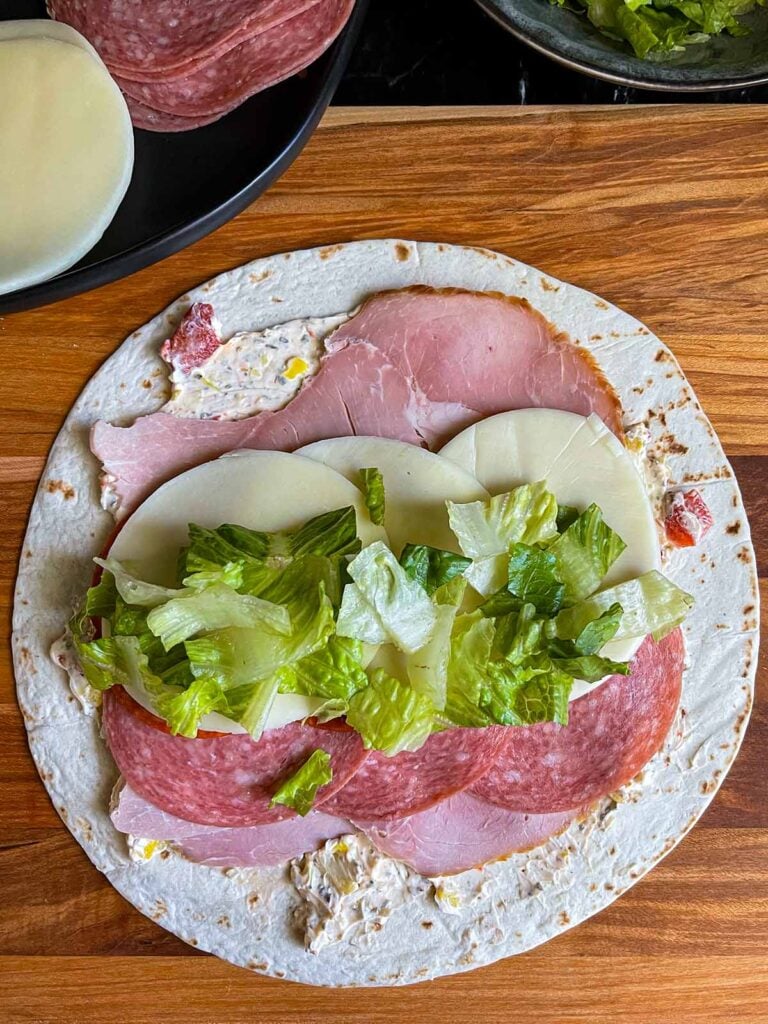 Lastly, add the chopped fresh lettuce.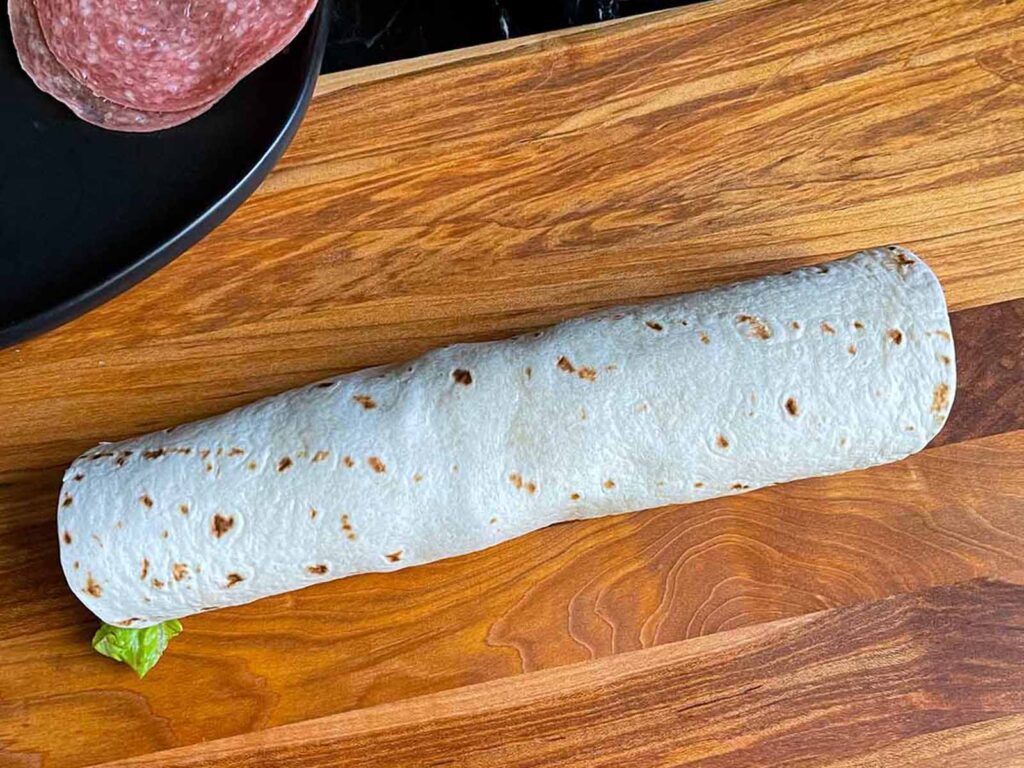 Gently but tightly, roll the tortilla up.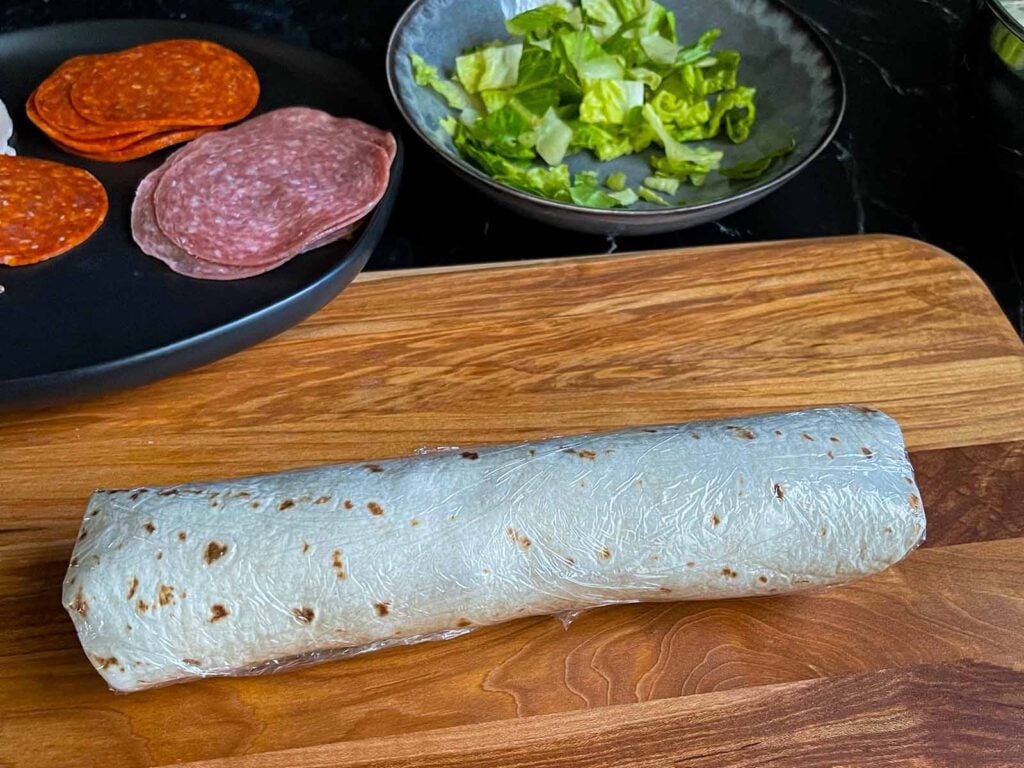 Wrap the tortilla roll up in plastic wrap and refrigerate for 3 hours to overnight.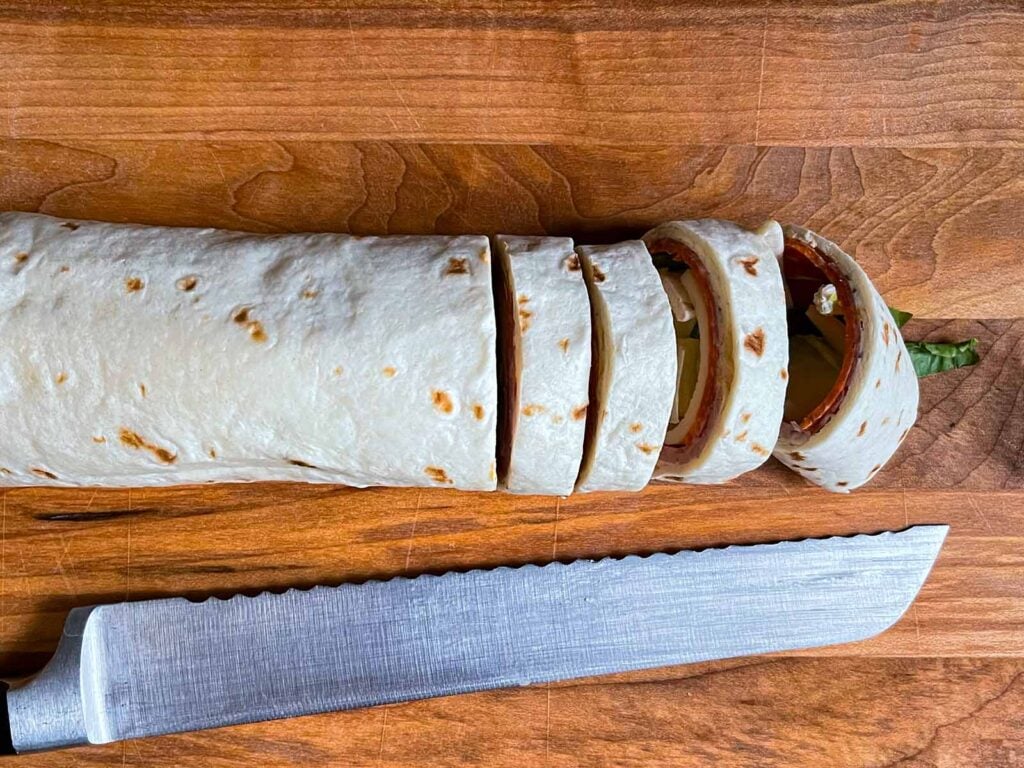 When ready, remove the wrap from the plastic wrap and cut the ends off.
Cut individual pinwheels in 1/2-inch increments. The roll should yield 8-10 pinwheels per wrap.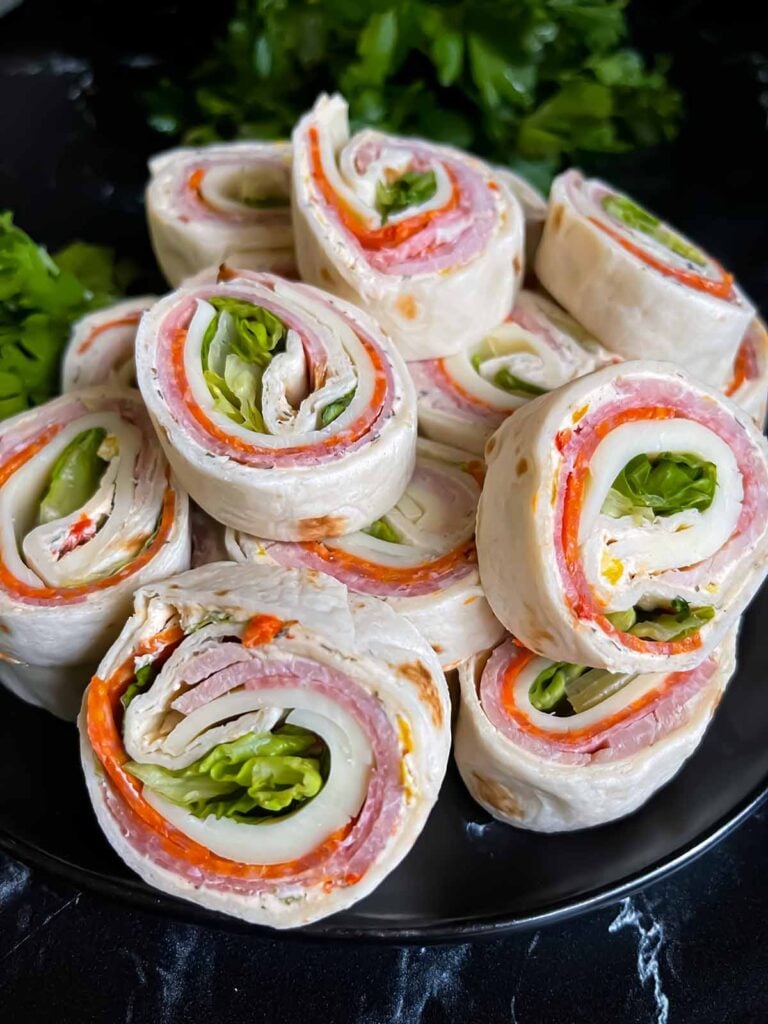 When done slicing, plate it up and serve!
These easy-to-make delights are a flavor-packed explosion wrapped in convenience. Assembling these pinwheels is a breeze – just layer, spread, roll, and voilà!
Whether it's a casual hangout, a game day extravaganza, or an elegant soirée, these pinwheels steal the spotlight every time.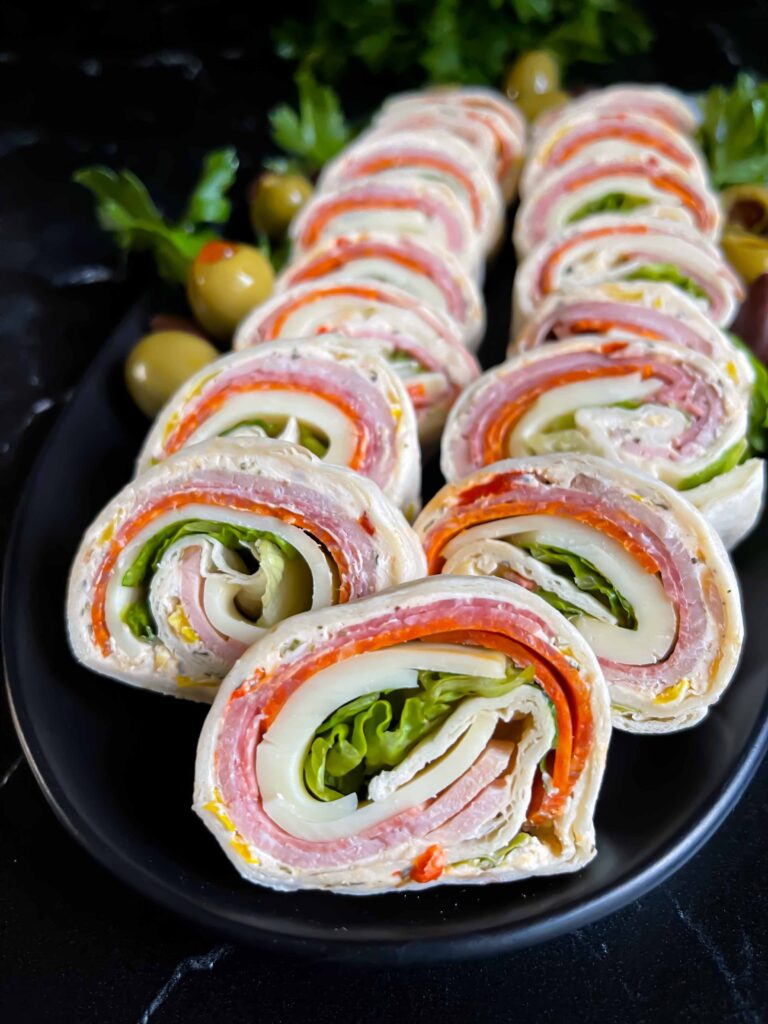 Watch as your guests' faces light up with delight as you bask in the glory of your culinary prowess.
So why wait? Turn any gathering into flavor central with these perfect, party-ready pinwheels!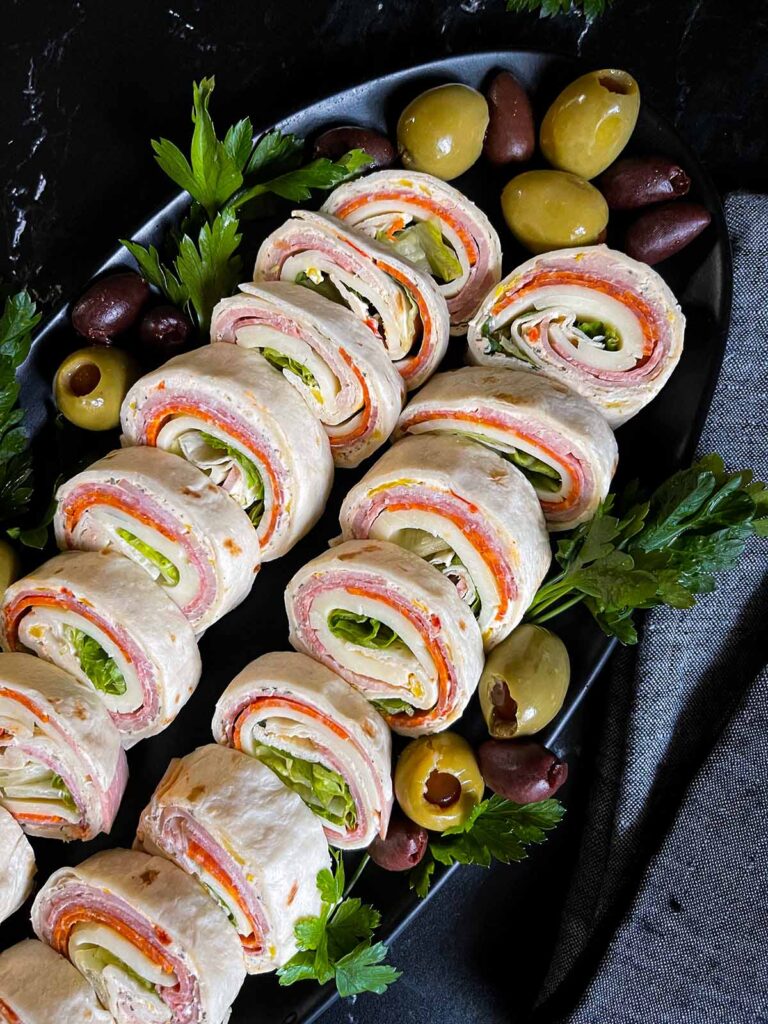 Looking for an easy appetizer that's sure to impress? This delicious Italian pinwheel recipe is a perfect choice for family gatherings and dinner parties alike!
Tips And Variations
Chill and Slice with Precision: After rolling up your pinwheel creation, wrap it tightly in plastic wrap and refrigerate for at least a couple of hours before slicing. Chilling firms up the ingredients, making slicing clean and neat. For picture-perfect pinwheels, use a sharp knife and cut gently to maintain their beautiful spiral shape.
Customize and Experiment: While the classic combination of ham, salami, pepperoni, and provolone is fantastic, don't hesitate to get creative! Feel free to swap out meats, cheeses, or even add roasted veggies for a twist that suits your taste. The cream cheese spread can also be personalized with herbs or spices to match your flavor preferences.
Prep in Advance for Stress-Free Hosting: One of the best features of Italian Pinwheels is their make-ahead nature. Whip up the pinwheels a day before your event and refrigerate until it's time to serve. This gives the flavors time to meld and allows you to focus on other party preparations.
Mediterranean Variation: Swap out the traditional cured meats for a Mediterranean-inspired twist. Layer thinly sliced roasted turkey, Genoa salami, and feta cheese over the tortillas. Instead of the cream cheese spread, use a blend of hummus and tzatziki for a tangy and creamy base. Add a burst of freshness with diced cucumbers, cherry tomatoes, and chopped Kalamata olives. Roll it up, slice, and enjoy the vibrant flavors of the Mediterranean in each delightful bite.
Caprese Creation: Give your pinwheels a Caprese-inspired makeover for a burst of Italian freshness. Layer the tortillas with slices of fresh mozzarella, ripe tomato, and fragrant basil leaves. Instead of the cream cheese spread, drizzle with balsamic glaze and a touch of olive oil. Sprinkle with salt and black pepper to taste. Roll up this masterpiece and slice into bite-sized pieces. Your guests will savor the harmonious blend of creamy mozzarella, juicy tomatoes, and aromatic basil. Parmesan cheese and sun-dried tomatoes would be good additions or substitutions for this as well.
Other Suggestions: A little hit of red onion would go great with this deli meat. This pinwheel appetizer is easily changed by your preferences. We went with some standard Italian meats, but all kinds of meat would work just as well.
FAQs
What are Italian pinwheels made of?
Italian Pinwheels are a delightful combination of flavors that's both tasty and simple to make! They're packed with ham, pepperoni, salami, provolone cheese, a savory cream cheese mixture, and a dash of Italian seasonings.
Can you make Italian pinwheels ahead of time?
Yes, Italian pinwheels are a great make-ahead appetizer. After assembling and rolling the pinwheels, wrap them tightly in plastic wrap and refrigerate for at least an hour or overnight. Chilling them helps the flavors meld and makes slicing cleaner. When it's time to serve, simply unwrap and cut into individual pinwheels.
What occasions are Italian pinwheels suitable for?
Italian pinwheels are perfect for a variety of occasions! They're a hit at potlucks, picnics, game day gatherings, birthday parties, baby showers, and even elegant dinner parties. Their vibrant colors, bold flavors, and easy-to-eat format make them versatile and well-suited for any event where finger foods are a must.
Other Delicious Appetizers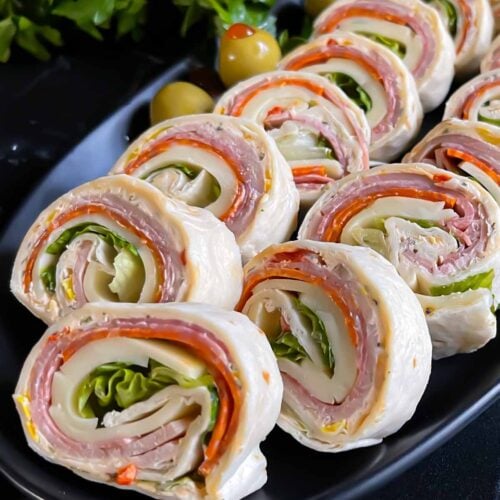 Italian Pinwheels
Indulge in these irresistible Italian Pinwheels – a medley of savory flavors rolled into a delightful bite. Perfect for any occasion!
Print
Pin
Rate
Ingredients
Main Ingredients
3

Flour tortillas

burrito size (large)

6

oz

Ham

6

oz

Pepperoni

6

oz

Genoa Salami

9

slices

Provolone cheese
Cheese Spread
8

oz

Cream cheese

room temperature

1/4

cup

Roasted red peppers

diced

1/4

cup

Banana peppers

diced

1

tbsp

Italian seasoning

1/4

tsp

Black pepper

1/4

tsp

Salt

1

cup

Lettuce

chopped
Instructions
Add the roasted red peppers, banana peppers, italian seasoning, salt, and pepper to the softened cream cheese.

8 oz Cream cheese,

1/4 cup Roasted red peppers,

1/4 cup Banana peppers,

1 tbsp Italian seasoning,

1/4 tsp Salt,

1/4 tsp Black pepper

Spread a third of the cream cheese mixture over a tortilla.

Place a layer of ham, then salami, then pepperoni. Stagger them slightly.

6 oz Ham,

6 oz Genoa Salami,

6 oz Pepperoni

Add a layer of provolone cheese, then add some lettuce.

9 slices Provolone cheese,

1 cup Lettuce

Gently, but tightly, roll the tortilla up.

Repeat the process until you're done.

Wrap the tortillas up in plastic wrap and refrigerate for 3 hours to overnight.

When ready, remove the plastic wrap and cut the two ends off each tortilla wrap.

Cut in 1/2 inch increments, creating your pinwheels.
Notes
Leftover Italian Pinwheels?
Individually wrap the leftover pinwheels in plastic wrap or place them in an airtight container. This helps prevent them from drying out or absorbing unwanted odors from the fridge.
Nutrition
Calories:
238
kcal
|
Carbohydrates:
7
g
|
Protein:
12
g
|
Fat:
18
g
|
Saturated Fat:
9
g
|
Polyunsaturated Fat:
1
g
|
Monounsaturated Fat:
6
g
|
Cholesterol:
49
mg
|
Sodium:
798
mg
|
Potassium:
210
mg
|
Fiber:
1
g
|
Sugar:
2
g
|
Vitamin A:
489
IU
|
Vitamin C:
15
mg
|
Calcium:
151
mg
|
Iron:
1
mg