Easy Pumpkin Cake with Cream Cheese Filling
Easy pumpkin cake with cream cheese filling will be a show stopper during Thanksgiving or Christmas dinner. Simple to make using a spice cake mix with spiced cream cheese and whipped cream filling.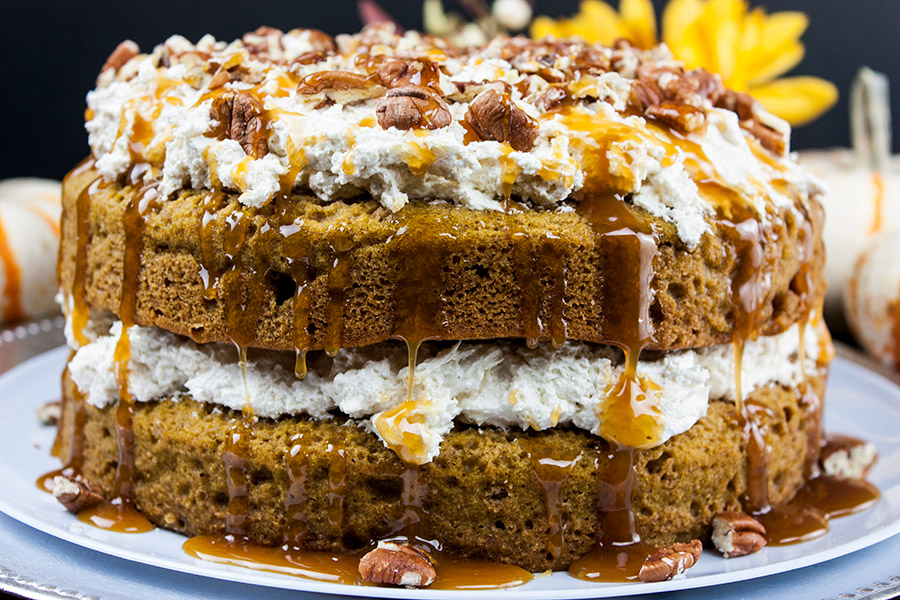 I call this a filling, not a frosting because it's not the typical cream cheese frosting. It's lightly sweet with a touch of pumpkin spice. Topped with nutty toasted pecans and drizzled with caramel.
Try our Pumpkin Muffins!
Easy Pumpkin Cake with Cream Cheese Filling
Preheat the oven to 350°F. Prepare 2 round 9″ cake pans with baking spray or butter and flour.
Mix the spice cake mix with the pumpkin puree, milk, oil, eggs, and pumpkin pie spice. Bake in 2 round 9″ cake pans. Remove and let cool completely before frosting.
To make the cream cheese frosting beat the cream cheese until smooth and creamy. Add the powdered sugar and pumpkin pie spice. Gently fold in the whipped topping.
You can make your own whipped cream if you like. But why not go the easy route during those crazy busy holidays.
Spread half the topping on the first layer of the cooled cake, top with the other layer, and spread the remaining filling.
Sprinkle the toasted pecans over the top and drizzle with the caramel topping just before serving.
The best pumpkin layer cake with spiced whipped cream cheese filling topped with toasted pecans and caramel.
You can't go wrong with this heavenly Thanksgiving or Christmas dessert!
Try our Pumpkin Coffee Cake!
Easy Pumpkin Cake Recipe
Recipe inspired by KraftRecipes