Easy One-Hour Orange Rolls
Delicious easy one-hour orange rolls are so light and fluffy! And in one hour? Yes! These rolls are super soft and fluffy with the perfect amount of fresh orange flavor.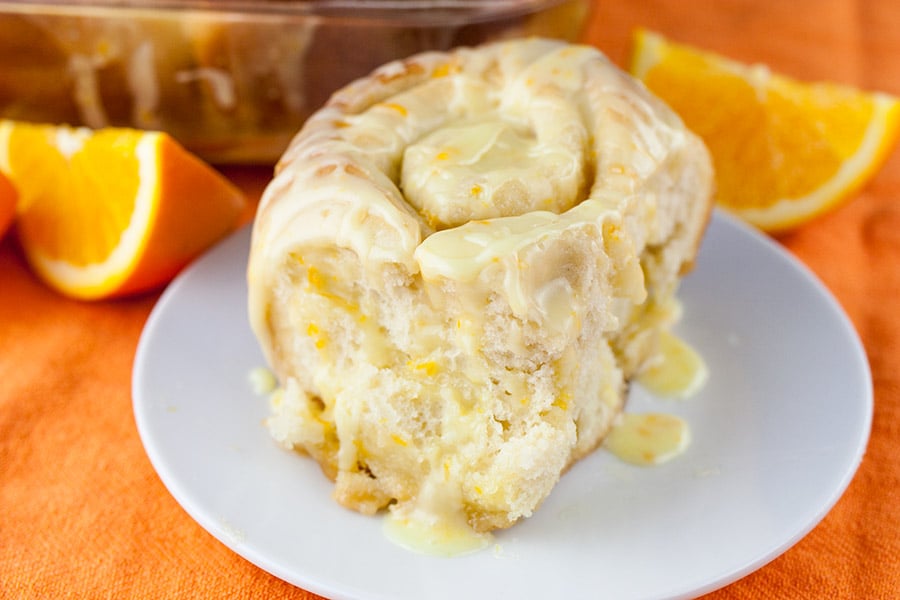 Tired of cinnamon rolls? Give these orange rolls a try.
Try our Bread Pudding!
Easy One-Hour Orange Rolls
How to make quick and easy one-hour orange rolls
In the bowl of an electric whisk together the warm water, buttermilk, sugar, melted butter, and yeast. Allow to proof for 15 minutes.
With the dough hook attached add the salt, eggs, and 5 cups of flour and mix for 10 minutes. Add just enough flour for the dough to pull away from the bowl. Do not add too much flour! Turn the mixer off and allow to rest for another 10 minutes.
While the dough is resting prepare the filling. In a small bowl mix together the softened butter, sugar, and orange zest.
Roll the dough out onto a lightly floured surface into a 12×16 inch square. Spread the filling to within 1/2″ of the edges. From the long edge roll the dough up into a tight log, pinch the seam to seal together.
Cut the dough log into 12 large rolls and place the rolls in a lightly buttered 9×13 baking pan. Cover with plastic wrap or parchment paper. Let rise 15 minutes while you preheat the oven to 400ºF.
Remove from the oven and let cool slightly while you prepare the orange glaze.
Mix together the powdered sugar, orange zest, vanilla, and enough fresh orange juice (3 tablespoons or more) to make it spreading consistency.
Spread or drizzle the orange frosting over the rolls.
Slice and serve these soft and fluffy Easy One-Hour Orange Rolls!
Check out our Sandwich Bread recipe!
Orange Sweet Rolls Recipe