Overnight Cinnamon Rolls
These overnight cinnamon rolls are so easy to whip up the night before and bake in the morning.  I've always avoided cinnamon rolls because of the time it takes to make them.  Not anymore!  Not only are these easy to make they are heavenly!  So soft, fluffy and full of cinnamon flavor.  My favorite part is the super soft center.  I'm pretty sure that's everyone's favorite, right?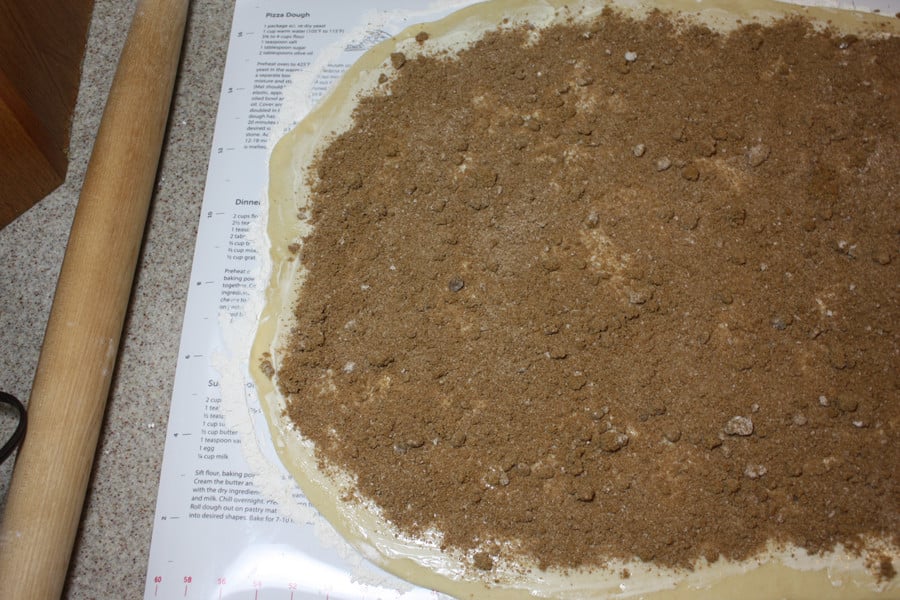 You just prepare the dough, allow to rise.  Punch down, roll out and spread the butter and cinnamon mixture all over.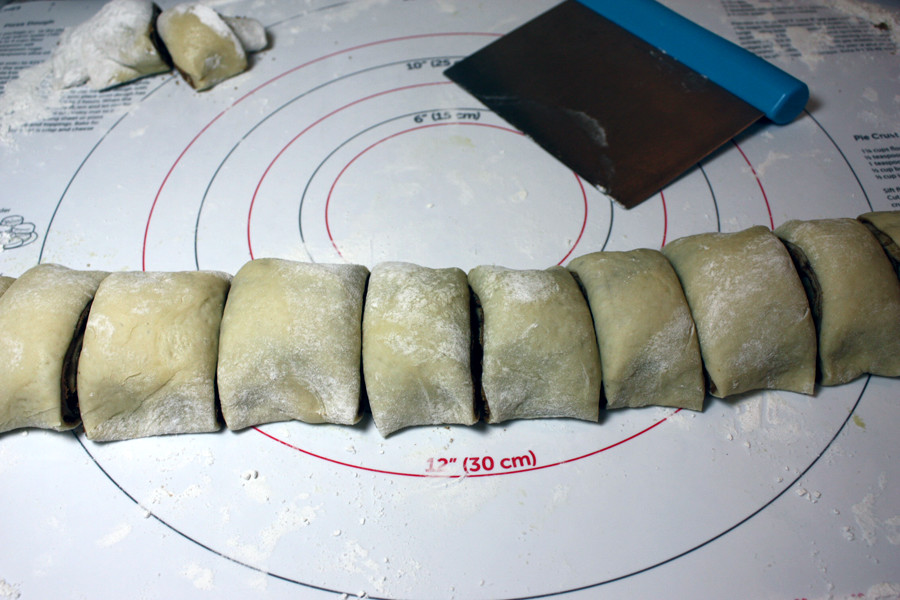 Roll it up tightly and cut into pieces.  I think I could have rolled mine a little tighter. (I can be very impatient.)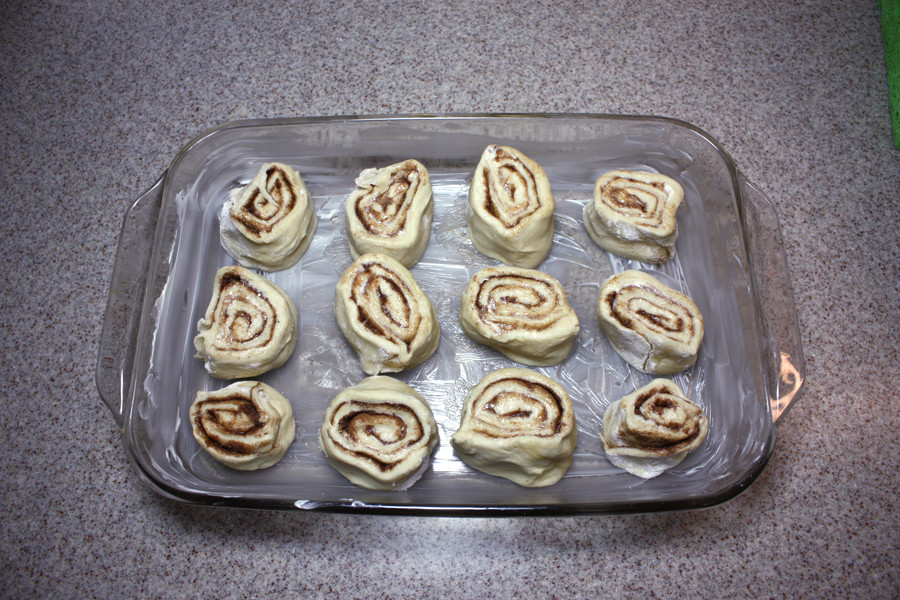 Place them in a butter dish and refrigerate overnight.  In the morning, pull them out of the fridge and let rise in a warm place for about 1 1/2 to 2 hours. Then bake.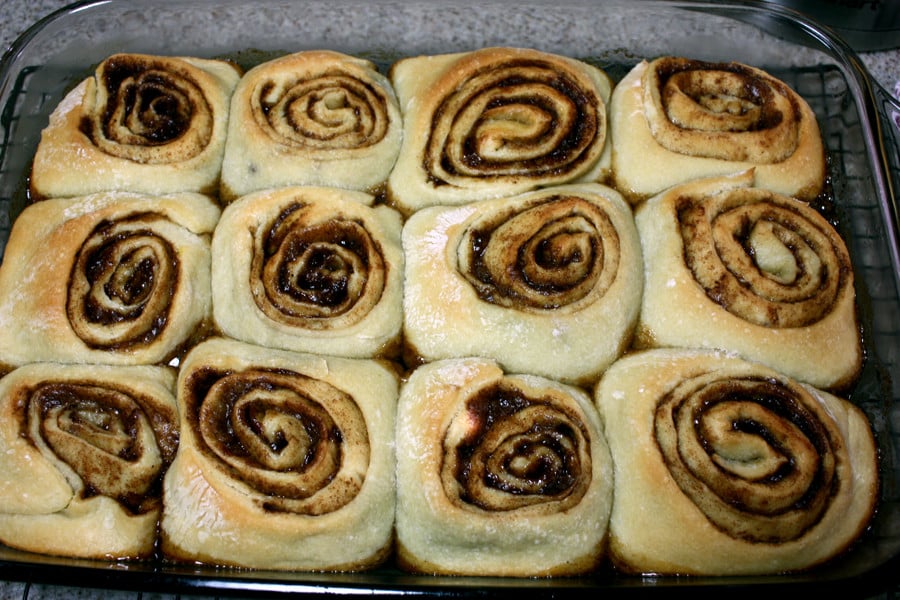 I made the icing the night before.  While they were rising in the morning I allowed the icing to come to room temperature.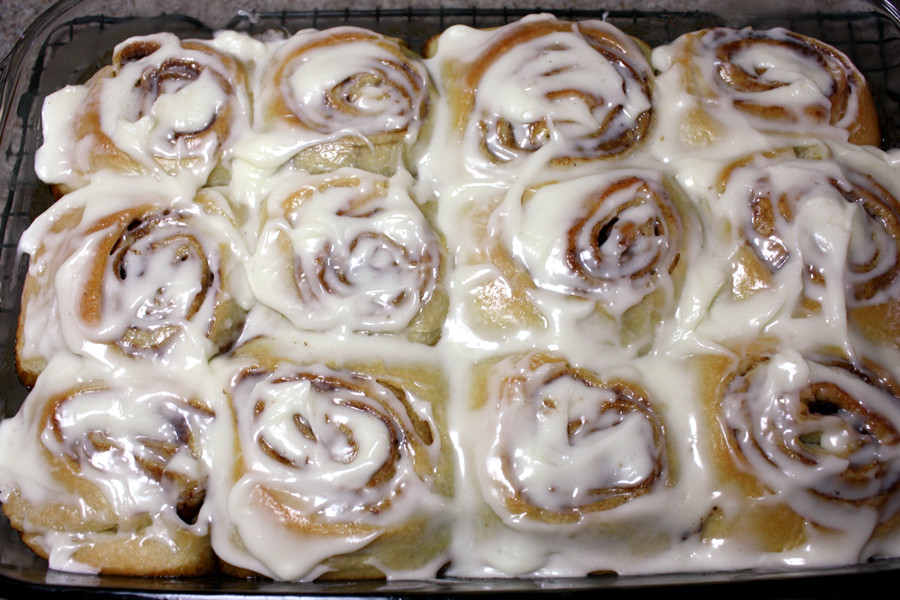 When done baking, slathering that yummy icing on thick and evenly.  Perfection!  Warm, fresh cinnamon rolls right in your own kitchen.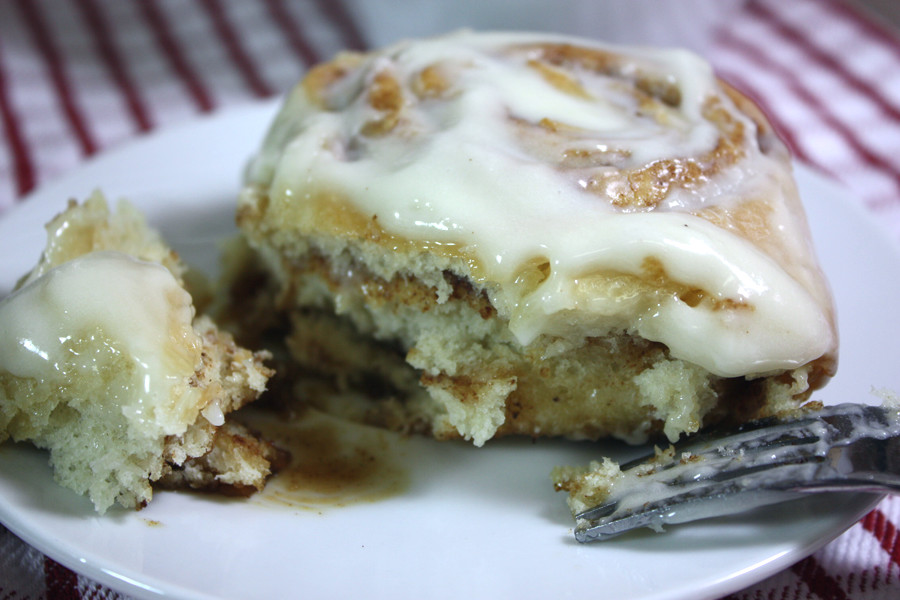 Serve immediately!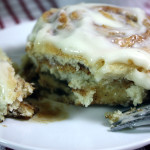 Print Recipe
Overnight Cinnamon Rolls
Overnight Cinnamon Rolls - Fluffy, warm, gooey cinnamon rolls! Super easy to make the night before, let rise and bake the next morning.
Ingredients
Dough:
3/4

cup

warm water

2 1/4

teaspoons

active dry yeast

1/2

cup

granulated sugar

1/2

teaspoon

salt

1/4

cup

buttermilk, at room temperature

1

egg

1/3

cup

canola or vegetable oil

4 1/2-5

cups

all purpose flour
Filling:
1/2

cup

butter, softened

1 1/4

cups

packed dark brown sugar

2

tablespoons

ground cinnamon

1/2

teaspoon

ground nutmeg

1

tablespoon

cornstarch
Icing:
4

oz.

cream cheese, softened

1/4

cup

butter, softened

1/2

teaspoon

vanilla extract

2

cups

powdered sugar
Instructions
Making the dough-

In the bowl of a stand mixer fitted with a dough hook, pour in water, yeast and 1 tablespoon of the granulated sugar. Stir and proof 5 to 10 minutes. Once the mixture looks bubbly and frothy, pour in remaining sugar and salt. Mix on low to combine.

In a small bowl, measure buttermilk, oil, and egg. Whisk ingredients together until combined. Pour contents into the water and yeast mixture. Mix another 20 seconds in the mixer.

Pour 2 cups of flour into mixer and mix on low until incorporated. Sprinkle flour in by 1/4 cup increments until dough cleans the sides and bottom of the bowl. The dough should be sticky but not sticky enough to stick to your hands when touched. Once it has reached this stage, knead with the mixer on for 5 minutes.

Place dough in a greased bowl and cover with plastic wrap or a dish towel. Allow to rise 1-2 hours or until the dough has doubled in size.

Rolling & filling the dough-

In a medium-size bowl, stir brown sugar, cinnamon, nutmeg, and cornstarch together until combined. Set aside.

Punch down dough. Flour a large clean board or counter liberally with flour. Lightly flour dough as well. Roll dough out to a 20x30 rectangle (or as close to that as possible) while moving the dough around to ensure it's not sticking to your work surface.

Spread softened butter over dough, being sure to go right to the edges leaving a 1-inch strip untouched on one of the longer sides of dough.

Sprinkle the brown sugar mixture onto the dough and spread, creating an even layer over top of the butter, still leaving that 1-inch strip of dough untouched.

Lightly press the sugar mixture into the butter using a rolling pin.

Roll the dough up into a tight log, finishing with the plain dough on the bottom to seal the seams together.

Cut the log in half, then cut those halves in half again, cut off the uneven ends to even out the log and then cut each quarter into 3 pieces.

Place into a buttered 9x13 pan. Cover pan with plastic wrap and place in the refrigerator overnight.

The next morning-

Allow the rolls to rise in a warm place 1-2 hours or until they are touching and have risen almost double.

Remove the icing from the refrigerator to come to room temperature while the rolls are rising.

Bake in a preheated 350F degree oven for 17 minutes or until the tops just start to brown. Watch carefully you don't want them to brown too much.

Icing -

Beat the cream cheese and butter together. Stir in vanilla. Scrape sides. Pour in powdered sugar and stir slowly until it starts to incorporate. Then mix on high for 5 minutes or until frosting starts to lighten in color.

Immediately generously spread the icing over the rolls and serve warm.
Notes
You can also make these all in one process. You can skip the refrigerator and follow the remaining recipe steps.
These are best the day they are baked, but if you have leftovers store in an air-tight container. I suggest heating leftover rolls in the microwave just briefly to soften and warm.