Homemade Cheesy Beefaroni Recipe
In our house, this dish earned the nickname "Cheesy Beefaroni." It's a delightful combination of pasta, beef, and a tomato-based sauce, all baked to perfection with an abundance of gooey, melted cheese.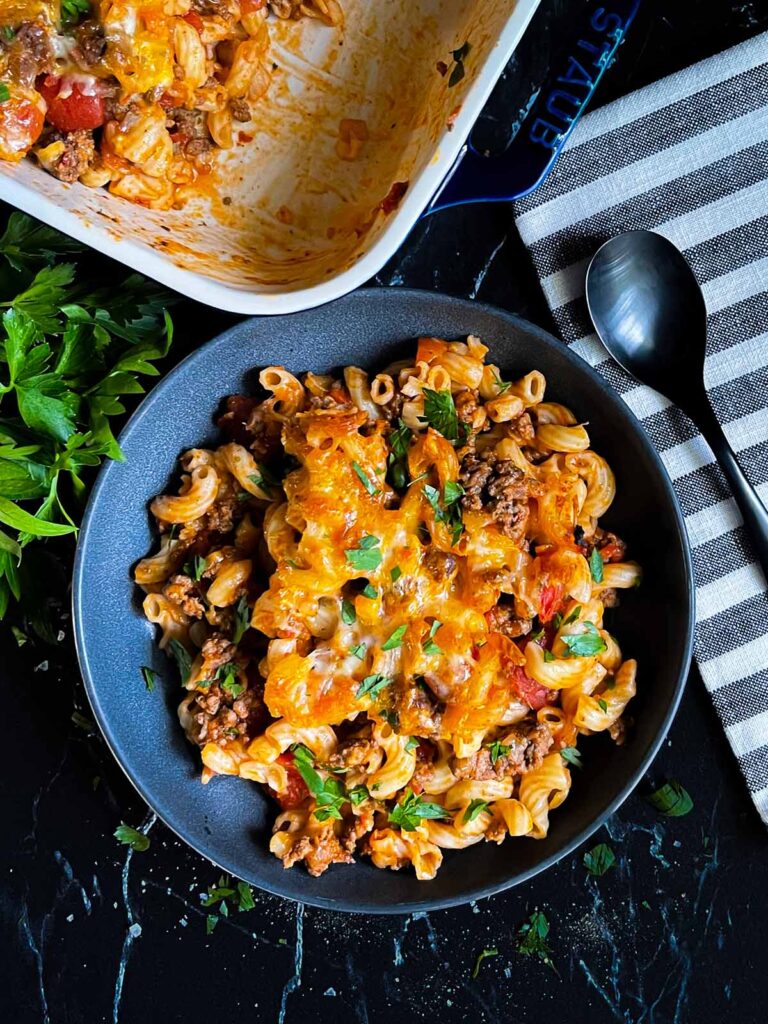 This incredibly homemade beefaroni recipe is guaranteed to be a hit with the whole family. It's perfect for those busy weeknights.
The best part? You probably have all the ingredients right in your kitchen as we speak.
Ingredients Needed
Forget the canned stuff. This easy beefaroni recipe does not call for difficult ingredients to get. Plus, they're very affordable and makes a perfect recipe for feeding the whole family.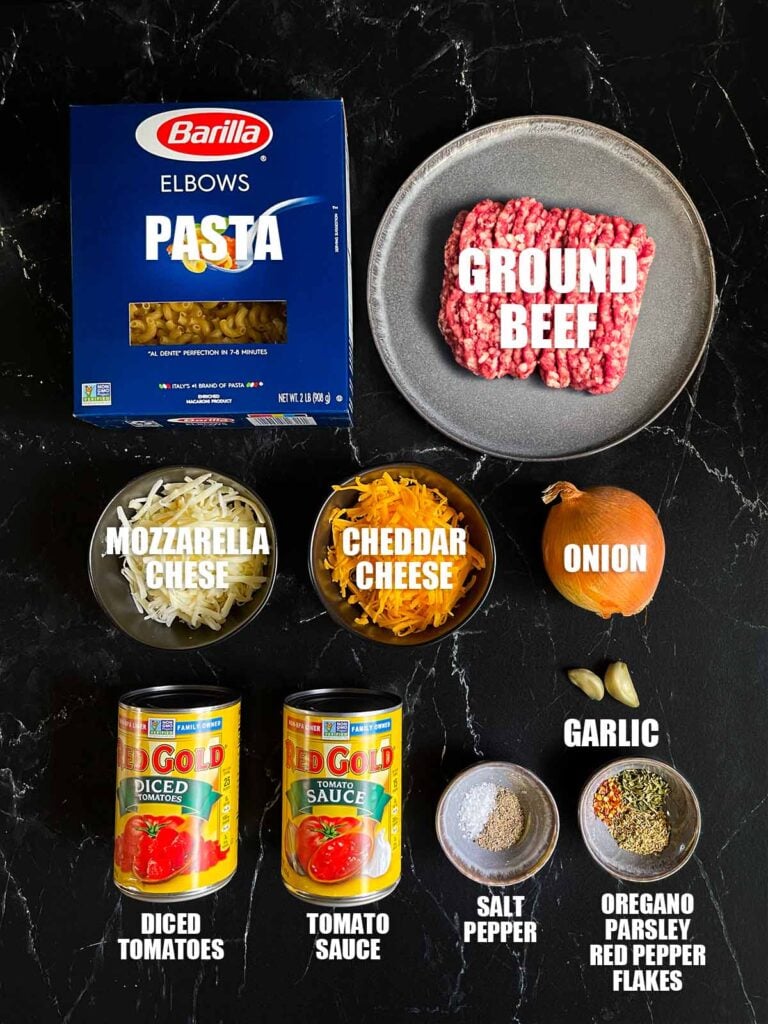 Ground Beef: The main protein source in the dish, ground beef adds flavor, texture, and richness to the beefaroni.
Elbow pasta: The pasta serves as the base of the dish, providing a substantial and satisfying element. Elbow pasta is commonly used in beefaroni recipes due to its small size and ability to hold the sauce.
Onion and Garlic: Onions add depth and aroma to the dish. They provide a savory and slightly sweet flavor that enhances the overall taste. Garlic is known for its distinctive flavor and aroma. It adds a savory, earthy note to the beefaroni, complementing the other ingredients.
Butter – Butter has a rich, creamy taste that adds depth and complexity to the overall flavor profile of the dish. It imparts a subtle buttery note that can complement the savory elements of the beef and the sweetness of the onions.
Dried Parsley, Oregano and Crushed Red Pepper: Parsley contributes a fresh, herbal flavor to the dish. Oregano is a common herb used in Italian cuisine. It imparts a robust, slightly bitter, and aromatic flavor to the beefaroni. The crushed red pepper adds a subtle heat and a hint of spiciness to the dish. It can be adjusted according to personal preference.
Crushed Tomatoes and Tomato Sauce: The crushed tomatoes provide a rich and flavorful base for the sauce. They add acidity and a tangy taste to balance the other ingredients. Tomato sauce further enhances the tomato flavor and helps to thicken the sauce. It adds richness and a smooth texture.
Sharp Cheddar Cheese and Mozzarella Cheese: Cheddar cheese adds a creamy, tangy, and slightly sharp flavor to the dish. It melts beautifully and contributes to the overall richness. Mozzarella cheese is known for its stringy, melty texture. It adds a mild, milky flavor that complements the other cheeses and provides gooeyness to the beefaroni.
Kosher Salt and Black Pepper: Salt is an essential ingredient that helps to bring out the flavors of the other ingredients. Black pepper adds a subtle heat and enhances the overall savory taste of the beefaroni.
These ingredients work together to create a flavorful, hearty, and satisfying beefaroni dish.
Why This Recipe Works
Prepare to be amazed by this remarkably simple recipe. No need for any exotic ingredients here. And the taste? Absolutely incredible. It's the ideal choice for a quick weekday meal since it comes together in no time.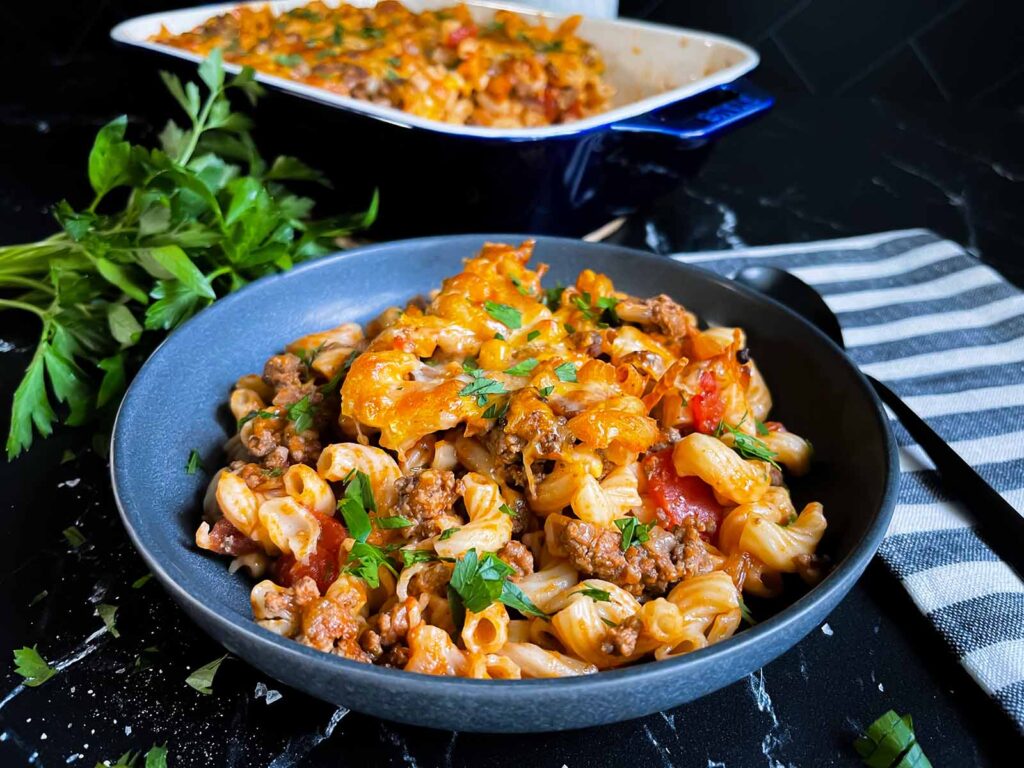 The combination of seasoned beef, pasta, and melted cheese will undoubtedly turn this dish into an instant family favorite. Not only that, but it's also a budget-friendly option that can easily satisfy a large group.
This is a triple win that will keep you smiling all day long!
Some good sides to serve with this would be some freshly baked Italian bread or perhaps a a super flavorful Arugula Fennel Salad.
How To Make Homemade Cheesy Beefaroni
Preheat the oven to 350 degrees.
Boil the elbow macaroni noodles in salted water according to the box instructions to al dente.
In a large skillet over medium heat, add the butter and diced onions. Saute the onions for about 5 minutes or until mostly translucent.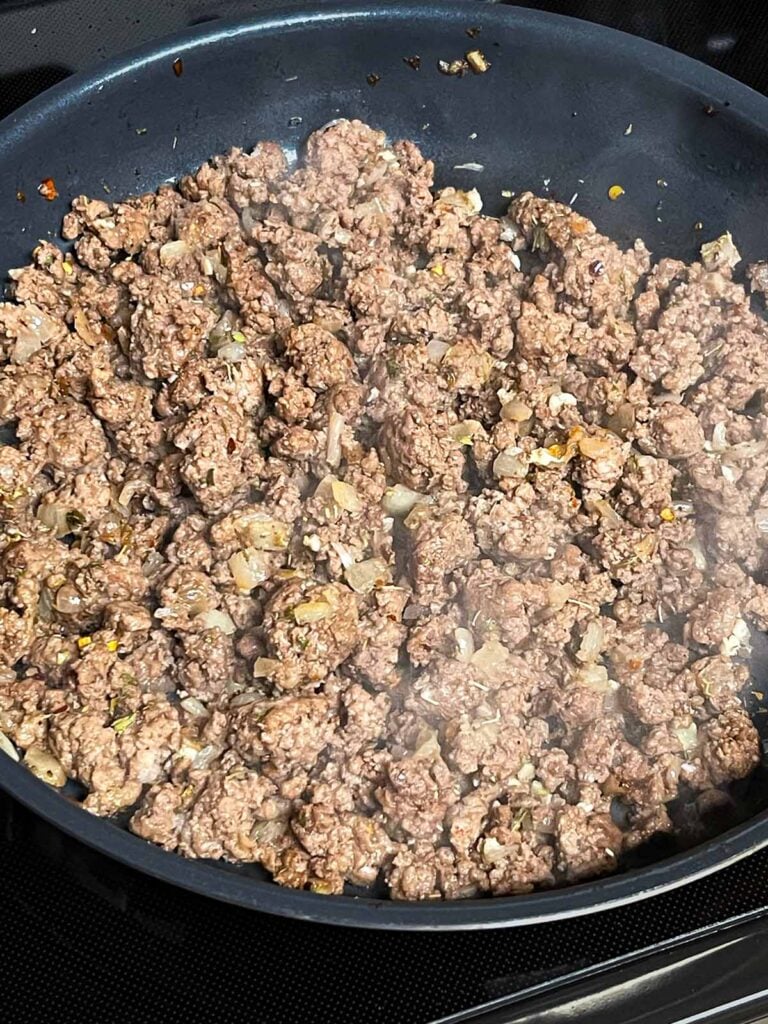 Increase the heat to medium high and add the ground beef to the onions and butter. Brown it until it's cooked through (drain if there is too much fat). If you use lean ground beef, you probably won't need to drain it.
Add garlic, parsley, oregano, and red pepper flakes, and cook for about 2 minutes.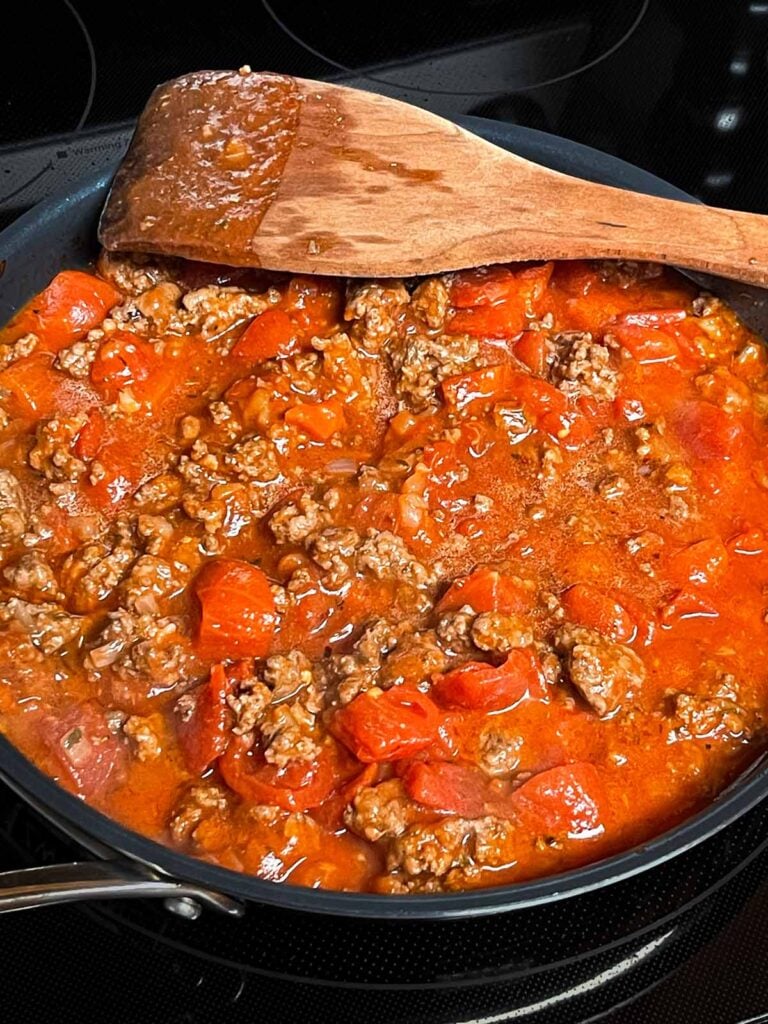 Add the tomato sauce and diced tomatoes, and cook to warm through.
Pour the tomato meat sauce over the pasta and stir to combine.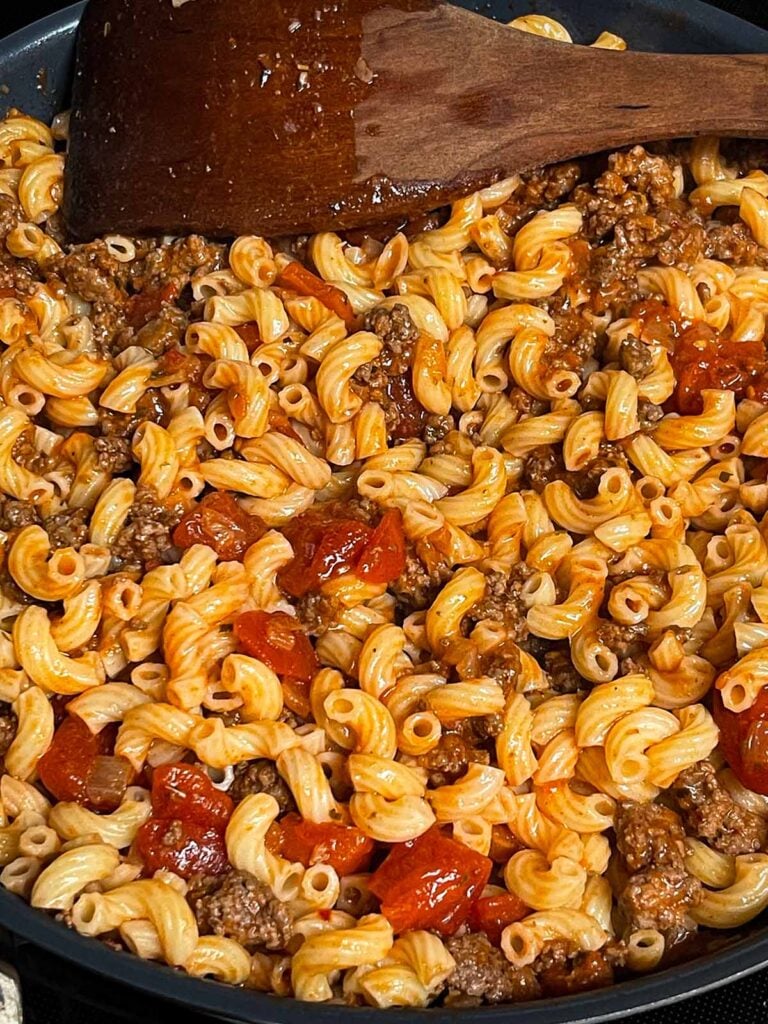 Continue to cook for a few minutes allowing the mixture to heat up and combine together. The longer you let it cook, the more the flavors can meld.
Mix the sharp cheddar cheese and mozzarella cheese together in a bowl, then pour the beefaroni mixture into a 9×13 baking dish.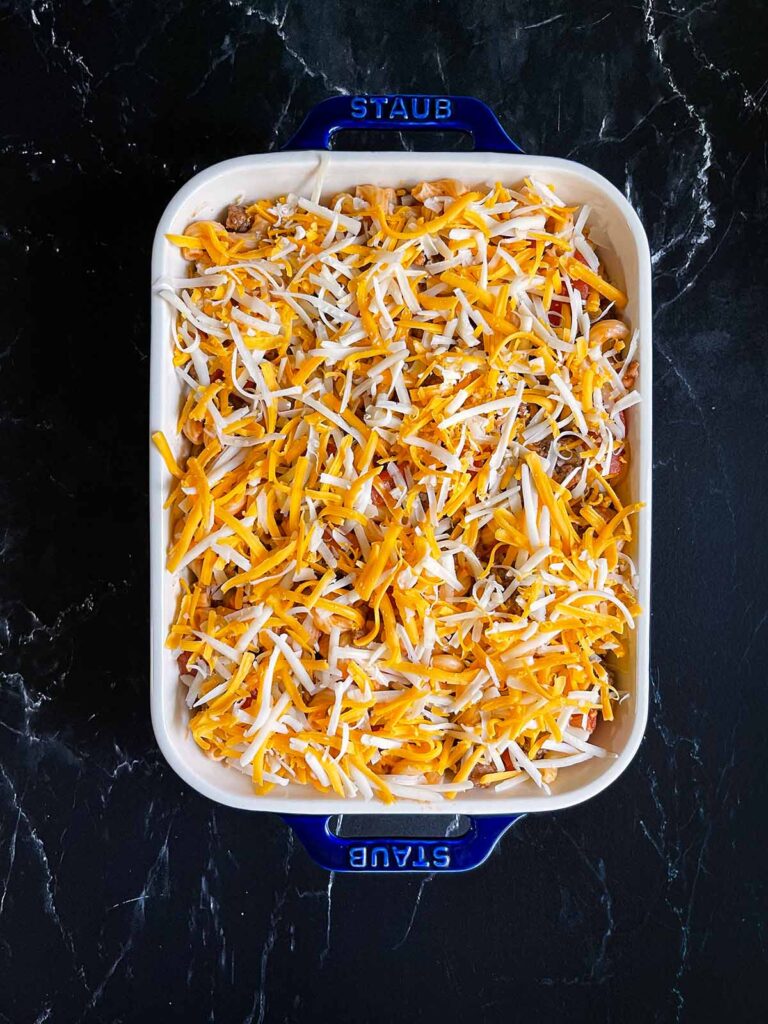 Top the beefaroni with the cheddar cheese and mozzarella, covering completely.
Place the dish in the oven and bake for 35-45 minutes.
You may want to place the casserole dish on an aluminum foil-lined baking sheet. In the event of the casserole spilling over, this will make clean up a breeze.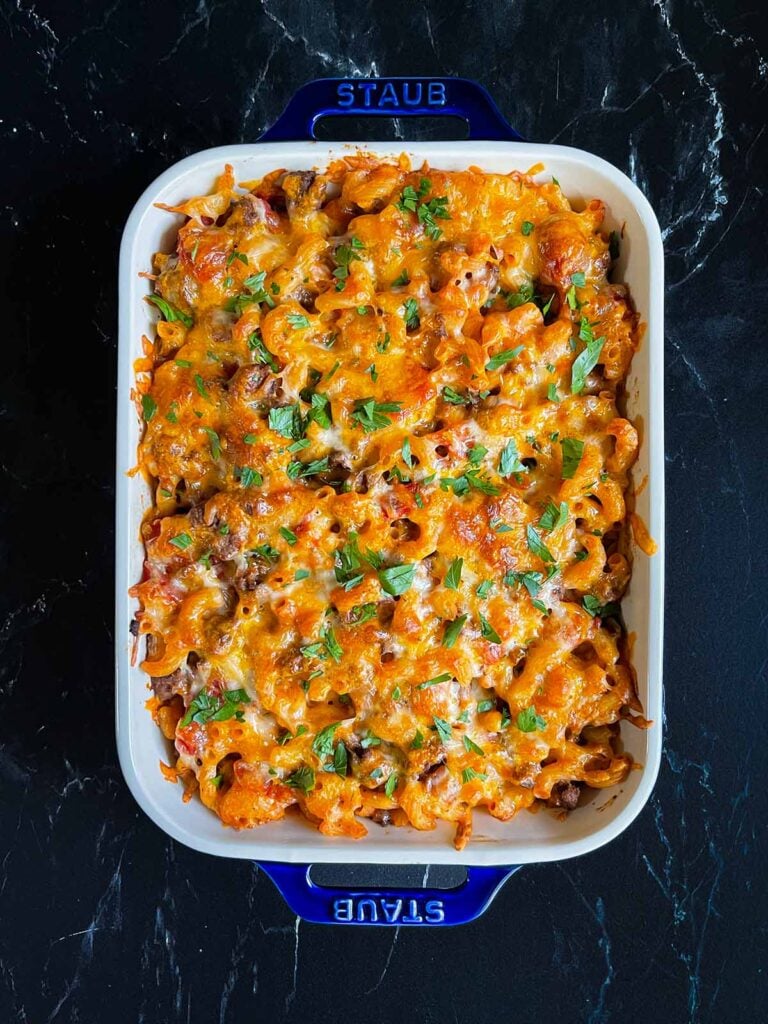 Let rest for about 10 minutes, and then serve. Optionally, garnish with some chopped flat leaf parsley.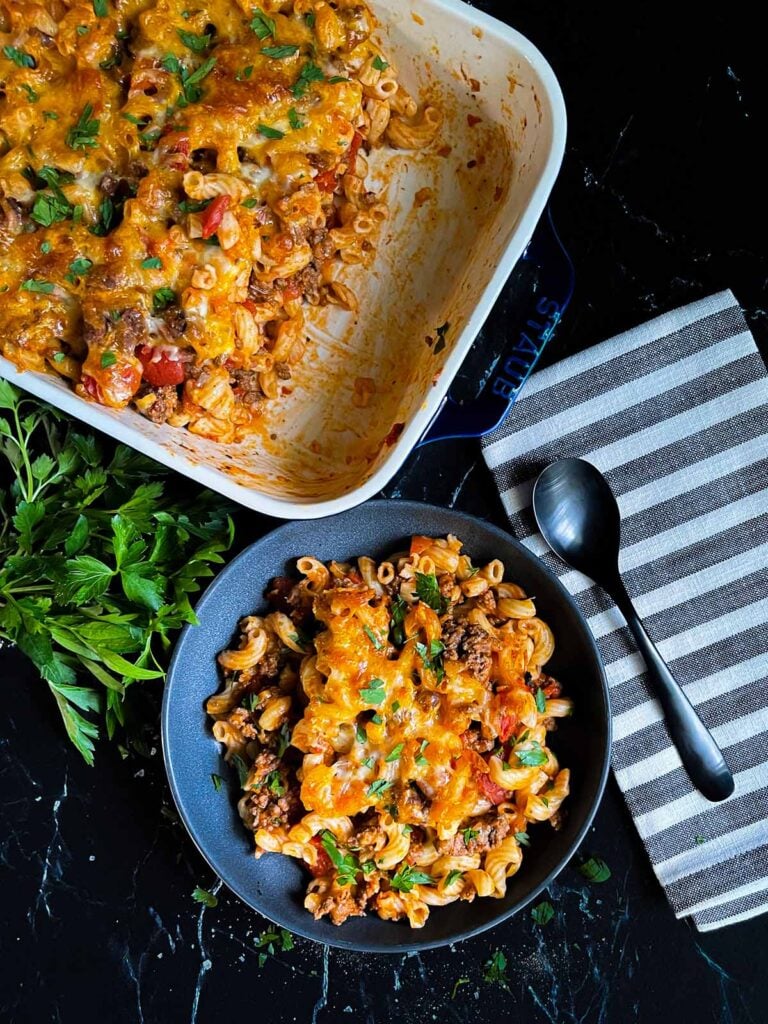 This classic recipe for easy homemade beefaroni has it all. Hearty ground beef, rich tomato sauce, and light Italian seasoning, all topped with a cheesy goodness.
The layers of flavors will please any picky eaters you may have in your home. An easy homemade beefaroni that is so much better (and healthier) than a canned version.
So take a trip down memory lane with this easy recipe. Fresh ingredients always lead to the best results. You'll love it!
Make Ahead Instructions
To make the beefaroni ahead of time, follow these instructions.
Prepare the recipe as directed, following all the steps until the point just before baking.
Once the beefaroni is fully cooked and simmered, remove it from the heat and allow it to cool slightly.
Transfer the beefaroni to an airtight container or a baking dish with a tight-fitting lid, ensuring it is properly sealed to maintain freshness. Place the container in the refrigerator and store for up to 2-3 days.
When you're ready to serve, preheat the oven to the recommended temperature if you plan to bake it, or prepare to reheat on the stovetop.
If baking, transfer the beefaroni to a baking dish (if not already in one), sprinkle additional cheese on top if desired, and bake according to the original recipe's instructions. If reheating on the stovetop, transfer the beefaroni to a large pot or skillet and heat it over medium-low heat until warmed through, stirring occasionally to prevent sticking or burning.
Once thoroughly heated, the beefaroni is ready to be enjoyed. Serve it hot with your favorite garnishes, such as fresh herbs or grated cheese.
Preparing the beefaroni ahead of time allows you to save time on the day of serving. It also gives the flavors a chance to meld together, enhancing the taste.
Tips And Variations
Properly season and brown the ground beef: To maximize flavor, ensure that you season the ground beef with salt and pepper before browning it. This step helps to enhance the taste of the meat.
When browning the beef, allow it to develop a golden-brown crust before breaking it into smaller pieces. This browning process adds depth and richness to the overall dish.
Cook the pasta al dente: It's important to cook the elbow pasta al dente, which means it should have a slight firmness when bitten. Overcooking the pasta can result in a mushy texture, which may not be as enjoyable.
Follow the cooking instructions on the package, but begin checking for doneness a minute or two before the recommended time. Taste a few pieces to ensure they have a slight bite before draining.
Allow the flavors to meld: After combining all the ingredients, let the beefaroni simmer on low heat for a little while. This allows the flavors to meld together and develop a more cohesive taste.
The simmering process also allows the sauce to thicken slightly, resulting in a richer and more flavorful dish. Be sure to stir occasionally to prevent the pasta from sticking to the bottom of the pot and to ensure even cooking.
Cheesy Veggie Beefaroni: Add diced bell peppers, zucchini, and mushrooms to the recipe for added flavor and nutritional value.
Stir in some frozen mixed vegetables during the simmering process. Top with a generous amount of shredded cheese before baking until melted and bubbly.
Spicy Beefaroni with a Kick: Increase the crushed red pepper amount or add diced jalapeños for extra heat.
Consider using spicy Italian sausage instead of ground beef for an extra kick. Garnish with fresh cilantro or sliced green onions for added freshness.
FAQs
What is another name for beefaroni?
Another name for beefaroni is "American chop suey." This term is often used to refer to a dish that consists of ground beef, pasta, and a tomato-based sauce. The name "American chop suey" is more commonly used in certain regions of the United States, particularly in New England. It is a popular comfort food that has variations in its preparation and ingredients across different households and regions.
What is beefaroni?
Beefaroni is a casserole dish comprised of seasoned ground beef, elbow noodles, and a tomato-based sauce.
Is beefaroni healthy?
Canned beefaroni has high levels of sodium and fructose corn syrup and is high in calories. Making it homemade avoids all the bad while making a better-tasting dish.
Other Fabulous Pasta Dishes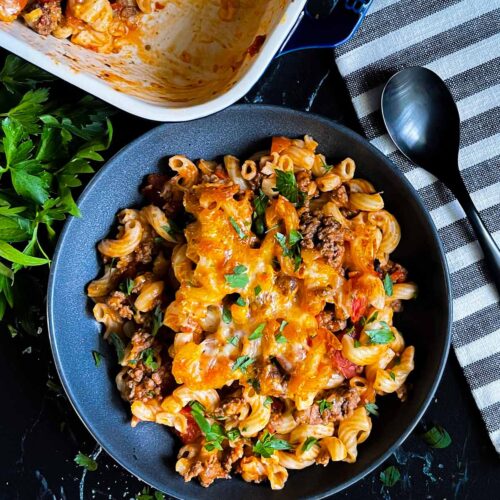 Homemade Cheesy Beefaroni Recipe
A simple and easy pasta dish the whole family will love.
Print
Pin
Rate
Ingredients
1

pound

Ground Beef

8

ounces

Elbow pasta

1

small

Onion

2

tbsp

Butter

2

cloves

Garlic

1

teaspoon

dried Parsley

1 1/2

teaspoons

Oregano

1/4

teaspoon

crushed Red Pepper

optional

15

ounce

can crushed Tomatoes

standard can

15

ounce

Tomato sauce

standard can, without seasoning

1/2

cup

Sharp Cheddar cheese

shredded

1/2

cup

Mozzarella cheese

shredded

1/2

tsp

Kosher salt

1/4

tsp

Black pepper
Instructions
Preheat the oven to 350 degrees.

Boil the pasta according to the box instructions to al dente.

In a large skillet, add the butter over medium heat and saute the onions until mostly transucent, about 5 minutes.

2 tbsp Butter,

1 small Onion

In a large skillet brown the ground beef (drain if too much fat), season with kosher salt and black pepper.

1 pound Ground Beef,

1/2 tsp Kosher salt,

1/4 tsp Black pepper

Add garlic, parsley, oregano and red pepper flakes, cook about 2 minutes.

2 cloves Garlic,

1 teaspoon dried Parsley,

1 1/2 teaspoons Oregano,

1/4 teaspoon crushed Red Pepper

Add the tomato sauce and crushed tomatoes, cook to warm through.

15 ounce Tomato sauce,

15 ounce can crushed Tomatoes

Mix the tomato meat mixture with the pasta, pour into a casserole dish.

Top with the cheddar and mozzarella cheeses and bake for 35-45 minutes.

1/2 cup Sharp Cheddar cheese,

1/2 cup Mozzarella cheese

Let rest about 10 minutes before serving.
Notes
Leftover Beefaroni
Allow the beefaroni to cool down to room temperature. Next, transfer the leftover beefaroni to an airtight container or place it in a resealable plastic bag, then place the container or bag in the refrigerator and store for up to 3-4 days.
Freezing
Allow the beefaroni to cool completely before freezing. This helps to maintain its texture and prevent ice crystals from forming.
Transfer the beefaroni to a freezer-safe container or divide it into individual portions. Alternatively, you can use resealable freezer bags, removing as much air as possible before sealing.
Place the container or bag in the freezer and store for up to 2-3 months.
Nutrition
Calories:
660
kcal
|
Carbohydrates:
57
g
|
Protein:
37
g
|
Fat:
32
g
|
Saturated Fat:
14
g
|
Cholesterol:
106
mg
|
Sodium:
729
mg
|
Potassium:
1027
mg
|
Fiber:
6
g
|
Sugar:
10
g
|
Vitamin A:
795
IU
|
Vitamin C:
16
mg
|
Calcium:
270
mg
|
Iron:
5
mg
Adapted from ruhlman