Spicy Thai Chicken Noodle Bowl
Spicy Thai Chicken Noodle Bowl is unbelievably good! Spicy Thai rice noodles loaded with chicken and vegetables, tossed in a slightly sweet and spicy sauce.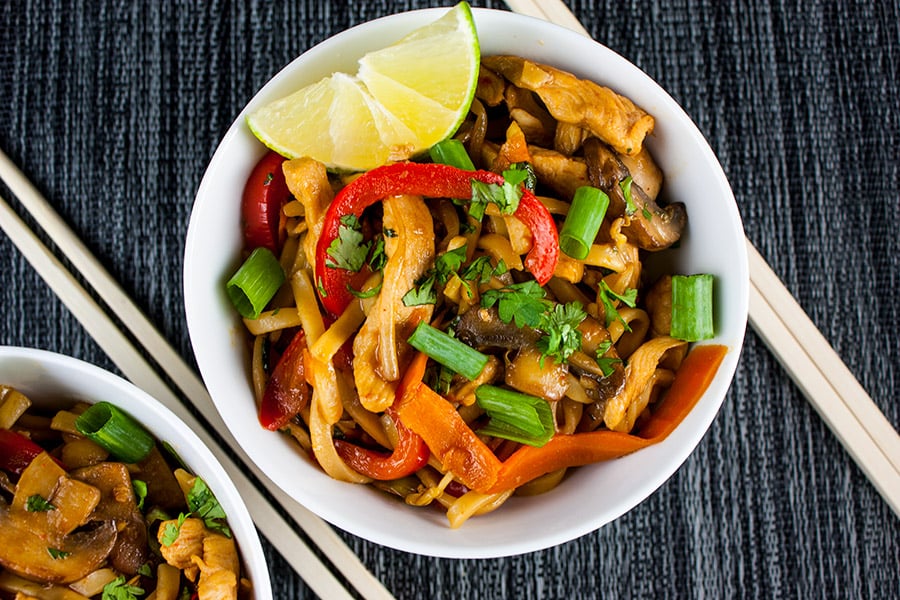 We made it even quicker using pre-cooked Thai rice noodles. Perfect for a busy weeknight meal. So tasty you will blame us for future cravings.
Try our Smoked Chicken Wings!
Spicy Thai Chicken Noodle Bowl
Prep the vegetables and chicken breasts.
Combine the chicken broth, soy sauce, brown sugar, sriracha chili paste, ginger, and lime juice. Set aside.
Heat 1 tablespoon of olive oil in a skillet over medium-high heat. Add the chicken to the skillet and cook for about 3-5 minutes or until the chicken starts to brown, stirring occasionally. Remove to a plate and set aside.
Heat the remaining tablespoon of olive oil. Add the mushrooms, saute about 3-4 minutes until starting to brown, add the sliced peppers, carrot ribbons, sprouts, and cook for an additional 3 minutes until the peppers begin to soften. Add the garlic and saute another 30 seconds.
Add the chicken back to the skillet, toss together, and cook another minute until warmed through.
Add the pre-cooked rice noodles, give a toss.
Stir in the sauce and cook another 2-3 minutes until the sauce comes to a boil, add the green onions, and toss.
Taste and season salt and pepper if needed. Sprinkle with the chopped cilantro.
Try our Bang Bang Shrimp!
Garnish with fresh lime wedges and serve. Try adding a little sesame oil. Easy, peasy!
Check out our Ceviche!
Spicy Thai Noodle Bowl Recipe
Recipe inspired by JoCooks