Ranch party mix is so easy to make and always the party favorite. If you can keep your hands out of this ranch party mix there should be plenty to serve your guests.  I warn you yet again this stuff is HIGHLY ADDICTIVE!  It's almost as addictive as our Spicy Oyster Crackers.  The minute I pull this out of the oven if I'm not diving in, hands are flying around behind me to get a quick hot grab.
Ranch Party Mix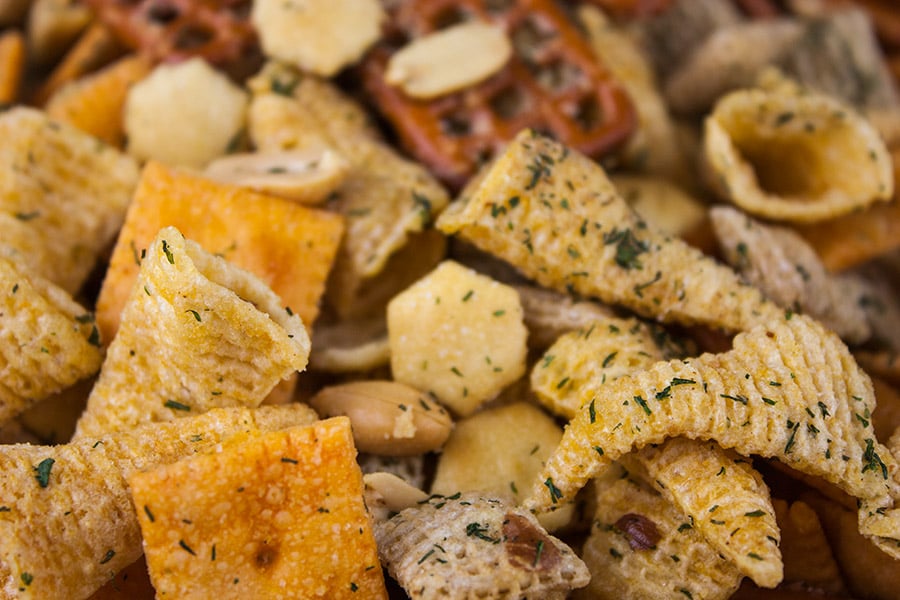 How to make Ranch Party Mix
No need for prep pics for this one. Pour the oyster crackers, rice Chex cereal, cheese crackers, Bugles, peanuts, and pretzels in a large roasting pan and gently toss. I use my lasagna pan.
Slowly drizzle the oil evenly over the mix, toss again. Sprinkle the ranch mix, garlic powder, onion powder, and dried dill weed evenly over the top. Gently mix to evenly coat and bake.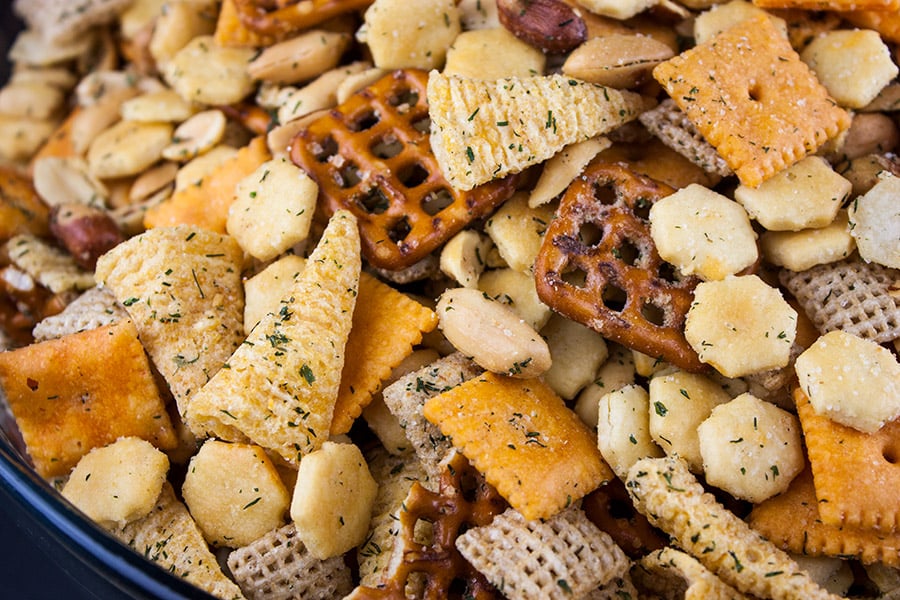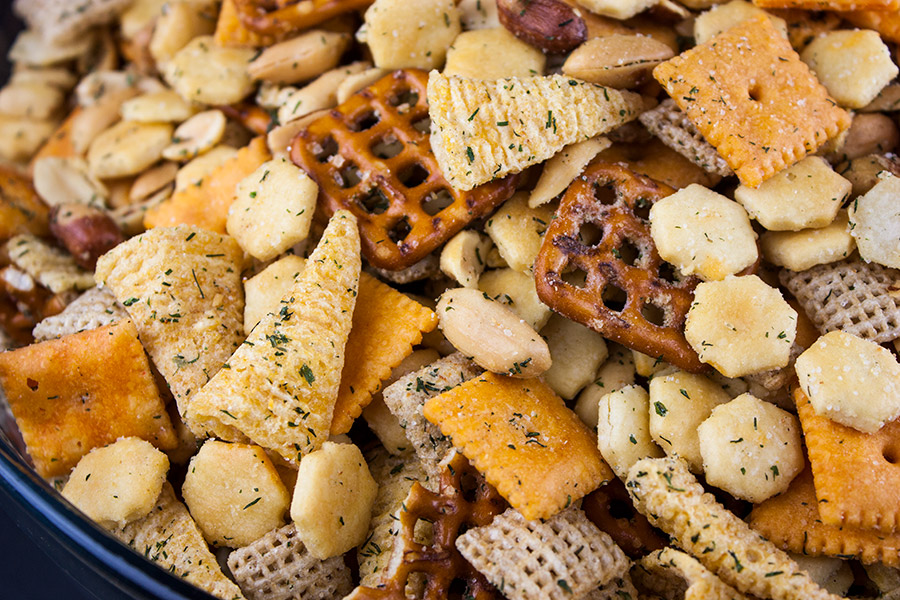 Stir every 15 minutes. Remove from the oven pour into a very large bowl and serve.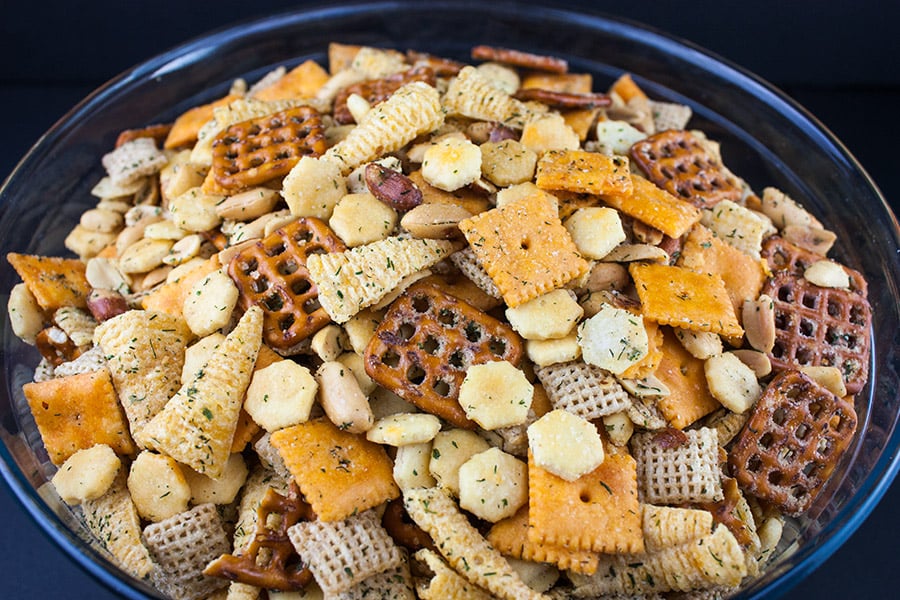 Store leftovers in an air-tight container. If you have any, that is.
Ranch Party Mix Recipe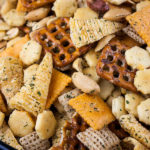 Print Recipe
Ranch Party Mix
Ranch Party Mix - The quintessential party favorite! Warning: Highly Addictive
Ingredients
4

cups

rice or corn Chex cereal

4

cups

oyster crackers

4

cups

cheese crackers

5

cups

Bugles

3

cups

pretzels

1

cup

cocktail peanuts

3/4

cup

vegetable oil

1

packet dry ranch dressing mix

1

teaspoon

onion powder

1

teaspoon

garlic powder

3

teaspoons

dried dill weed

2

teaspoons

seasoning salt
Instructions
Preheat oven to 250 degrees.

In a large roasting pan pour the rice cereal, oyster crackers, cheese crackers, Bugles, pretzels, and peanuts gently toss.

Drizzle vegetable oil evenly over the mix.

Sprinkle the ranch dressing packet, onion powder, garlic powder, dried dill weed, and seasoning salt evenly over the mix. Gently toss again to coat evenly.

Bake at 250 degrees for 45 minutes, stirring after each 15 minutes
Notes
Nutrition Facts
Servings: 24
Per Serving % Daily Value*
Calories 470
Total Fat 18.4g 24%
Saturated Fat 5.1g 25%
Trans Fat 0.3g
Cholesterol 1mg 0%
Sodium 1319mg 57%
Potassium 182mg 4%
Total Carb 66.7g 22%
Dietary Fiber 3.2g 11%
Sugars 2.7g
Protein 10.5g
Vitamin A 3% · Vitamin C 2%
Calcium 4% · Iron 31%
*Based on a 2,000 calorie diet
More Delicious Recipes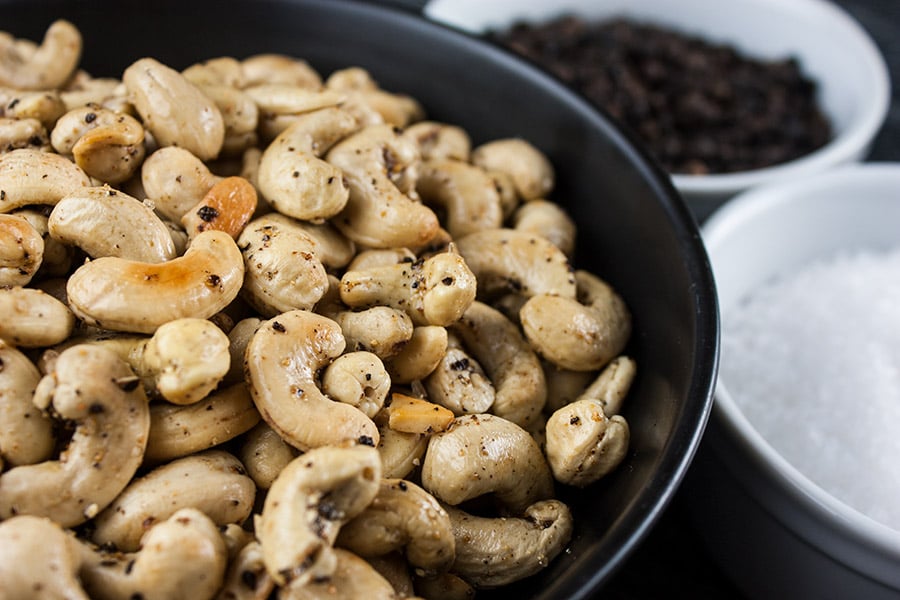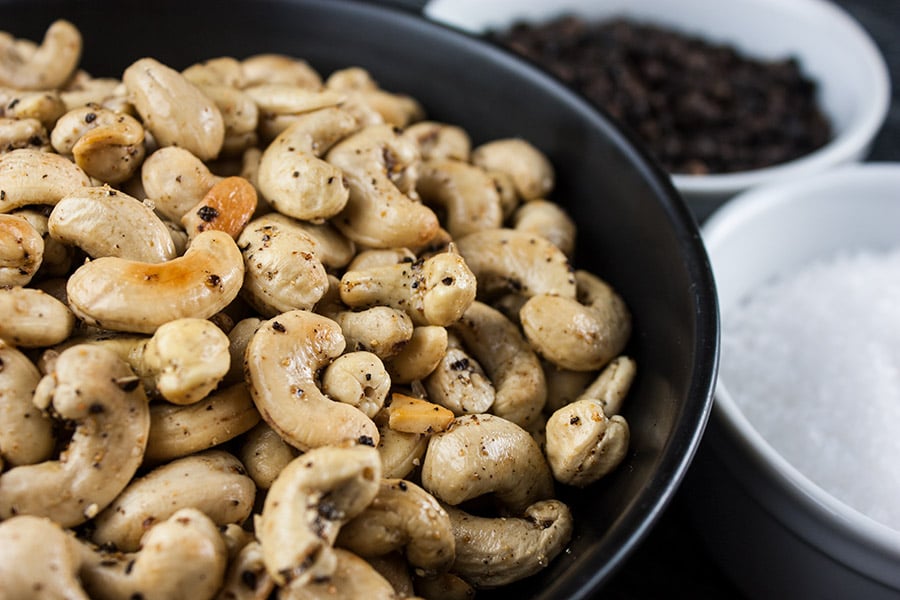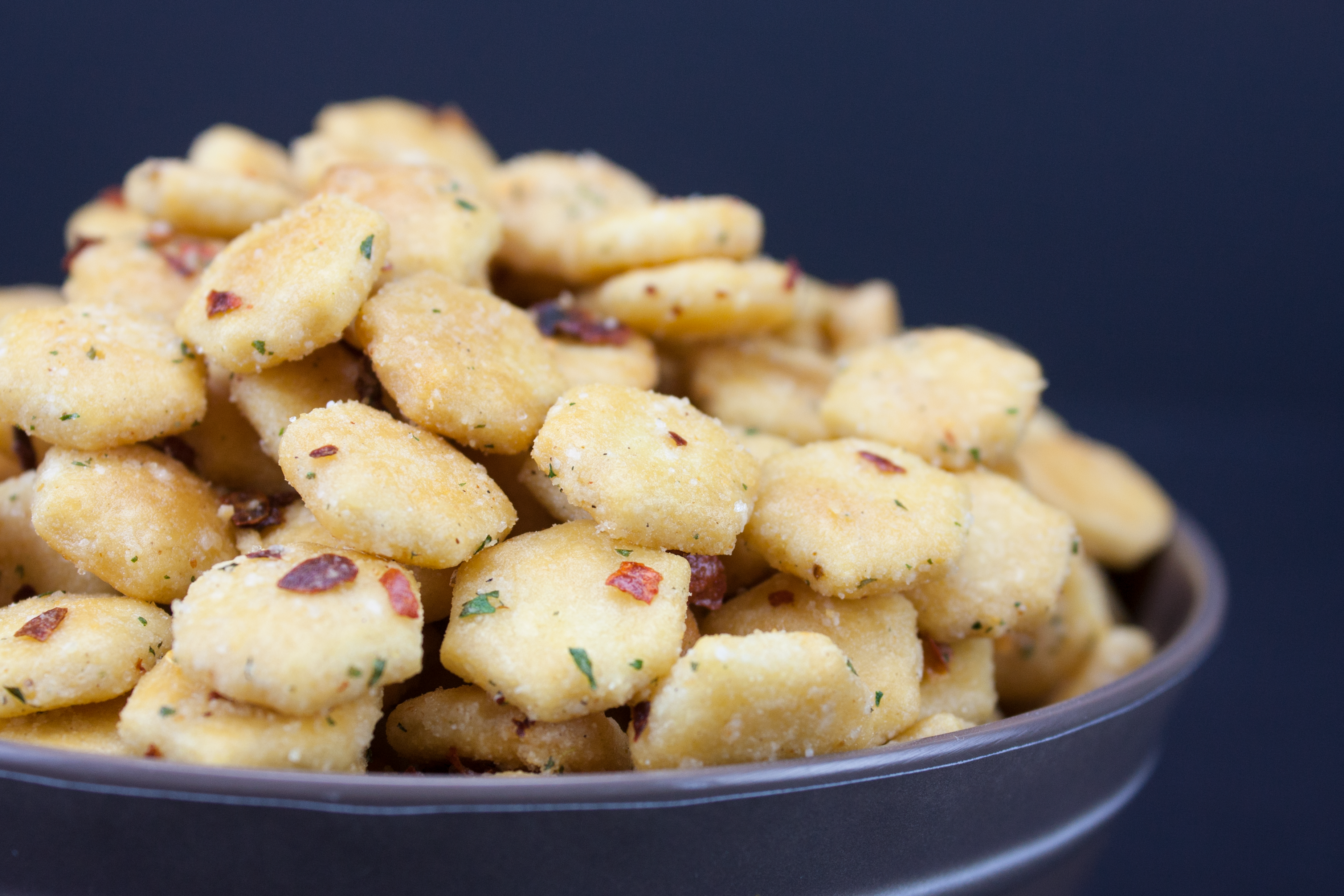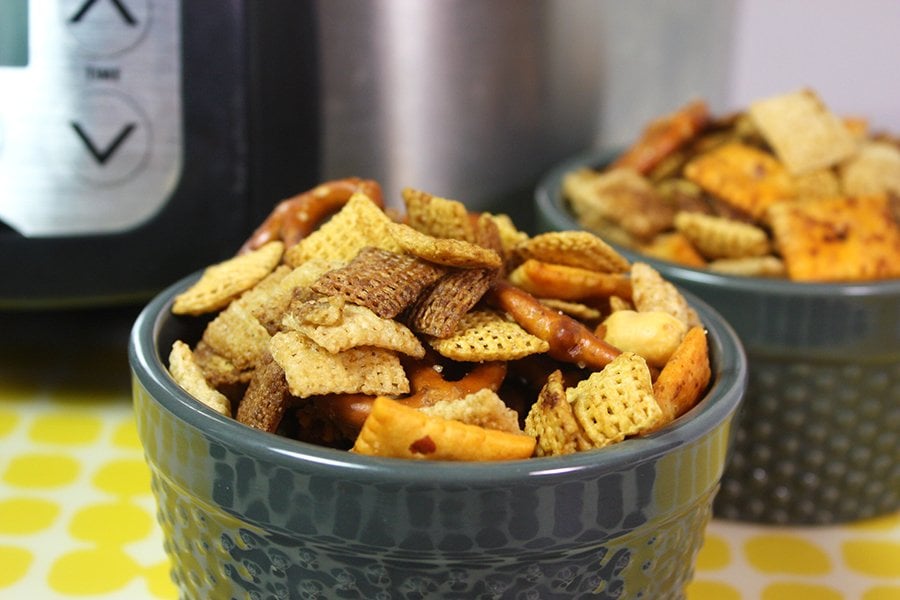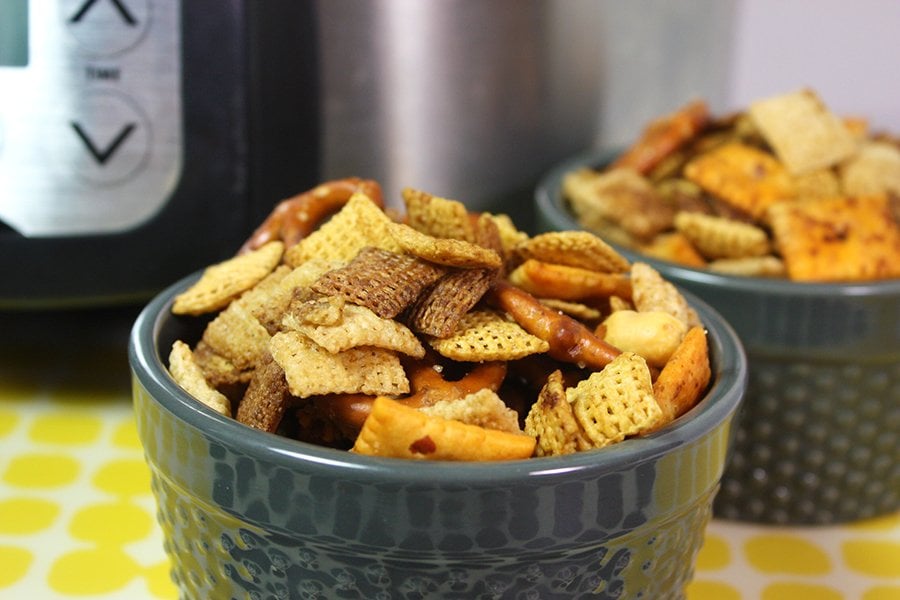 Recipe inspired by TheCommonPlate