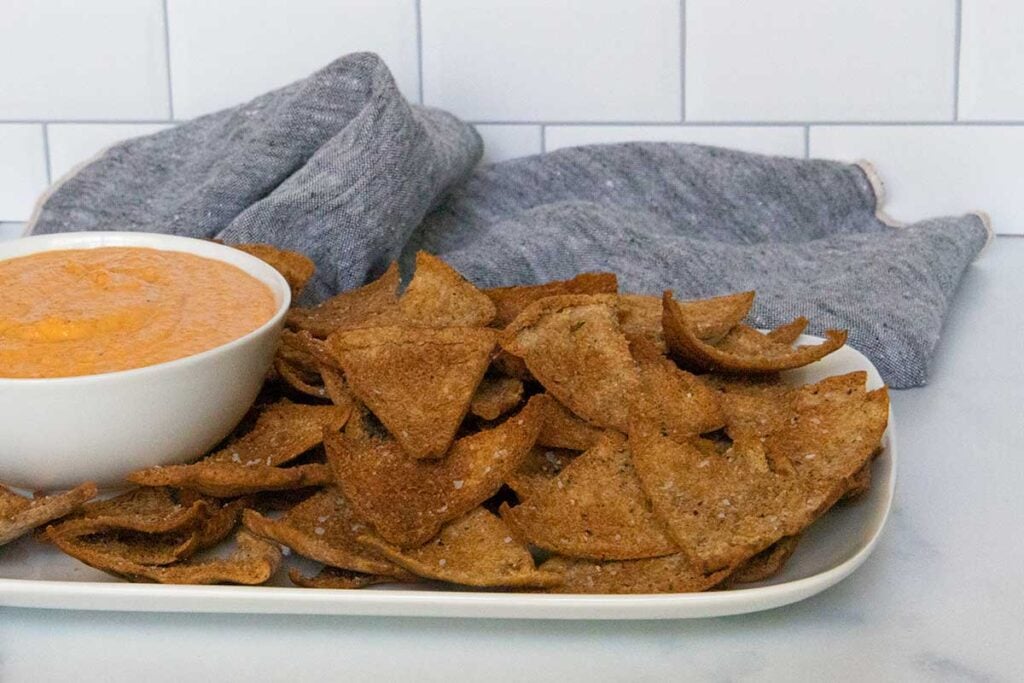 I am a fan of hummus. As such, it occurred to me that I could very easily make my own chips that were equally good, perhaps better than store-bought chips.
I typically get Stacy's pita chips but have always grumbled that they're too thick. I end up breaking them into tiny pieces so I am not eating a loaf of bread with each chip.
What's the answer? Homemade pita chips, or pita crisps, or pita toasts. Call them what you like, but these are perfect for any dip, not just hummus.
They're light, super crispy, and strong. They'll hold up to any dip you want to try them with. And depending on what kind of pitas you buy to make these, a bit healthier as well.
The steps are super easy and you can put on these what you will. I like to keep it simple myself but by all means, go crazy!
What do I need to Make Pita Chips – Pita Chip Ingredients
The ingredients are so simple you probably already have them. All you need is the following:
1 package of pita bread (your choice on what kind) – I used stone-ground wheat, this recipe calls for 4 whole pita bread pockets.
1/4 cup of olive oil
Kosher salt
Fresh ground pepper
That's it! Who knew that such a small amount of ingredients might change your entire chip game going forward!
How To Make Pita Chips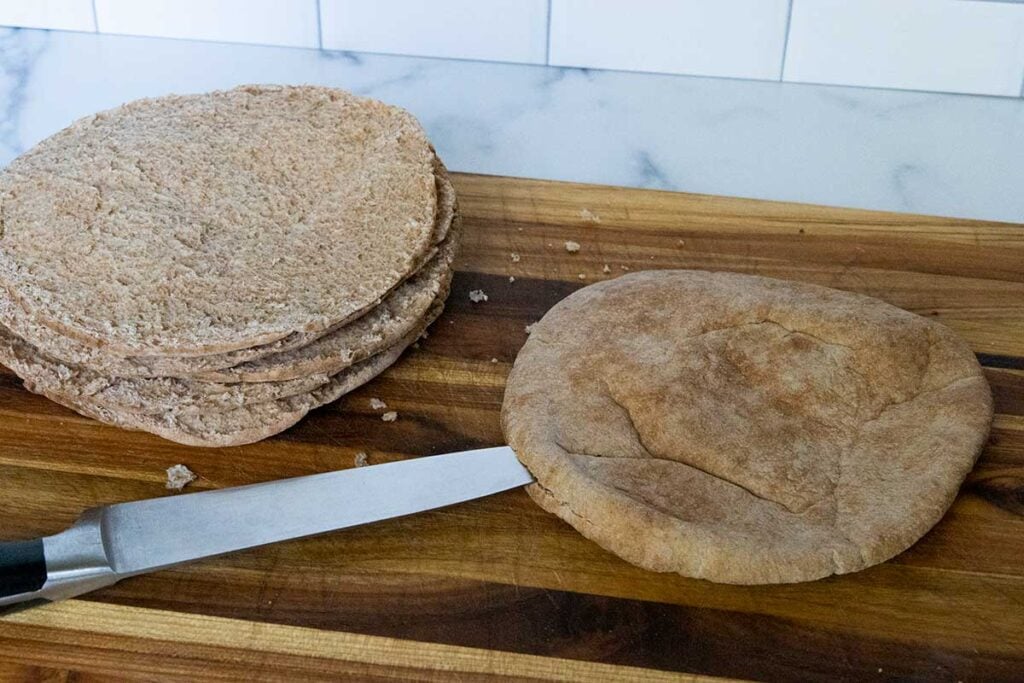 Preheat the oven to 375 degrees F.
Using a sharp knife, split the pita horizontally so you end up with two thin rounds from one pita.
Brush the pita rounds with olive oil and add a sprinkle of kosher salt and fresh ground pepper. You could add some garlic powder if you like as well.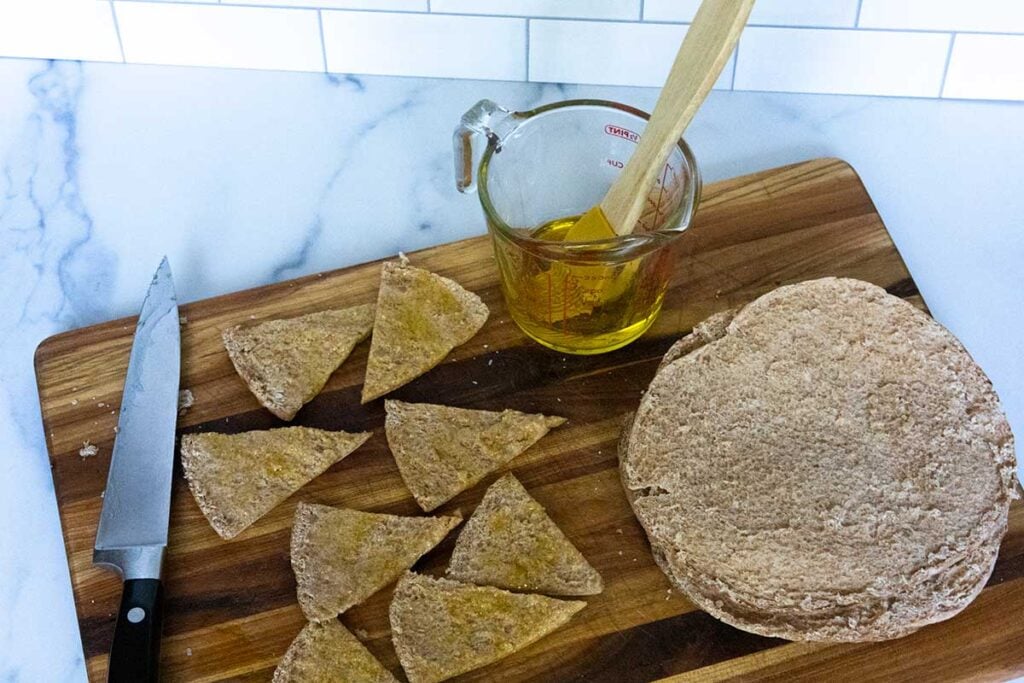 Cut each pita round like you would cut a pizza, ending with 8 pieces per round.
Place the pita triangles on a parchment lined baking sheet and bake for a total of 12 minutes, turning the tray halfway through the baking process.
Remove from the oven after 12 minutes and let the pita chips cool completely to room temperature. Serve with your favorite dip!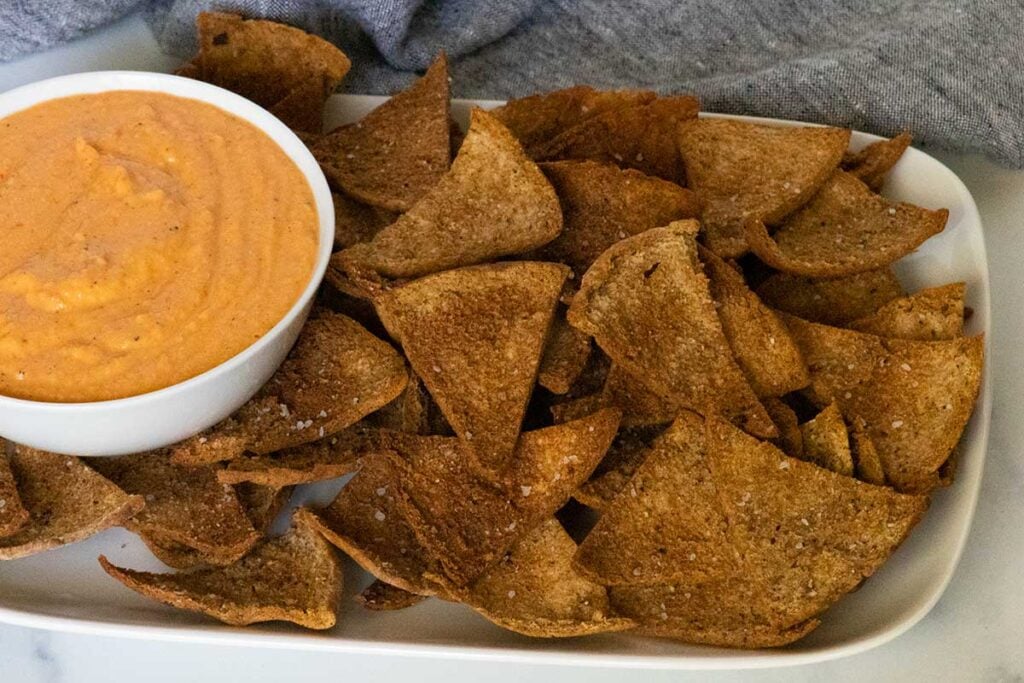 What you end up with are these fabulously simple yet delicious baked pita chips with a fun little curl on the end. Not quite sure what kind of dip to use? Our Mediterranean dip or our Fresh Herb Vegetable dip would be some good pairings.
Conclusion
I made these for myself, but when my daughter discovered them they were gone.
But they're so simple to make, I just whipped up another batch of them. Since making these the first time, we have always had them on hand.
So if you're in need of some chips and eye those bags on the snack aisle with trepidation (Artificial Color (Yellow 6, Yellow 5), Disodium Inosinate — what the hell is that?) find you some decent pita bread and whip up your own!
I actually prefer the stone ground wheat pitas myself. It is sooo easy and super fast! Hell, eat them warm!
Pita Chips Recipe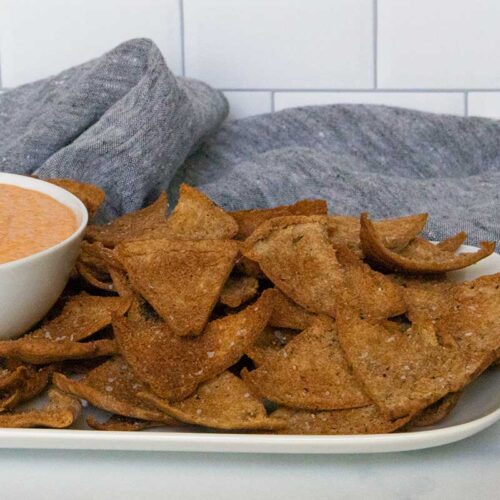 Pita Chips
Make your own delicious chips that blow the store-bought ones away. Super easy and super fast!
Print
Pin
Ingredients
4

Pita bread

Pick your favorite

2

tsp

Kosher salt

approx.

1

tsp

fresh ground pepper

approx.

1/4

cup

Olive oil
Instructions
Preheat oven to 375 degrees F

Cut pita bread horizontally so you end up with two thin rounds from one pita

Brush lightly with olive oil

Sprinkle of salt and pepper

Cut each round as a pizza, ending with 8 triangle shapes per pita round

Place pita chips on parchment lined baking sheet

Bake for 12 minutes, turning the baking sheet half way through the baking process

Remove from oven and allow to cool to room temperature

Serve with your favorite dip
Notes
Makes 64 individual pieces. Store in an airtight container. 
Nutrition
Calories:
137
kcal
|
Carbohydrates:
16
g
|
Protein:
3
g
|
Fat:
7
g
|
Saturated Fat:
1
g
|
Sodium:
732
mg
|
Potassium:
37
mg
|
Fiber:
1
g
|
Sugar:
1
g
|
Vitamin A:
1
IU
|
Calcium:
26
mg
|
Iron:
1
mg