Grilled Parmesan Corn On The Cob
Grilled parmesan corn on the cob is easy to change up from plain boiled buttered corn on the cob. It's super easy, cheesy, and loaded with flavor!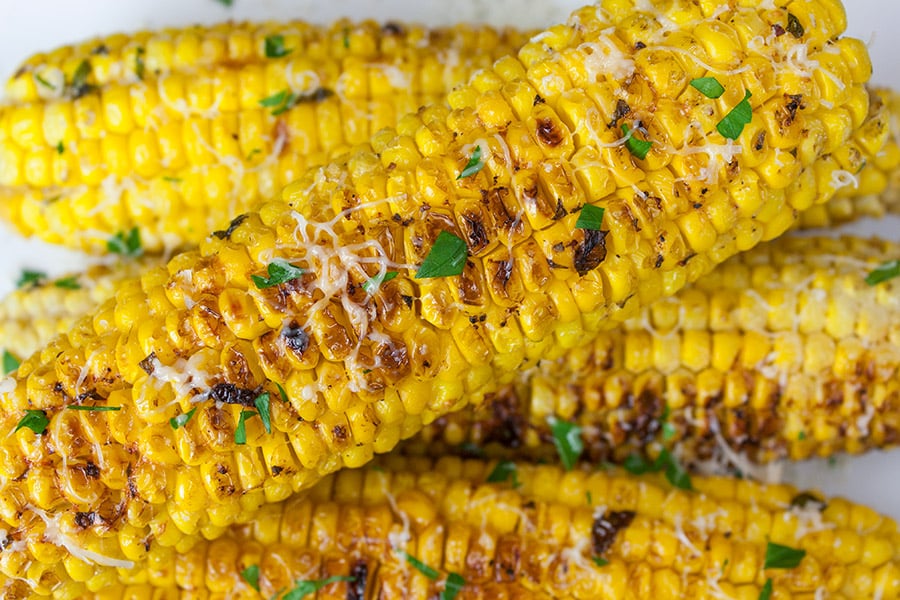 Why heat up the kitchen? It's a great summertime side dish that can be thrown on the grill along with the St.Louis Style Ribs!
Try our Smoked Chicken Wings!
Grilled Parmesan Corn On The Cob
Shuck the corn.
In a small bowl mix the olive oil, dried basil, garlic powder, salt, and pepper.
Place each piece of corn on a sheet of heavy-duty aluminum foil. Brush with the oil mixture, generously sprinkle the grated parmesan cheese all over the corn and wrap tightly.
Preheat the grill to 400ºF. Grill the corn for about 30 minutes, turning every 10 minutes.
Remove the from the grill, open the foil packets and garnish with extra parmesan cheese.
Serve and enjoy. Summer grilling never tasted so good!
Nothing is better than crispy, crunchy, fresh, grilled corn on the cob, that is unless you load it up with some nutty parmesan cheese.
Also, try our Grilled Mexican Street Corn Salad.
Grilled Corn On The Cob Recipe
Recipe inspired by TarasMulticulturalTable