It's that time of the year to start making all the Holiday treats.  I had never made toffee before, ever!  I was nervous about getting it just right, but I didn't need to be. This recipe turned out perfect the very first try!  So don't sweat the recipe go ahead and give it a try. You won't regret it.  This toffee was so decadently delicious it will be hard to share.  I received major praise for this treat and you will too!
English Toffee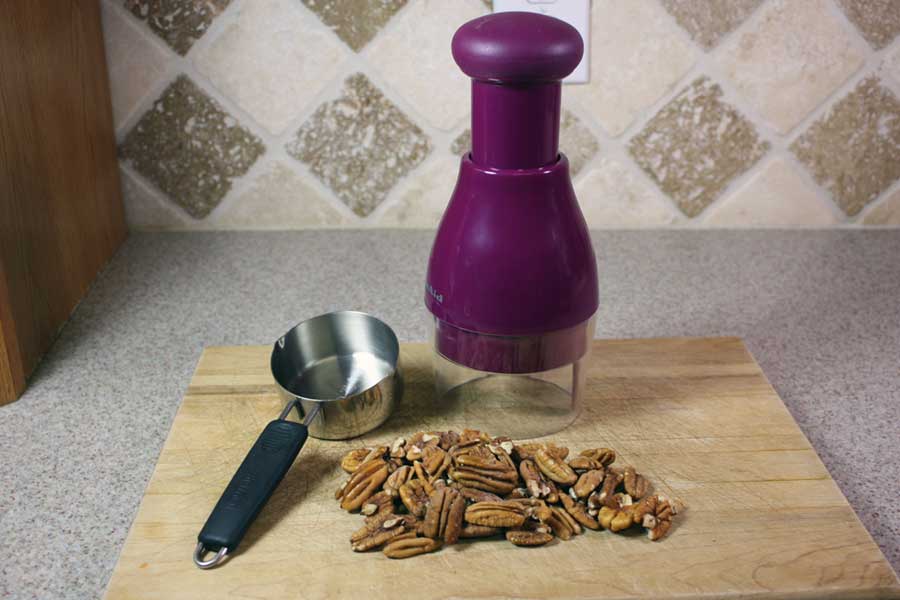 I find it easier to use this type gadget
to chop my nuts.  They stayed contained and don't fly all over my kitchen.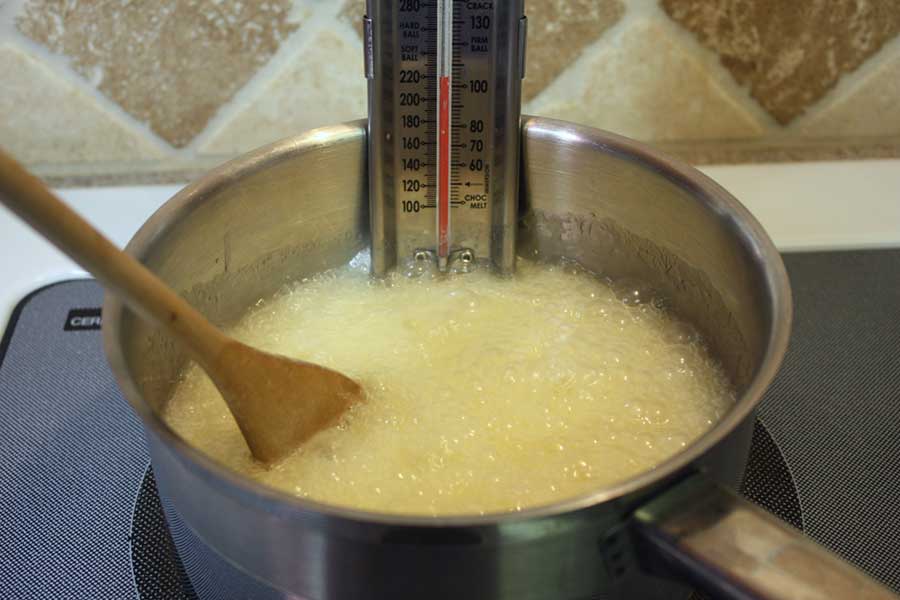 Because of my apprehension with this recipe, I used a candy thermometer and the ice trick.  I just happen to have a candy thermometer but you could just use the ice.
When the candy has reached the correct temperature it hardens immediately upon hitting the ice.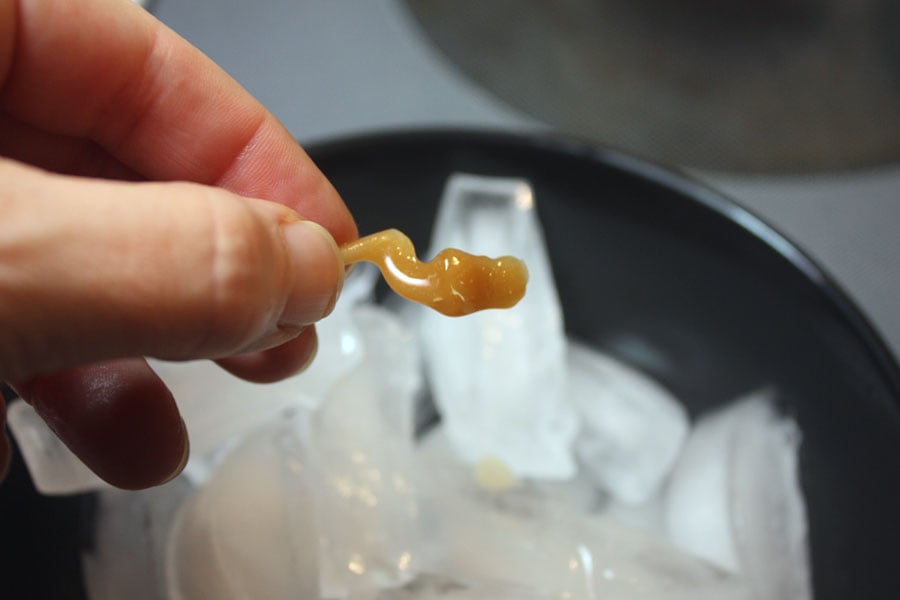 Handy trick, right?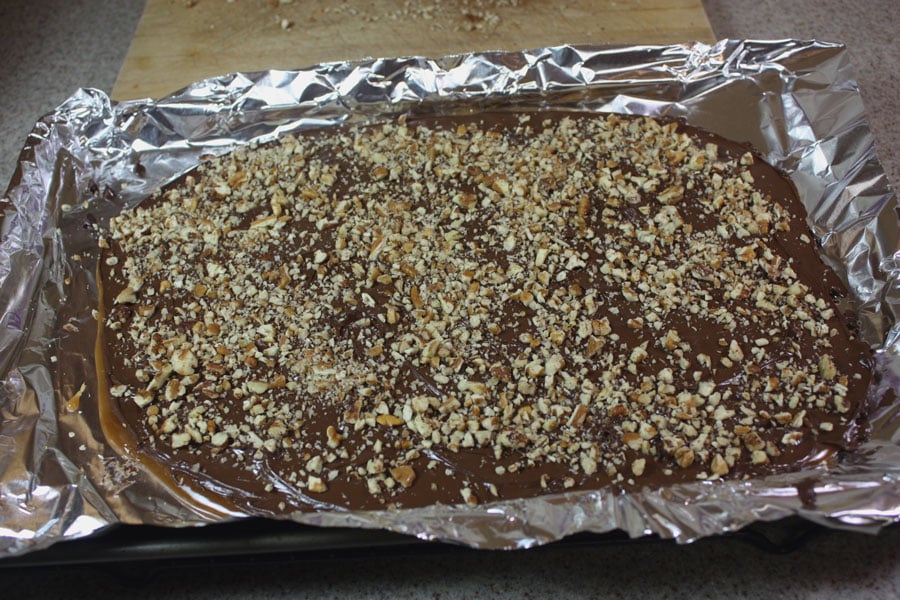 Pour the toffee onto the aluminum foil prepared pan, sprinkle the chocolate chips, spread with an offset spatula and sprinkle with chopped nuts.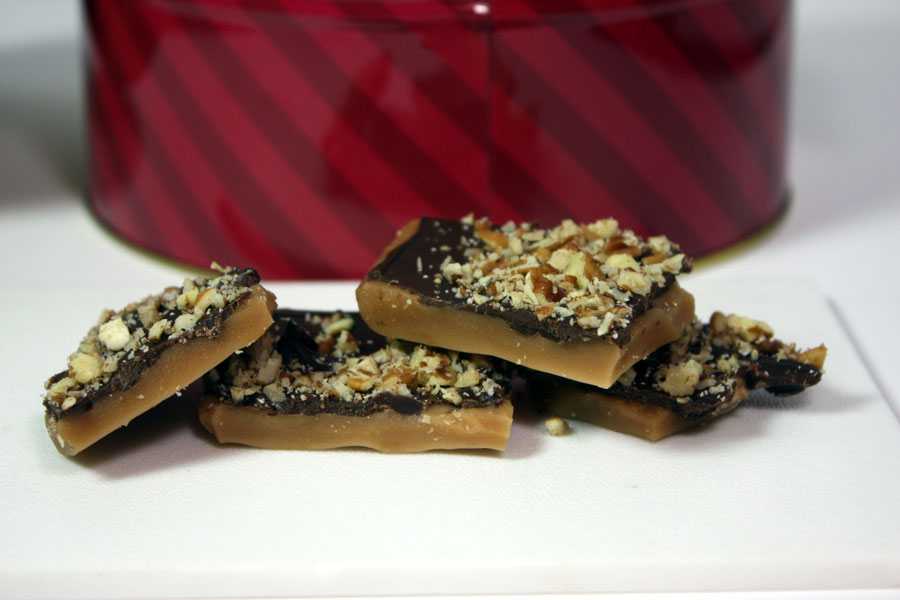 Allow to cool and set up completely.  Break into pieces.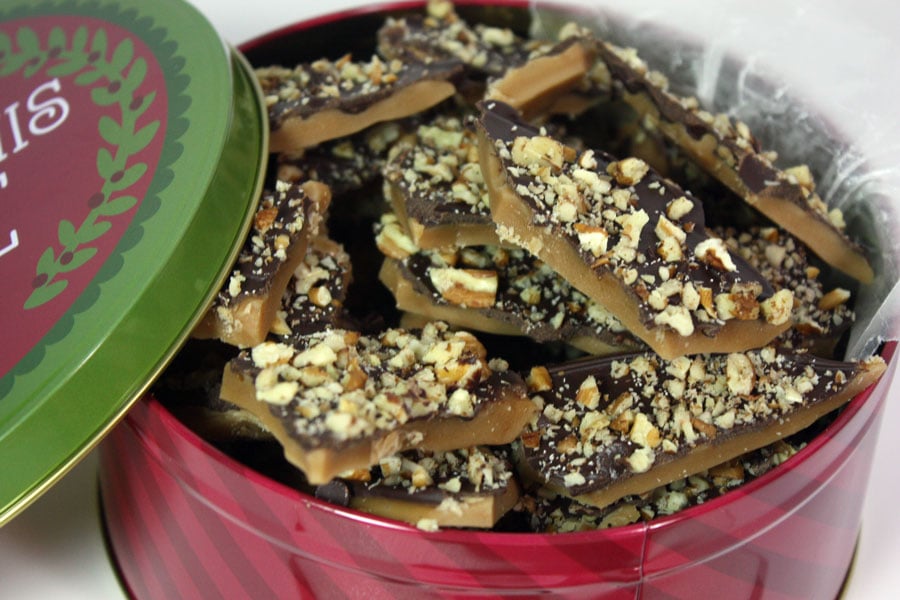 I promise this is an easy recipe to impress your friends, family, and guests during the Holidays!  I halved the original recipe.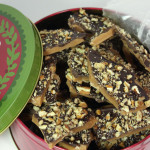 Print Recipe
English Toffee
English Toffee - A perfect, easy recipe for your Holiday treat trays.
Ingredients
2

sticks Butter

(must be BUTTER)

1 1/4

cups

Sugar

1/4

cup

Water

1/4

cup

Corn Syrup

1/2

cup

Nuts

(I used Pecans finely chopped)

8

oz

Semi-Sweet Chocolate chips
Instructions
Prepare a jelly roll pan with aluminum foil.

Combine the first four ingredients. Stirring constantly, cook over med to med-high heat until 285 degrees. Around 20-25 minutes. The mixture should turn into a light brown/caramel look.

Pour into the prepared jelly roll pan. Sprinkle chocolate chips on top. Let chocolate chips soften and then spread all over the toffee. Sprinkle with chopped pecans while chocolate is still warm. Press the pecans down ever so slightly into the chocolate.

Let cool until hard, then break into pieces.
Notes
No need to butter the aluminum foil. I didn't have any trouble with the toffee sticking.


Recipe from madefrompinterest