This eggnog bundt cake is a super moist, buttery, eggnog-infused bundt cake drizzled with a sweet eggnog glaze.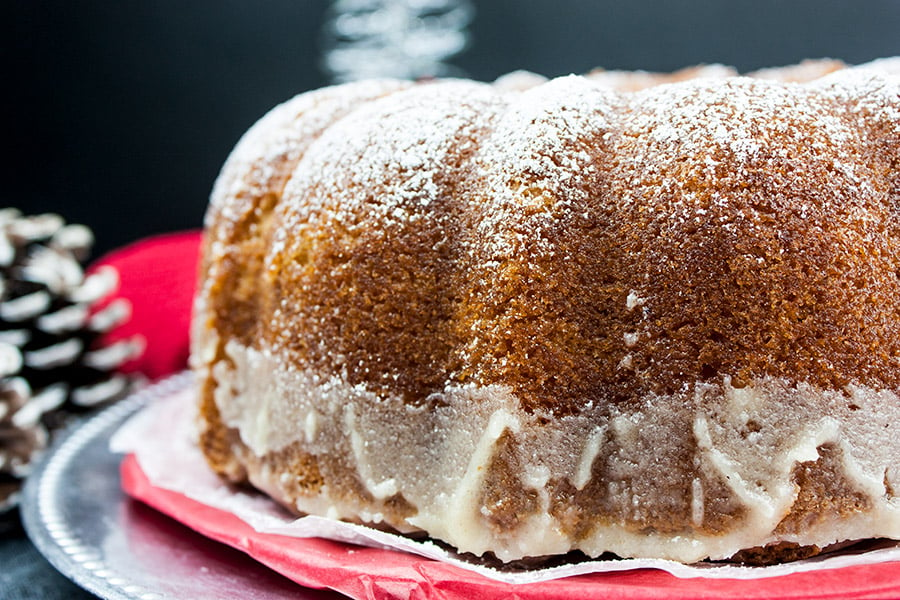 This cake will be your new holiday favorite dessert. It is a must this holiday season!  It's basically an eggnog pound cake drizzled with an eggnog glaze.
Celebrate the holiday with this phenomenal dessert! Let me just tell you it's a struggle to keep my face out of this cake. Seriously.
Try our Bread Pudding!
Eggnog Bundt Cake
Grease and flour or spray with baking spray a 10″ bundt pan. Whisk the flour, baking powder, baking soda and salt in a medium bowl, set aside.
Cream the butter and sugar until light and fluffy. Add the room temperature eggs one at a time, combining in between. Add the vanilla and eggnog, mix until combined. Add the dry ingredients and mix until combined. Pour the cake batter into the prepared pan and bake for 65-75 minutes.
Next time I'm going to add a little rum extract. Yum!
While the cake is cooling slightly prepare the glaze. Combine the butter, eggnog, extra-fine sugar, and freshly grated nutmeg in a saucepan over medium-low heat. Whisk continuously until the sugar is dissolved. Do not allow to boil.
Leaving the warm cake in the pan, poke holes all over the cake, pour the glaze evenly over. Transfer to a wire rack to cool completely in the pan. Once cooled invert the cake onto a serving plate.
This eggnog butter cake is sure to wow your holiday guests!
It's so easy you will want to make it over and over again. It's perfect for holiday parties!
The glaze adds just a touch of eggnog sweetness. It's sure to receive rave reviews.
Dust with powdered sugar and enjoy!
Also, check out our Gingersnap Crust Pumpkin Pie.
Eggnog Cake Recipe
Recipe slightly adapted from ImperialSugar