Chocolate tiramisu, you say? Yes! I adore all things chocolate and all things COFFEE! Who doesn't? Well, if you don't then you might want to skip this recipe.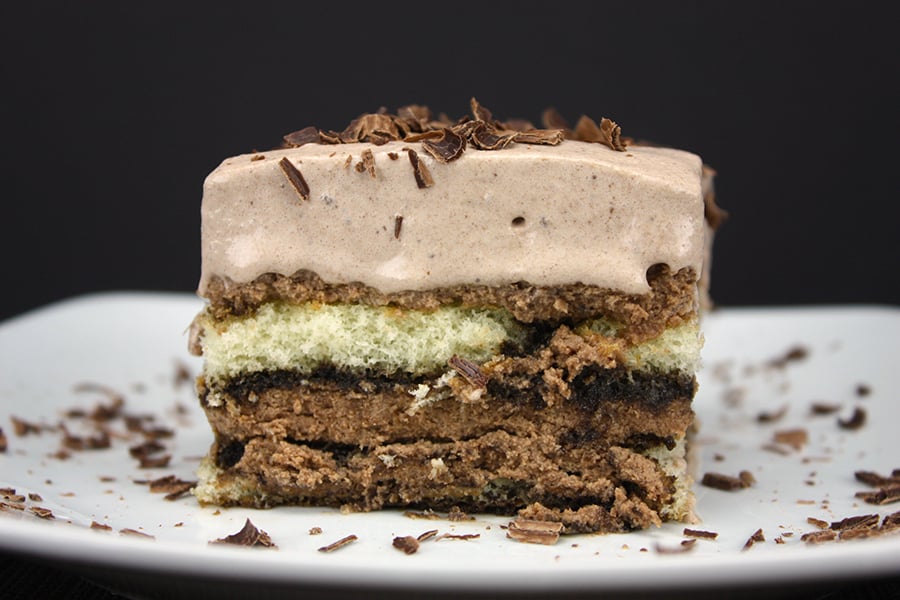 I used ladyfingers this time because I didn't want to heat up the kitchen and I wanted a quick dessert. You know one of those recipes that gets you out of the kitchen fast. This is the one.
But if you want to make your own genoise try our favorite Tiramisu recipe.
Chocolate Tiramisu
Brew your espresso or very strong coffee. I HIGHLY recommend going the espresso route.
Stir in the cocoa powder set aside.
Check out our Strawberry Shortcake!
Set up a double boiler. Place the egg yolks and sugar in a large bowl, and set it over a pot of simmering water. Cook, whisking, until the mixture, is pale, thick, and doubled in volume (about 5 minutes).
Remove from the heat, and whisk in the mascarpone cream, melted chocolate, vanilla extract, and salt. Be careful not to whisk too much. Mascarpone is known to break easily.
In a separate mixing bowl whip the 1/2 cup of heavy cream until it holds stiff peaks. Fold the whipped cream into the mascarpone mixture. Set the filling aside.
One at a time, dip the ladyfingers into the cocoa mixture and place in an 8×8 pan (my pan was a 9×7). Line the ladyfingers up to fill the bottom of the pan. Be careful not to dip them too long, just a few seconds.
Spread half the filling over the soaked ladyfingers, and repeat. Spread the remaining filling on top.
Whip the heavy cream, powdered sugar, cocoa powder, and vanilla until stiff peaks form. Spread evenly over the top, garnish with chocolate shavings if desired. Garnish with chocolate shavings, cover and refrigerate at least 4 hours, preferably overnight.
A chocolate lover's dream come true!
Try our Bread Pudding!
Chocolate Tiramisu Recipe

Recipe adapted from BakingAMoment