Basmati rice risotto is an awesome side dish for any meal. My sister found this recipe on a bag of basmati rice and we have been making it since. It's also known as Stick of Butter Rice or Rice Consommé.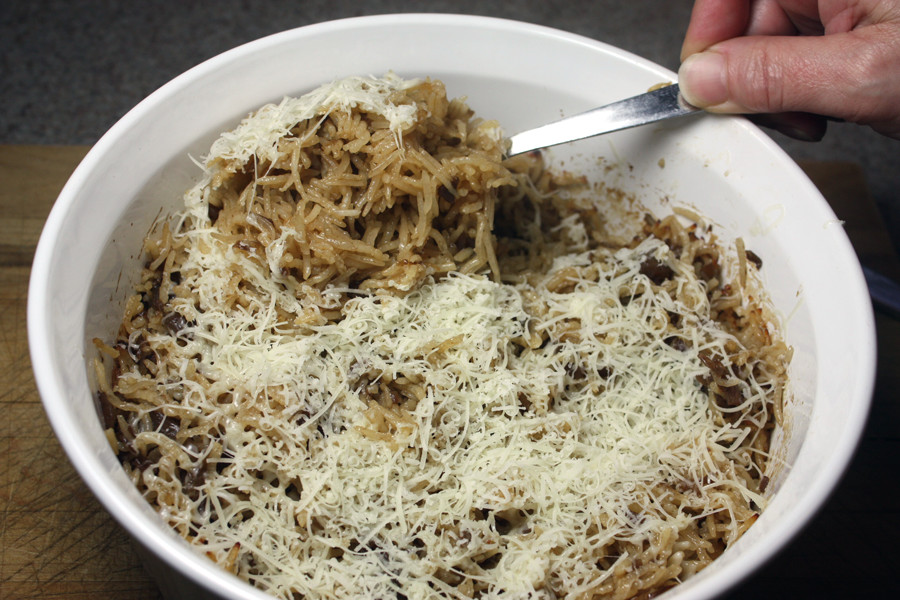 It's another super easy, dump and bake kind of recipe. No standing over the cooktop. This rice is simple but so full of flavor.
What You'll Need
This recipe calls for very few ingredients. But when I'm craving it I usually have to make a run to the grocery store because I rarely have beef consommé or canned French Onion soup in my pantry.
You'll also need a stick of butter (of course), canned mushrooms, and basmati rice.
Tips and Variations
You can substitute brown rice, jasmine rice, or wild rice. But don't use instant rice it will come out dry and hard.
Not fond of the beef flavor? Try using chicken broth or even vegetable broth.
The original recipe calls for margarine but I use real butter. You can use margarine if you prefer.
How to Make Rice Risotto
Preheat the oven to 350 degrees F.
Place the stick of butter in the casserole dish and allow it to melt in the preheating oven.
Once the butter is melted, combine the beef consommé soup, french onion soup, sliced mushrooms, and rice in the casserole dish.
I have made this without mushrooms ( I don't always have canned mushrooms on hand) and it's still really flavorful.
Cover with aluminum foil or a lid and bake for one hour.
Once baked, fluff the cooked rice lightly with a fork (the onions will rise to the top). Sprinkle the grated parmesan cheese over the top.
The recipe calls for 2 tablespoons of parmesan but I have been known to put way more than that on top.
The cheese will melt if you are patient enough. Serve with your favorite main dish. Don't be fooled, it might not be a pretty dish but it is extremely delicious!
What to serve with this side dish
This rice dish goes well with any protein. Try our Thick Cut Bone-In Pork Chop Recipe or Slow Cooker Roasted Chicken.
More Rice Side Dish Recipes