This recipe comes together in a snap using refrigerated pizza dough from your local supermarket.  It's surprisingly crispy, crunchy, and bubbly delicious!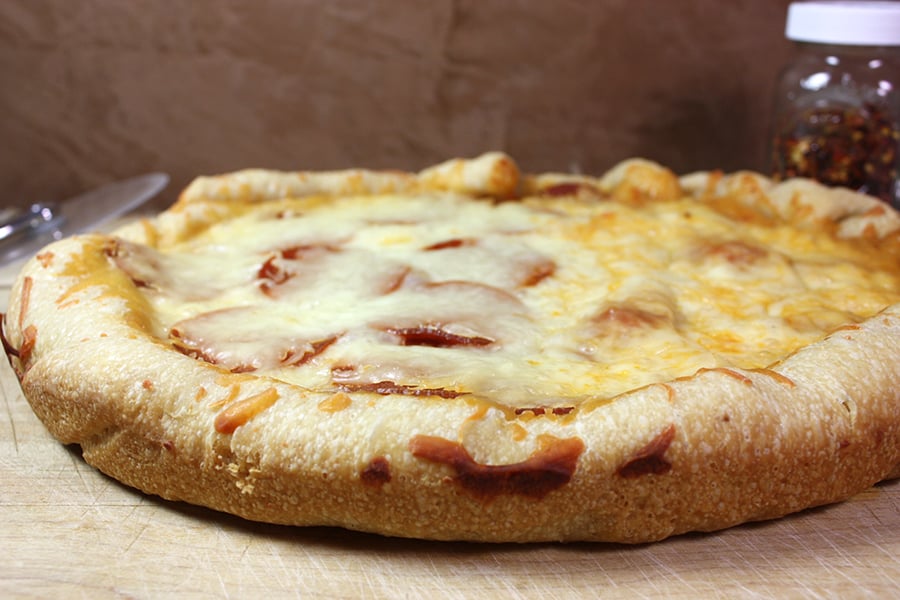 Slow cooker pizza, you say? Did you know you can make pizza in your slow cooker? Yes, you can! It's so easy and no heating up your kitchen during those hot summer days.
Try our Sausage Balls!
Slow Cooker Pizza
Spray your crock insert with cooking spray. Press the refrigerated dough in the bottom and up the sides.
Spread the pizza sauce, meat, and mozzarella cheese evenly over the dough. We did half pepperoni and half cheese only. (for my daughter)
Choose your favorite pizza toppings such as ground beef, bell pepper, onions, Italian sausage, a little Italian seasoning sprinkled on, etc!
Cook on low setting for about 2 hours.
Check out our Bread Pudding!
Remove carefully and serve. How easy is this crock pot pizza?
Just look at that crispy browned crust and the ooey gooey cheese on top. It's almost a deep-dish pizza, which is a family favorite in our house!
To make it easier to remove (which I didn't do) make 2 heavy-duty foil handles. Long enough to hang out of the slow cooker and about 5 inches or so wide. Place the foil handles in the crock in a criss-cross before placing in the pizza dough. I didn't have that much trouble removing the pizza it was just a little awkward.
Slow Cooker Pizza Recipe