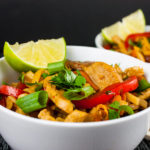 Spicy Thai Chicken Noodle Bowl - Spicy Thai noodles loaded with chicken and vegetables. Unbelievably good!!
2

tablespoons

olive oil - divided

1

lb

chicken breast, thinly sliced

8

oz

cremini mushrooms, cleaned and sliced

1

red bell pepper sliced

1

cup

carrot ribbons

2

cups

bean sprouts

3

cloves

garlic, minced

4

green onions, chopped

1/3 - 1/2

cup

cilantro, chopped

14

oz

Thai rice noodles, pre-cooked
For the Sauce:
1

cup

chicken broth

1/2

cup

low sodium soy sauce

2

tablespoons

brown sugar

1 1/2

tablespoons

Sriracha sauce

2

teaspoons

red chili paste

1 1/2

teaspoons

ginger, minced

juice of 1 lime

Extra chopped cilantro, green onions, and lime wedges for serving.

chopped peanuts

(we prefer it without peanuts)
Whisk all the sauce ingredients together in a medium-size bowl and set aside.

Heat 1 tablespoon of olive oil in a skillet over medium-high heat. Add the chicken to the skillet and cook for about 3-5 minutes or until it begins to brown, stirring occasionally. Remove to a plate and set aside.

Heat the remaining tablespoon of olive oil. Add the mushrooms, saute about 3-4 minutes until starting to brown, add the sliced peppers, carrot ribbons and cook for an additional 3 minutes until the peppers begin to soften. Add the garlic and saute another 30 seconds.

Add the chicken back to the skillet and toss together.

Add the pre-cooked noodles, toss then pour the sauce and stir. Cook for 2 more minutes until the sauce comes to a boil. Add the green onions.Taste and season with salt and pepper if needed.

Serve with a lime wedge and enjoy.
You can add chopped peanuts if you like. We just prefer it without them.
Nutrition Facts
Servings: 6
Per Serving % Daily Value*
Calories 462
Total Fat 10g 13%
Saturated Fat 1.2g 6%
Trans Fat 0g
Cholesterol 51mg 19%
Sodium 582mg 25%
Potassium 692mg 15%
Total Carb 67.6g 23%
Dietary Fiber 3.5g 13%
Sugars 6.8g
Protein 25.9g
Vitamin A 111% · Vitamin C 50%
Calcium 5% · Iron 14%
*Based on a 2,000 calorie diet