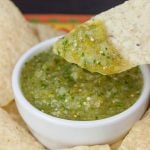 Homemade Roasted Tomatillo Salsa (salsa verde) - Just like your favorite restaurant's, if not better! Easy, fresh, bright, delicious and so much better than the over salted store-bought kind.
Chop the onion in half, crush the garlic, and leave the jalapeños and tomatillos whole. Roast on a baking sheet in a 400-degrees F oven for about 15 minutes, turning all halfway over through roasting time.

Peel the garlic, deseed and rough chop the jalapeño, and peel and rough chop the onion.

In a food processor, add all roasted ingredients, plus cilantro and salt and pulse until all ingredients are chopped and desired consistency is reached.
We used 3 seeded and deveined jalapenos. It wasn't quite spicy enough for us so next time we will leave the seeds in 1 or 2. Choose your own level of heat.