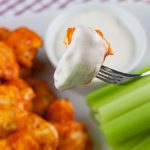 Print Recipe
Baked Buffalo Cauliflower Bites
Baked Buffalo Cauliflower Bites - Crispy on the outside and just tender enough on the inside. The vegetarian buffalo wing!
3/4

cup

all-purpose flour

1

cup

buttermilk (or regular milk)

3/4

teaspoon

garlic powder

1/2

teaspoon

kosher salt

1/4

teaspoon

freshly ground black pepper

1

head of cauliflower, cut into florets

3

tablespoons

butter

3/4

cup

Buffalo sauce
Preheat oven to 450°F and line a large baking sheet with foil. Place an oven-safe rack on top of the foil and spray generously with cooking spray.

Prepare the batter for the cauliflower by combining the flour, buttermilk, garlic powder, kosher salt, & freshly ground black pepper. Whisk until smooth and thickened. Gently toss the cauliflower with the batter, being sure to coat the cauliflower thoroughly.

Place the coated cauliflower on the prepared rack, leave space between each one.

Bake in the preheated oven for 20 minutes or until the cauliflower starts to brown slightly.

When the cauliflower is ready, remove it from the oven and toss in a large bowl with the buffalo sauce. Place back on the wire rack, brush with the buffalo sauce remaining in the bowl. (coat spots that were missed)

Put back in the oven for 10 more minutes until browned to your liking.

Remove from oven and allow to cool slightly.

Serve these baked buffalo cauliflower bites with your choice of blue cheese dressing or ranch and celery.