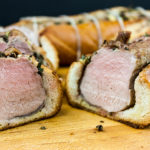 Tuscan Pork Tenderloin - Pork tenderloin smothered in fresh herbs roasted inside a crusty baguette. It's mouth-watering delicious! Perfect for dinner or a party appetizer that will knock their socks off.
Preheat the oven to 375F degrees.

Mince the sage, rosemary, and garlic. Mix in the salt, black pepper, and ground fennel seeds.

Heat a skillet over medium-high heat. Add 1 tablespoon of olive oil. Sear the pork, turning occasionally, until golden on all sides, 8 to 10 minutes.

Rub the pork with the herb mixture and set aside.

Cut the baguette in half the long way and scoop out part of the soft insides.

Brush the inside of the baguette with the remaining 3 tablespoons olive oil.

Place the pork on the inside of the baguette so that the pork is almost completely enclosed.

Trim off the excess ends of the bread. Tie the baguette, at 1-to 2-inch intervals, with kitchen string.

Place the pork on a baking sheet and roast until done, 148°F on an instant-read thermometer inserted into the thickest part, 25 to 30 minutes.

Remove from the oven, let rest 10 minutes.

Remove the strings and cut into medallions.

Serve and enjoy!
*Normally two tenderloins come in a package. We purchase a large crusty baguette that will accommodate both pieces.