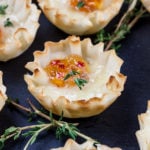 Pepper Jelly Brie Bites - Crispy phyllo shells filled with slightly spicy pepper jelly topped with creamy brie cheese. Sweet and savory bites of flaky deliciousness!
Preheat the oven to 350F.

Arrange phyllo pastry shells on a rimmed baking sheet.

Cut the brie into 24 small pieces.

Spoon 1/4 teaspoon of red pepper jelly into each pastry cup.

Top the pepper jelly with one piece of brie in each cup.

Bake for 7-8 minutes until the cheese is melted.

Remove from the oven and sprinkle each cup lightly with the sea salt.

Garnish with a small leaf of fresh thyme if desired.
Nutrition Facts
Servings: 24
Amount per serving
Calories 76
% Daily Value*
Total Fat 3.5g 4%
Saturated Fat 1.1g 6%
Cholesterol 4mg 1%
Sodium 137mg 6%
Total Carbohydrate 9.2g 3%
Dietary Fiber 0g 0%
Total Sugars 1.2g
Protein 1.7g
Vitamin D 0mcg 0%
Calcium 7mg 1%
Iron 0mg 2%
Potassium 5mg 0%
*The % Daily Value (DV) tells you how much a nutrient in a food serving contributes to a daily diet. 2,000 calorie a day is used for general nutrition advice.