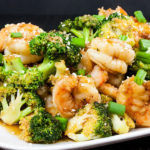 Shrimp and Broccoli Stir Fry - Ready in less than 30 minutes. Healthier and way tastier than takeout. Quick, simple, satisfying and delectable!
In a small bowl or measuring cup, whisk together soy sauce, oyster sauce, rice wine vinegar, honey, ginger, garlic, sesame oil, cornstarch, and Sriracha; set aside.

Heat 1 tablespoon of olive oil in a large skillet over medium-high heat. Add broccoli, cover, and cook, stirring occasionally, about 4-5 minutes. Remove from the skillet to a plate, set aside.

Add the remaining 2 teaspoons of olive oil, add shrimp, and cook, stirring frequently, until starting to turn pink, about 1-2 minutes.

Return the broccoli to the pan, stir.

Stir in sauce mixture until combined and slightly thickened about 1-2 minutes.

Serve immediately, garnish with sesame seeds and green onion, if desired.